Had a double-date with and our associated guys over the weekend. Us girls were totally domesticated and whipped up a 3-COURSE DINNER for the boys! FROM SCRATCH!!! OMG we are such housewives it is unbelievable. Needless to say, the boys were rather pleased and kept complimenting our domestic goddess-ness, no doubt in the hope that they would get more home-cooked dinners in future 😛 We did say that next the it would be their turn to cook for us…. but not sure what the, uh, cuisine would be… perhaps instant noodles? Toast? 😉
As I said, because we're totally amazing (hee!), we whipped up the following:

ENTREE: Baked Sourdough with Brie, Caramelized Pears, Shallots and Thyme
MAIN COURSE: Lamb Cutlets with Cherry Tomato and Boccocini Salad
DESSERT: Sticky Date Pudding with Toffee Sauce

It was stupendous. We made everything from scratch, which was even better. The Baked Sourdough sounds terribly weird, what with the brie/pear/shallots/thyme mix. It was, however, just sublime. So creamy, cheesy, warm, smooth and delicious!!! We were in heaven pulling apart the sourdough with our fingers and scooping up big dollops of the melty cheese mixture. Ahhhhhh……
Lamb Cutlets were, as Chris said, "the best I've ever had". They were tender, meaty and lamb-y 😛 The girls only had 3 cutlets each, which initially seemed quite a lot considering the entree was soooooo dense and filling, but after realising how good the lamb was, we probably should've had at least 5 cutlets each 😉 I think I'm going to cook lamb cutlets a lot more often now!
Dessert was a delectable Sticky Date Pudding served fresh out of the oven. It was really moist, warm, and went down a treat with a big dollop of vanilla ice cream. It sent us into a moment of silence as we savoured our first spoonful of hot pudding full of flavour. OMG it was good! :)~ Another one that I think I'll have to make again at home 😛
Of course, all 4 of us were fatties and over-ate, so the next day Chris and I did Pump class at the gym.. where I over-did it and then couldn't walk/sit properly for the next 2 days. D'oh! But that's another story altogether… We had a brilliant evening, thanks L and M for having us over!


Desperate Housewives 😀

Baked Sourdough with Brie, Caramelized Pears, Shallots and Thyme (recipe)

Lamb Cutlets with Cherry Tomato and Boccocini Salad

Lookie, we made boobs in the cake batter! Hahahahahaa

Sticky Date Pudding with Toffee Sauce (recipe)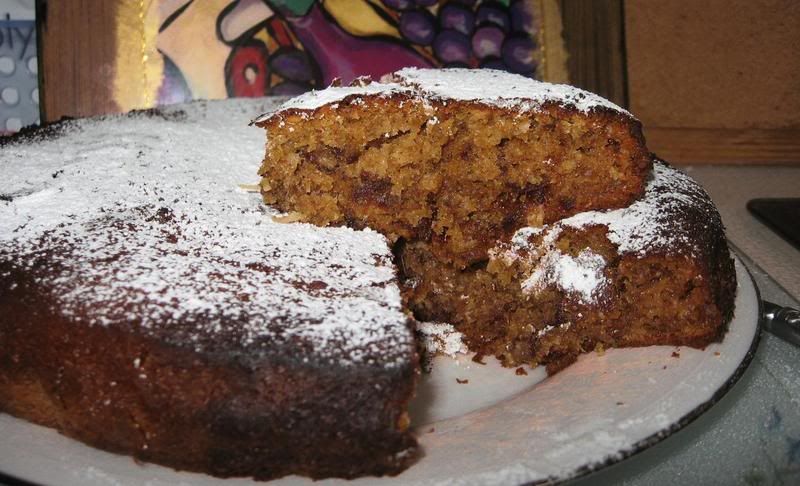 Flowers that we brought, though they look nicer in the pic than in real life!