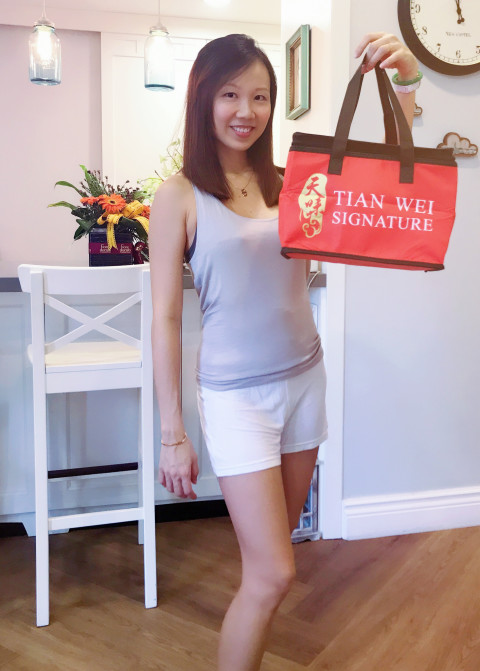 It's been just over a month since I gave birth to Chloe.. and things have been pretty haphazard and "let's just play it by ear". A concept I struggle with, as I am HUGE on planning, organisation, and strict schedules. Evenings, in particular, are really hairy! We haven't quite set a proper schedule for dinner time and bath time for all 3 kids. I guess we'll get there eventually…
One thing that I haven't had to stress about is my own meals.
Because… they're being fully catered and delivered by Tian Wei Signature!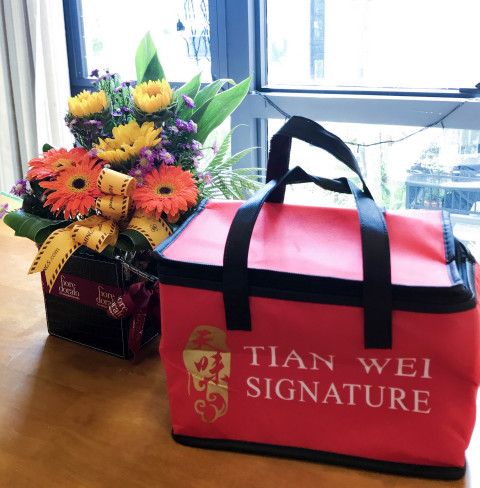 The concept of confinement food is new to me because I didn't follow Confinement with my previous two kids, because:
HUNTER: We were living in Shanghai and it's not easy to get access to the herbs/ingredients required for the confinement meals. And there's no such thing as a 'confinement nanny' – a lady that looks after you and baby and cooks all your meals.
CARTER: Too busy looking after Hunter, who was 18 months at the time.
And…. errrrrrr… let's just face it. I couldn't be bothered to do Confinement! There, I said it!
That said, I was heaps younger then, and felt in the pink of health. Mind you, I made sure I ate healthy, nutritious food. And I'm actually much healthier and fitter now, despite not having done confinement.
But with a THIRD child…. and being much older *ahem*… the pregnancy hit me harder. So I am super grateful for Tian Wei Signature which bring meticulously thought out catered dishes for my meals!
The concept is simple yet so welcome – Tian Wei Signature bring nutritious and well-balanced meals to your door every day. It's seriously pampering! I was indulged with 28 days of fully catered and delivered food, lunch and dinner.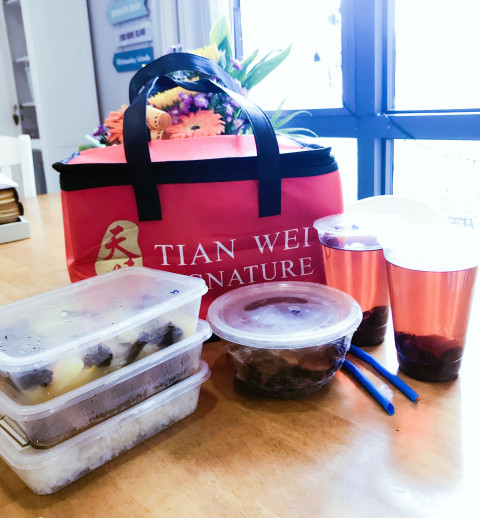 What really stands out about them?
DELIVERY/CUSTOMISATION: I was impressed that Tian Wei caters for the individual. So I said "no weird food like liver" and "no broccoli" and they customise the dishes to your liking. You can also call them anytime to update your personal requirements. Food was always delivered hot in a foil-lined thermal bag, and either early or smack on meal time – always.
VARIETY. Post-partum or not, I simply cannot have one type of cuisine day in day out. Having Chinese food lunch and dinner, every single day, will drive me insane. So I was really relieved (and delighted!) that Tian Wei mix it up with Japanese as well as Western (Fusion) dishes. WHEW!
TASTE. Back when we'd first moved to Singapore and a toddler-Hunter and newborn-Carter, we'd signed up for delivery food too, because I was way too overwhelmed with housework and mothering two-under-two kids. I wasn't impressed with the delivery food company back then – the food was so repetitive and tasted average, at best. So it really set the bar for delivered food for me, and I wasn't expecting much. But Tian Wei's food is actually freaking delicious! I was happily eating it twice a day every day 🙂
Their meal concept is simple and spot-on, with the ideal amount of nutritional break down for a healthy and well-balanced post partum diet. The dishes come rich with breastfeeding-friendly ingredients to help boost milk supply.

Here's a link to their Confinement Food Menu. I set it as my browser's homepage and early looked at it every day to see what food I'd be having, hehe.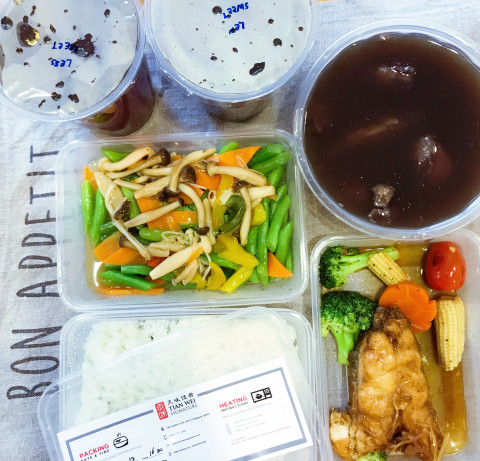 This is what one portion looks like straight out of the thermal bag. Very neat! There is
1 box meat (fish, pork, chicken)
1 box veg
1 box rice/noodles
1 soup/dessert
2 red date herbal teas
There are zero artificial flavours added and zero MSG added. All meals are low sodium and spice. Their head chef has over 16 years experience, so I guess they've got a really good thing going there!
I also like how it comes 'nicely' arranged.. not thrown sloppily together. The tubs are well sealed so I didn't get drips and spills into the thermal bag when the food arrived.
You can also add an additional person for $10/meal, add a birdsnest dessert for $20/week, and 28 days of bathing herbs for $70/month.
So here's a little peek into some of the dishes…… note that what you see is approx half or less of what was delivered. Just for photography purposes 😉 The portion size is actually BIG!
Stir Fried Spinach With Anchovies
???????
Steamed Threadfin Fillet With Ginger Broth And Black Fungus
?????????
Strong Nourishing Soup
?????
Barley Millet Rice
?????
My favourite dish from their Traditional menu! The steamed Threadfin fish was so utterly tender and moist.. like I had steamed it minutes ago at home. No fishy aftertaste and with a lovely light ginger broth to enhance the flavour. Spinach is one of my fave veggies and this was stir fried soft with lots of rich gravy. And the soup was filled with big chunks of tender chicken. I also love how their rice is often not plain white rice! This one was a Barley Millet Rice. Delicious and healthy.
Stir Fried Egg With Amaranth And Silver Bait Fish
??????
Braised Pork Trotter In Black Vinegar
???
Yin Nourishing And Kidney Tonification Soup
??????
Millet Mixed Rice
?????
Braised Pork Trotters in Black Vinegar is one of my all time favourite Chinese dishes!! I eat it even when I'm not post-partum, haha. And I've been known to eagerly ask for a helping when visiting friends that have just given birth, and are eating that for their meal. This one was so so meltingly tender, and the sourness of the black vinegar reduction was delicious. For the soup, mine was filled with thick meaty chunks of soft pork ribs – yum.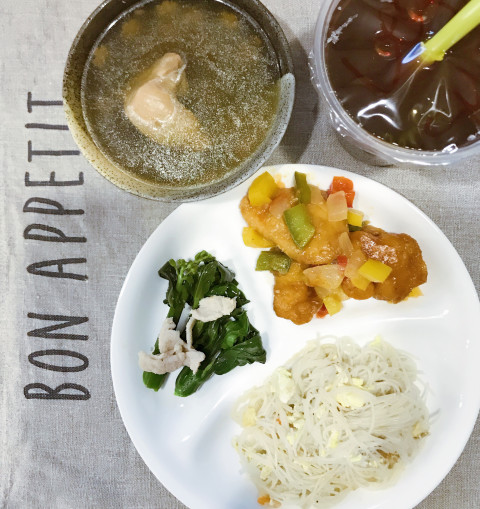 Stir Fried Pork Liver With White Beehoon And Kailan
????????
Sweet And Sour Fish Slices
????
Heart Calming Soup
????
The problem with this dish is that my kids fight me for it 😉 They looove Sweet and Sour Fish, and SO DO I!!! Tian Wei's version is really soft and moist, with a light glaze of sweet and sour sauce so it's not overpowering. And, hurray, yummy noodles!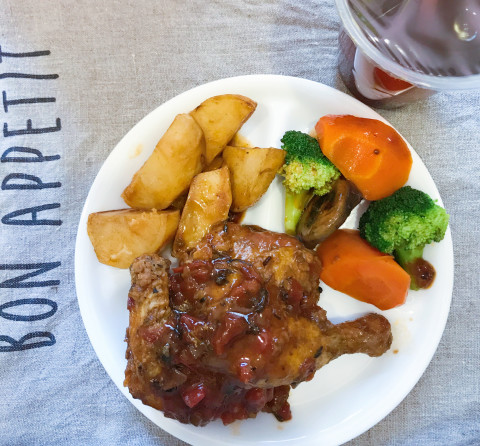 Tian Wei Signature Coq Au Vin
??????????
Papaya White Fungus Dessert
?????
Barley Millet Rice
?????
Western meal time! This Coq Au Vin was tender, served with a delicious gravy and lots of steamed veggies. A refreshing change to the Chinese dishes! Though a box of Barley Millet Rice (not pictured) is also packed with the meal, in case you want extra carbs.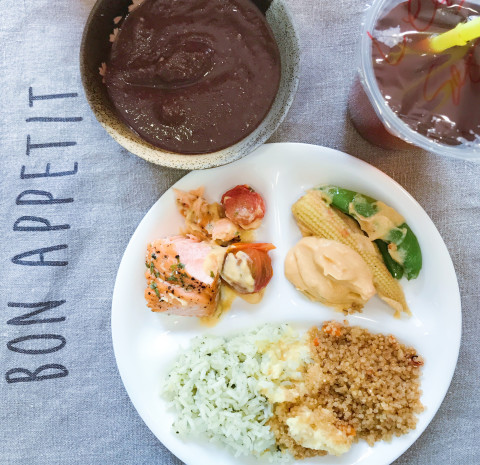 Seared Salmon With Cauliflower Cream
??????????
Red Bean Puree With Orange Peel Dessert
?????
Tri Colour Grains
???
I usually steer clear of salmon when I eat out, as I'm afraid of it being tough and/or overcooked. But this Seared Salmon was soft and was a full fillet portion. The cauliflower cream was surprisingly delicious! Smooth and creamy, it was like a mashed potato, but way healthier.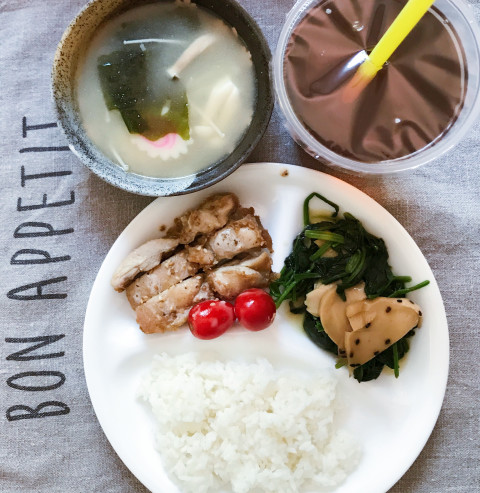 Goma-ae Grilled Chicken With Spinach
?????????
Ginger Miso Soup
????
Calrose Rice
???
Japanese inspired dish here! The Goma-ae Grilled Chicken was a large boneless fillet, sliced into about 8 chunky strips. It had a pleasant nutty sesame-based sauce and wasn't too fatty. The Spinach came with chunky slices of mushroom, and ooooooo….  the Calrose Japanese rice was so delicious!
There are way, way more dishes… too many for me to photograph. I really appreciated how every dish was carefully planned. You can see the benefits of the Traditional dishes, the benefits of the Fusion dishes, and the benefits of their Herbal Soups.
How to sign up?
Tian Wei have flexible Packages (pick and choose to suit your lifestyle and needs), as well as trial meals (gotta try before you commit, right?).
Their Facebook is at https://www.facebook.com/tianweisignaturesg/
To put it really succinctly, if I were to have a…. *ahem*…. 4th kid, I'd DEFINITELY sign up with Tian Wei! They really made my meals soooooo fuss free, and I genuinely enjoyed all the dishes and delicious red date herbal teas.
Yay, thanks so much Tian Wei! I'm a Confinement food convert 😉