I was 31 weeks pregnant when we went on our babymoon. Though you couldn't really call it that, since we brought both boys along with us!
Yes, we haven't quite figured out the art of scooting off on a holiday sans kids yet.
Destination? Nikoi Island.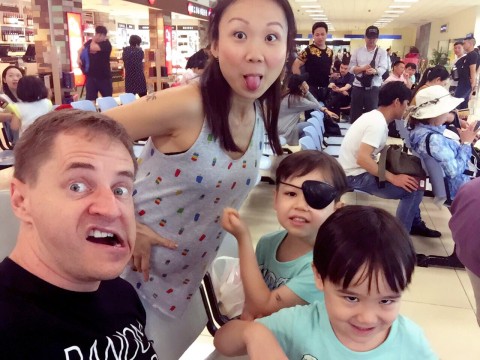 Nikoi Island is 2.5 hours from Singapore and the journey looks like this:
Ferry from Singapore to Bintan: One Hour
Private car from Bintan ferry terminal to private jetty: One Hour
Private boat from jetty to Nikoi Island: 20 minutes
It passes very quickly because the ferry has kids movies playing, and our kids slept in the private car. The private boat ride is really scenic and the kids were delighted watching us speed across the water.
It definitely beats taking a plane, because all the check in/waiting time really adds up.. not to mention it's way more expensive to fly anywhere!
Walking the boardwalk to Nikoi Island, a private retreat. It's so so so good for families, you'll see why below!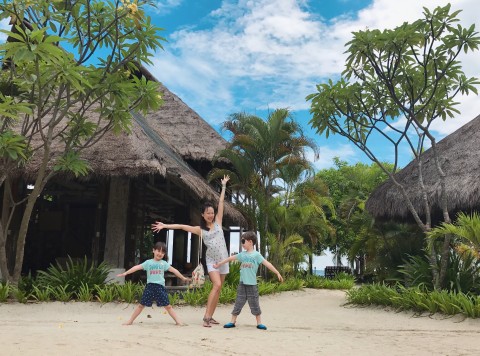 Haha.. cheesy photo of us when we arrived in the main area to check in. Look at that SKY!! So clear and blue… and only just over 2 hours from Singapore.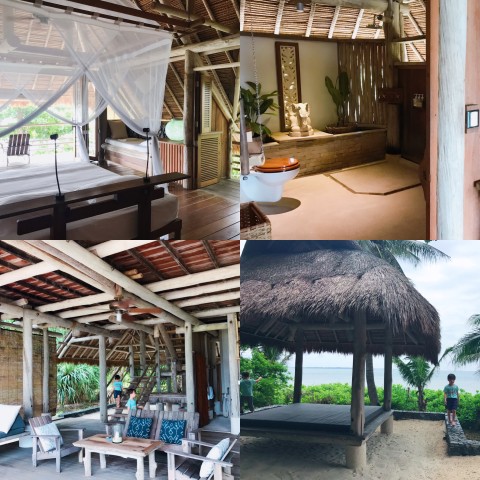 The villas are split over two levels and if I were to describe them, it'd be rustic-luxe. This is serious GLAMPING!
The wooden floorboards are practical for sandy toes, and the villa is really spacious. More than enough space for our two boys to run around and play. They can also play in the sand (cleaned and combed daily!) on the ground floor of our villa – a fantastic idea if it's raining or at noon when the sun rays are too strong.
The bathroom is really really clean (I get pretty grossed out with moldy, old-looking bathrooms that island getaways tend to have).. with a rain shower and all amenities (shampoo, body wash, lotion/insect repellent) provided.
There is no air-conditioning so we slept with the windows open, listening to the waves crash onto the sand below us. It's perfectly cool and breezy, and there are overhead and standing fans in the villas to keep it that way.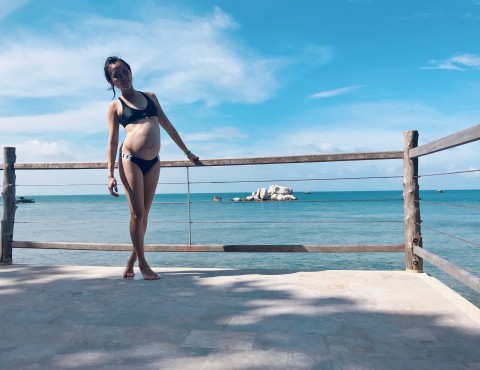 Again, check out that view! We were blessed with lovely bright skies during our stay, and so were in our swimmers all day long, dipping into the ocean and/or pool throughout the day.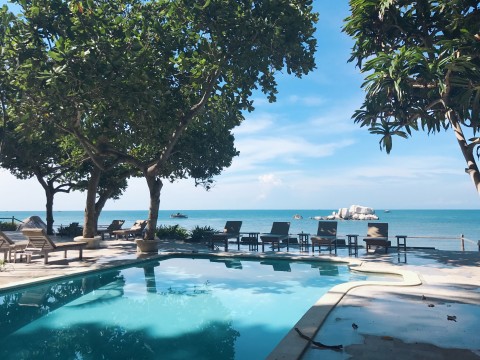 This is their salt water swimming pool (shallow kids pool is on the left of the photo, out of view). Our kids actually really enjoyed this pool, as it was really clean, shaded, and they could lounge around on the deck chairs and order icy cold drinks and be served cookies/biscuits/crackers (these are complimentary – woohoo!).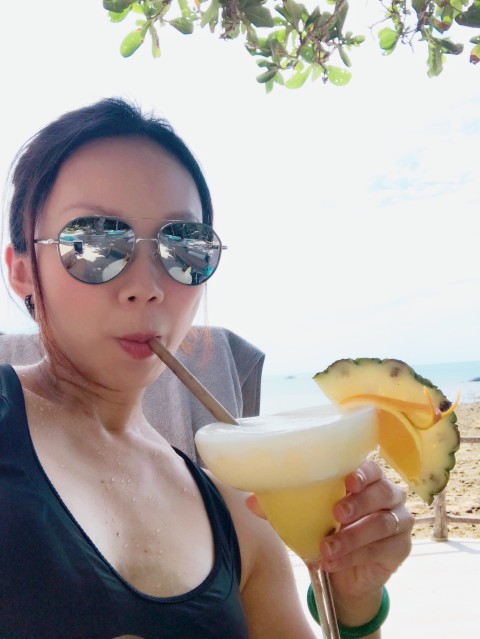 My frozen daiquiri which was LUSCIOUS and soooo good during the heat of the day!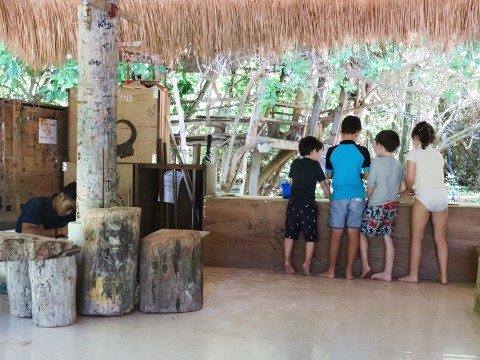 The Kids Club was the biggest hit with Hunter and Carter. They made fast friends with other kids there and would be begging to go to Kids Club every morning, the moment they woke up!
All the staff on Nikoi Island are super good with children. They automatically help to keep an eye on the kids, and are proactive to know which kids belong to which parents. It meant we could relax and leave the kids alone for pockets of time through the day.
The Kids Club organises activities throughout the day, from treasure hunting to jetty jumping. It's best suited for kids 3-10 years, IMHO.
The obliging staff also took our boys on rickshaw rides (much to their delight!) all around the island, while Chris and I lounged poolside.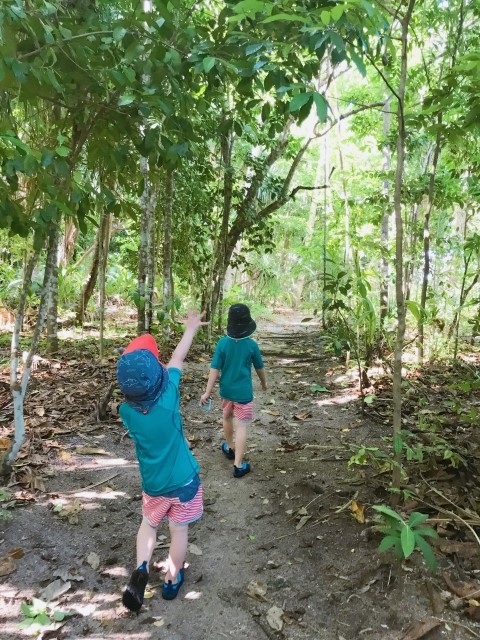 There is one section of the island where you can bush walk. It's a lot of fun and with very lovely scenery.. plus it's secluded so it feels really peaceful.
Only thing is, don't go at dusk like we did! We didn't bring mosquito repellent and I was like a free for all buffet for the freaking mozzies. Argh. So go in the morning and put repellent on and it will be juuuust fine.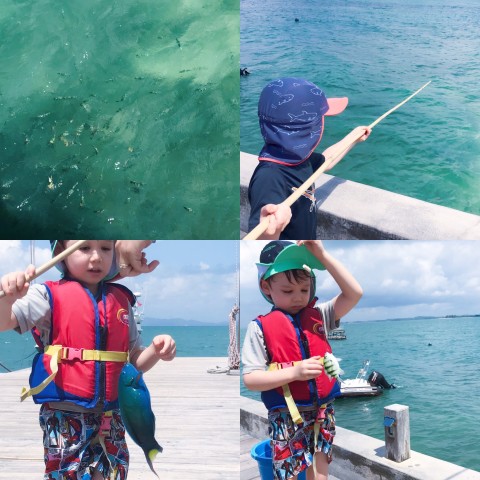 The staff working there also brought our kids out fishing on the pier. The water is teeming with fishes! A simple line and hook and Hunter snagged a gorgeous glistening blue/green fish, and a striped fish! Kids are encouraged to put the fish back into the water afterwards and let them swim away, of course.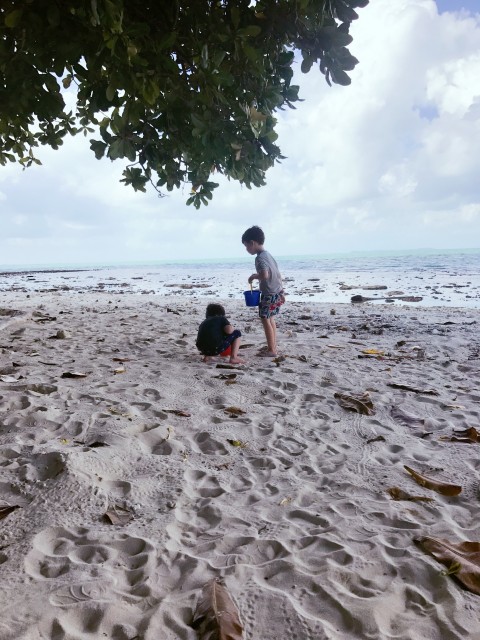 Our lazy mornings were spent wandering along the beach, which is really flat and has nice shaded areas to hide under.
And….. there are hermit crabs! The kids had so much fun hunting for them, and putting them in the little pails we brought along.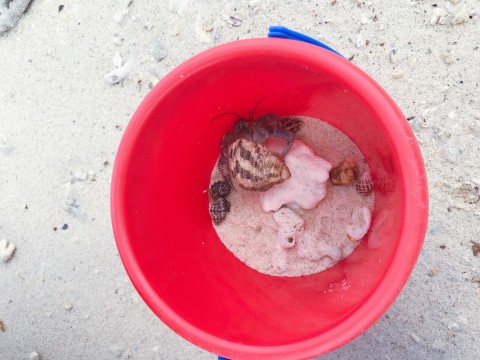 Their 'pets'. The big hermit crab's name is King Kong, as named by the kids, lol!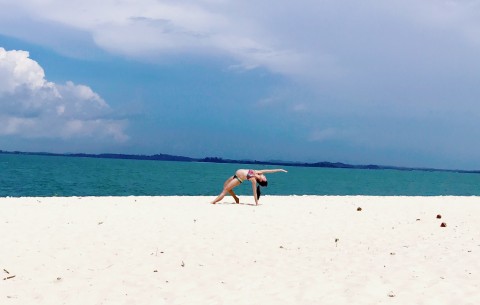 Yoga on a private beach? Yes please!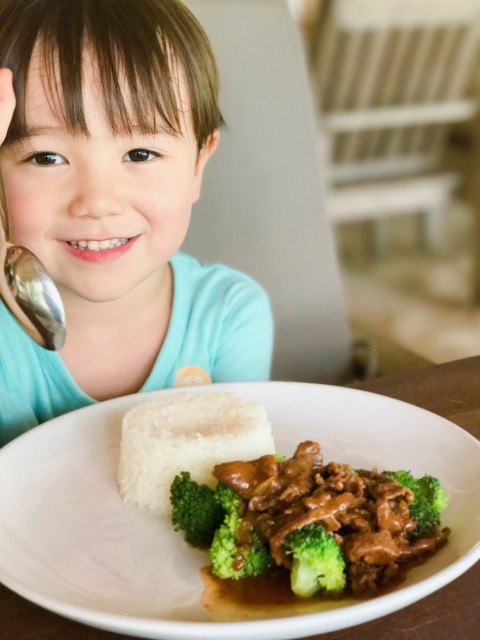 Breakfast, lunch and dinner are already included in the room price, and served in a series of courses. What I loved was the presentation, and the fact that we could re-order additional portions if we felt extra hungry!
Above is Carter with his kids meal. It's actually really substantial! And someone obviously has thought the kids meal through to include healthy portions of carbs/protein/veggies. The kids meals are realllllyyyyy good – no ridiculous frozen chicken nuggets or pizza or hot dogs. Just proper home cooked food!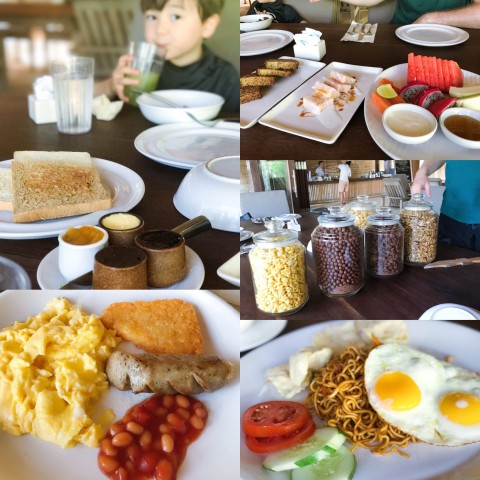 A typical breakfast. Yes, it's multi-course and we ate til we were super stuffed! This looks like a typical hotel breakfast, and not like we're on a deserved private island, right?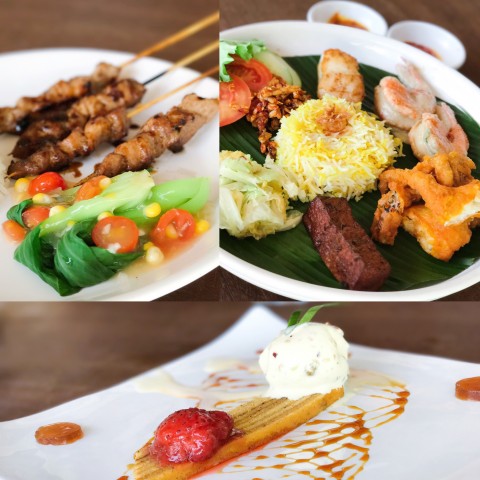 One of the lunches. The satay with stir fried veg is the kids meal, which the kids devoured! And, yep, even lunches come with their own dessert… of which I asked for thirds, because it was too good 😉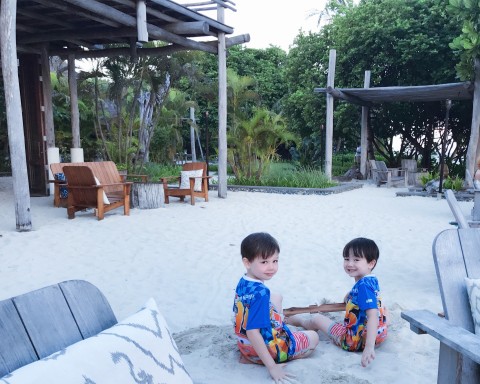 Sunset was one of the prettiest times of the day.. and a chance to cool off too. The kids were really content playing in the sand at the lounge area, because the sand is cleaned and combed and super-fine.
It also meant Chris and I could relax on the chairs and have a cocktail or two before dinner!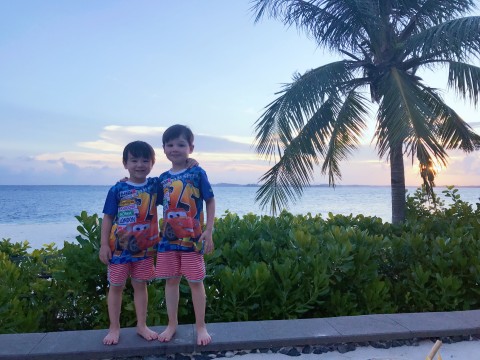 That sunset 🙂 It felt like paradise!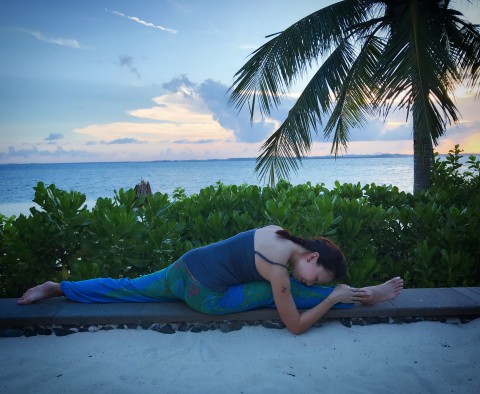 Yoga stretches at dusk, in between sips of cocktails 😉 It was cool, breezy, and quiet. Fresh air… sand between my toes.. and my kids and Chris with me. It was perfect 🙂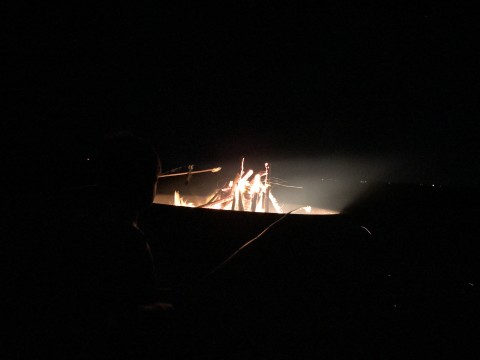 Night time was also bonfire time, in a huge pit out on the sand. There's something so peaceful about the flickering flames, dancing against the midnight sky, and hearing the lap of ocean waves against the shore.
They also provide big marshmallows that you can roast over the fire. Mmmm….
My favourite photo from the trip. Soon we'll have to go back with Chloe to take an updated one.. as a family of five!
Let's Chat!