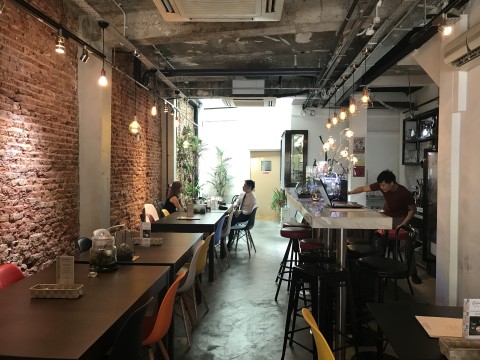 Epiphyte Cafe is tiny, but is making big waves in Singapore for its innovative cuisine.
And let me just state it upfront – their dishes are GORGEOUS.
There's beautiful plating, then there's epic-level plating. Epiphyte takes it beyond that!
The cafe is situated in a pretty random spot on Neil Road so I wonder how much random foot traffic it gets, but it is well worth ferreting out this cafe, if you want to be wow'd by great ingredients, stunning plating, and unique dishes.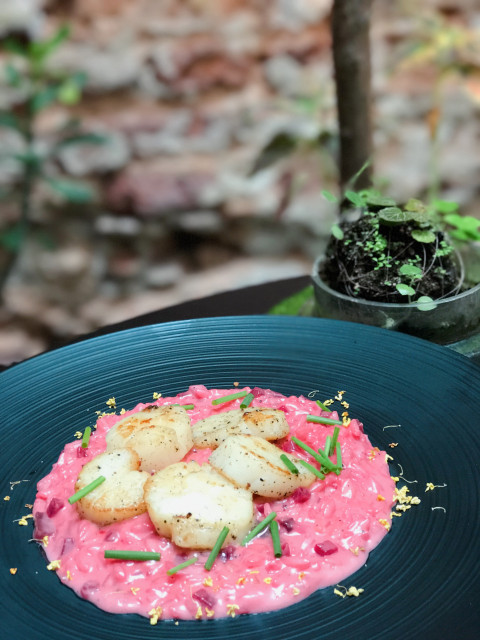 We actually started off with the The 4 Cheeses – seeds-covered Brie, European cheeses, bread with mixed berries jam ($18). How I wish I'd taken a photo of this, as it was like artwork! The petite pieces of cheese were scattered on the stone plate with the seeds and nuts, and we marveled at how pretty everything was.
My main was the Pink Risotto – roasted beetroot, scallops, parmigiana ($22). It arrived in a wide, shallow dish, and in the most stunning shade of pink.
There were 5 grilled scallops resting on top of the risotto, and happily, they were cooked perfectly. Seared through but not overcooked, dressed with nothing but a dusting of salt and pepper. Also, a note that the owner was very kind to suggest increasing the normal 3 scallops to 5 scallops, and reducing the risotto, when informed of food allergies.
The risotto was creamy without being overly rich, and just had a mild flavour since beetroot doesn't have a strong taste.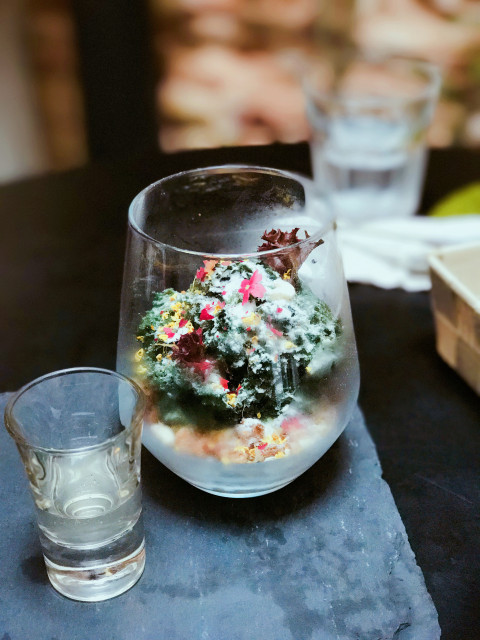 Ahhh…. Epiphyte's famous Terrarium dessert! I decided it was a must-order, despite not having high hopes. It just seemed too…. fussy, y'know? I prefer basic desserts like a molten chocolate cake.
But I was seriously BLOWN AWAY. I loved not just how pretty it was, but how good it tasted! Pour the liqueur into the stemless wine glass (aka. terrarium) and take a scoop of a bit of everything. The soft sponge isn't too sweet and paired well with the creamy cold custard. Best of all were the little crunchy croustillant bits scattered through the dessert, which stood out against the softness and creaminess of the dish.
It's a pretty petite serving but a total delight to look at and eat.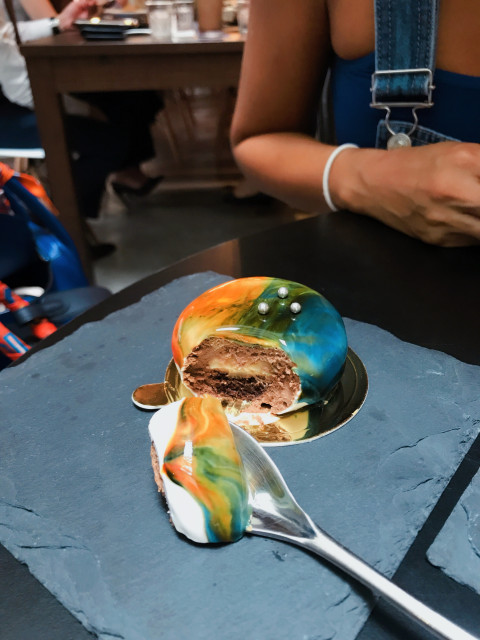 The other famous dessert at Epiphyte is their Twilight cake. They were nestled in the glass counter and looked so glossy and pretty that they looked fake.
I think they're pretty reasonably priced for $10 a pop, considering the obvious effort that went into them. If you like chocolate and mousse, you'll love this one. I would have preferred a darker/richer chocolate though, as their version is more of a milk chocolate with a lighter flavour. Still, the fluffy texture is exquisite and I savoured every spoonful.
I'd go back to Epiphyte Cafe in an instant to try out the rest of their menu. I did find their menu a little disjointed – with Western and Asian dishes thrown into the mix. But, every dish sounds really unique so I'd be keen to work my way round the menu 😉
Epiphyte
47 Neil Road, S088827