I saw this online and it made me stop in my tracks, because I reckon it's so true! Do you think so too?
We had a bit of a rush-rush Fathers Day morning, since we had to head to church. And we ended up 5 mins late anyway, d'oh!
So for Chris' breakfast, I baked some croissants, and served them with scrambled eggs and some slices of fancy Norwegian smoked salmon (brought home by my parents and Hunter on their recent trip to Norway!). Served with a glass of orange juice, and hot coffee.
Yum.
I'll admit it was a simple breakfast, plated terribly (to the shame of social media experts out there!)……. but I managed to waddle around and get it done, plus get the kids dressed and out the door for church. Then again, I was exhausted afterwards and almost zonked off in the car ride!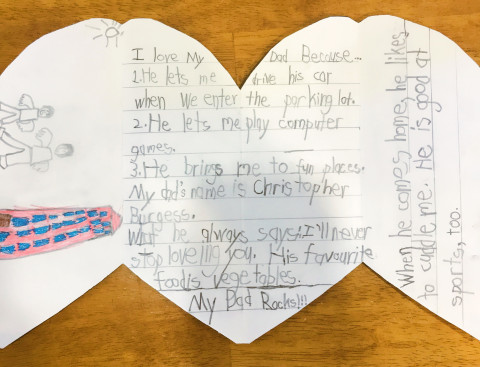 The kids presented their hand drawn Fathers Day cards, though I just have a photo of Hunter's as I forgot to take one of Carter's 😛
How incredibly sweet are Hunter's words though?! But the "He is good at sports" part made me LOL.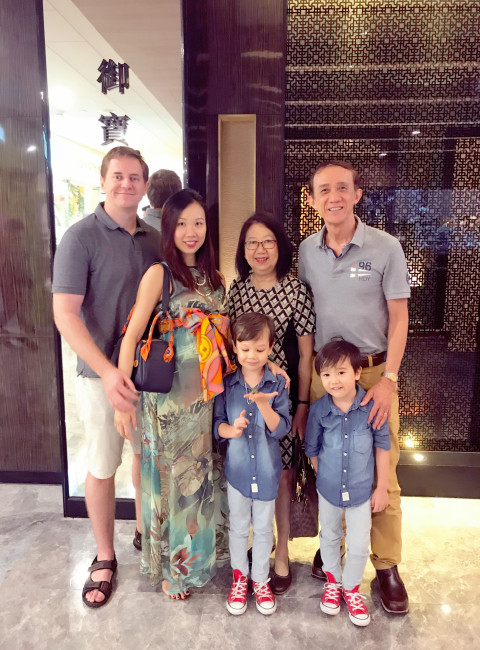 We all went to Imperial Treasure Super Peking Duck Restaurant for lunch. Chris is a big peking duck fan so he was pretty pleased, and Carter devoured so much duck!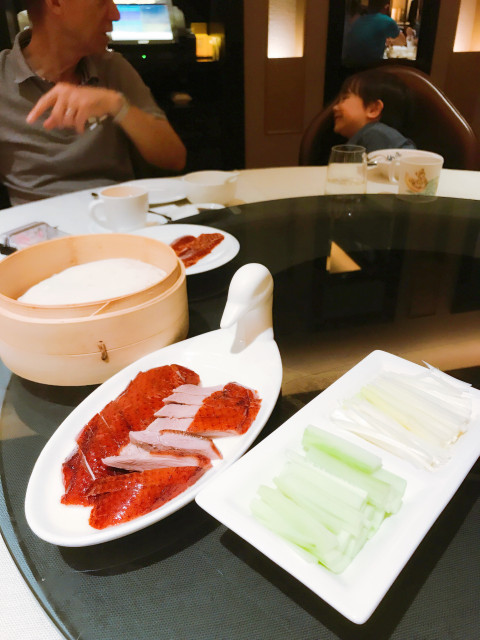 Lovely presentation and such precise duck meat carving! This was one of the best peking ducks ($88) I've had. Very very fine and delicate and crisp skin, and moist tender meat. We LOVED it.
We also got the Sang Choy Bao (minced duck served in lettuce leaf cups, $15 extra), and a plate of E-Fu noodles ($14). As well as assorted dim sum and desserts.
The service was top-notch and so attentive, so it totally made our meal a pleasure. We'll be back!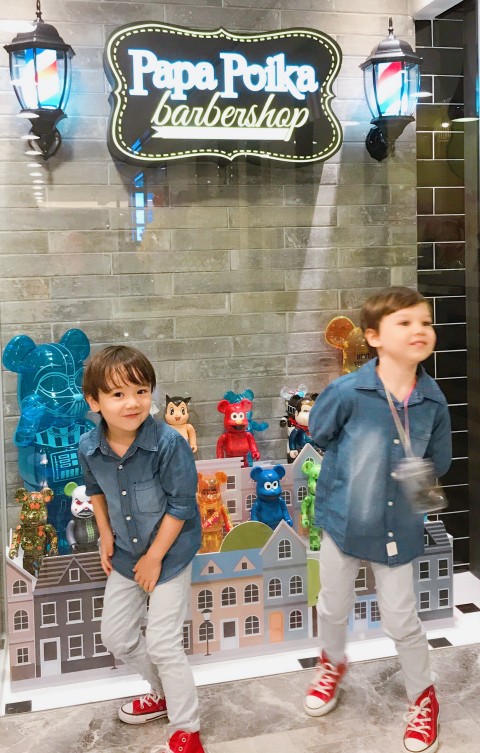 I thought a Daddy and Son Haircut at Papa Poika was a brilliant idea as a Fathers Day gift. Chris pointed out it's more to please me than to please him – hah! But he put on his game face and did it anyway – thanks darling.
Hunter decided he didn't want his hair cut, namely because he was fascinated with all the LEGO, kids books, and cartoons and wanted to play!
Carter was super excited to get his first professional cut at a 'proper' salon, and sat patiently through the whole cut. They took a long time with his cut, because his style change was pretty dramatic. So much care was taken to ensure the style was perfect!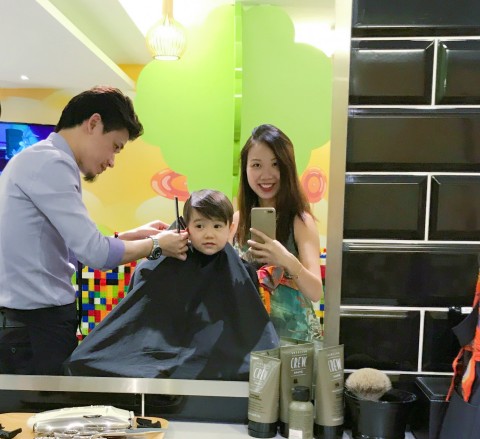 This is the Before picture, with his hair just floppy and long.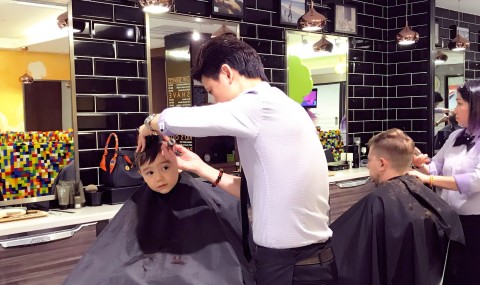 Carter and Chris getting their hair cut at the same time. Too cute!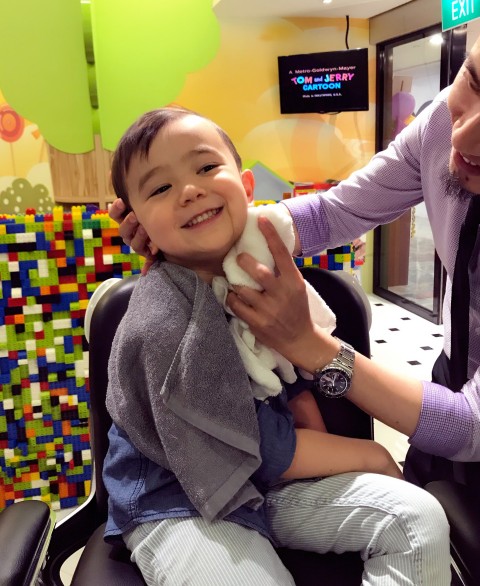 A hot towel rub post-hair cut, which Carter enjoyed immensely.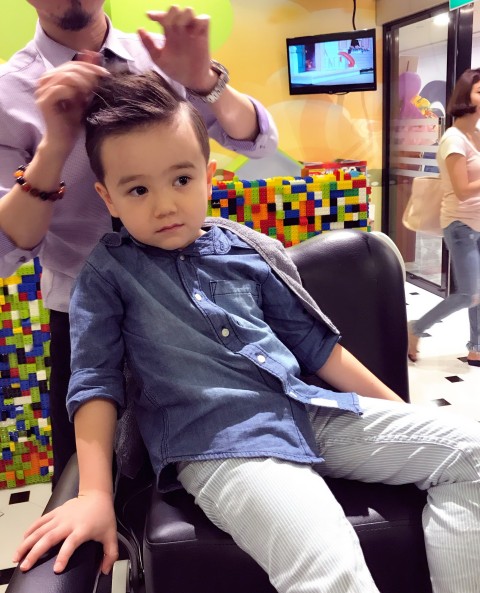 Getting his hair styled for the first time in his life! He has incredibly soft and thin hair, which lies super flat, so they used a very strong clear holding gel.
All done! This is as much 'lift' as Carter's straight hair can achieve, even with super strong hair gel.
He adores it. And I mean ADORES. He hilariously keeps checking himself out in mirrors and admiring his hair and touching it. And he's so gleeful that he "looks like Daddy" , awwww!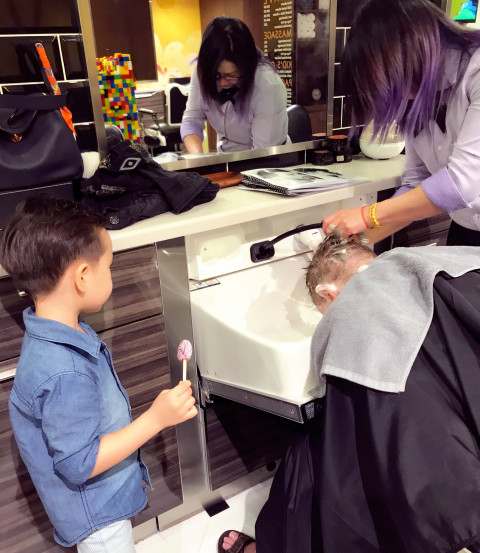 Adults get a shampoo and head massage and head wash afterwards. The head wash is a little odd, since you have to bend forward at the sink (imported from Japan). Chris said it's not enjoyable at all, but at least it gets the job done.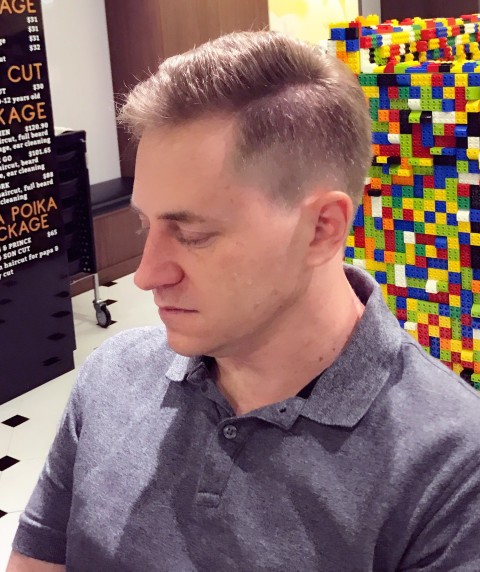 Not so easy to see in this photo, but Chris' hair looks way sleeker and sharper than before 🙂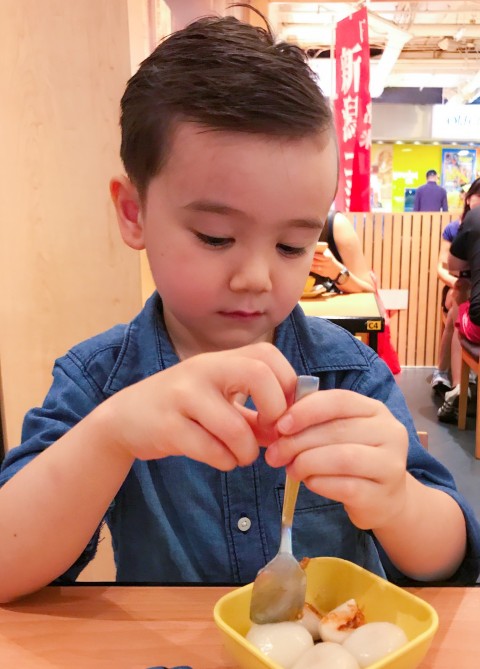 Comparison shot with Carter's cut. He looks a big older IMHO and also a bit cooler/naughtier than his previous goody-boy hair cut.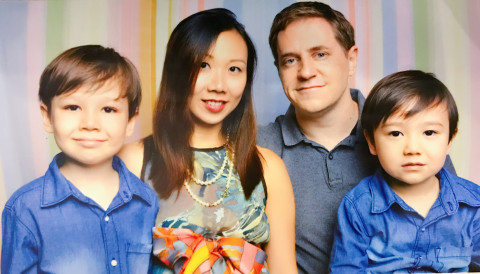 Taken just before Chris and Carter got their hair cuts. And yes, Hunter and I are both in desperate need of a hair cut (I get mine cut 2x/year, so it's always a mess!)… so we are next!

Feeling very blessed today to spend Father's Day with my own Dad and with Chris – two of the most hands-on and excellent Dads I know. I, and the boys, are so lucky to have you two!!