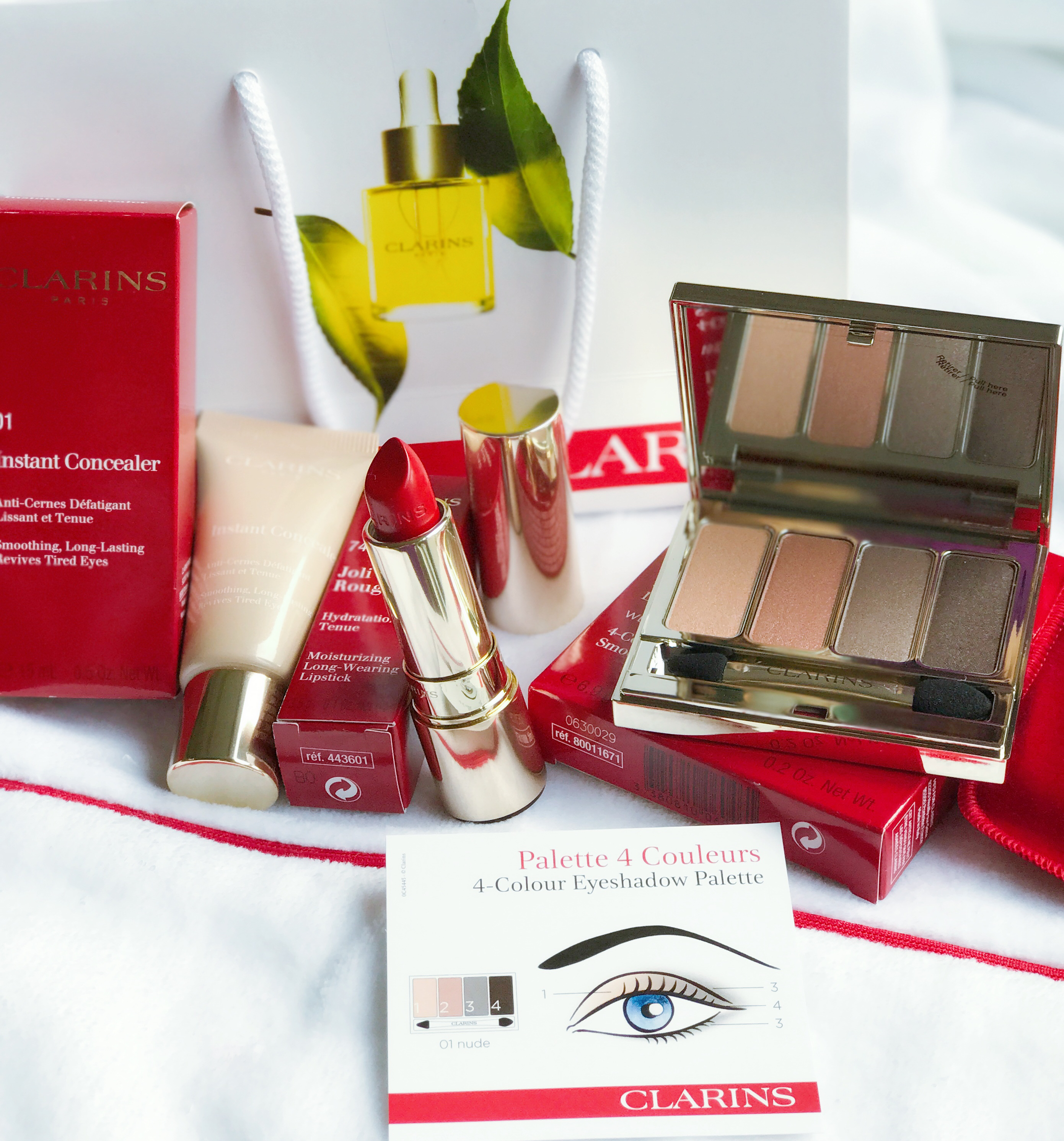 I'm a regular Clarins skincare user, but had only tried their cosmetics here and there, because they were discontinued in Singapore for awhile.
But Clarins have launched their cosmetics range in Singapore again, and some of the products are total gems! I've been using the above bits and bobs religiously (ie. daily) the past few weeks, so here's a quickie post about them.
Clarins Instant Concealer (SG$42) – one of the most impressive concealers I've ever used. I don't have breakouts, so I use this specifically for dark eye circles (of which mine are pretty awful). To conceal my dark eye circles, I look for a product that blends easily and quickly (no time to fuss around in the morning!), doesn't need to be set with powder yet won't cake, and lasts through the day. This baby hits all 3 needs of mine. It has really good reviews online, and I can see why. My only issue? The tube is really big and leaks a bit, so I need to store it upside down.
Clarins Joli Rouge Timeless Lipstick (SG$40) – I usually go for tinted lipbalms because lipsticks are drying on me. But this one is very smooth, and doesn'T dry out my lips or make them flake. The longevity on this is crazy good too, it'll last me through a meal! Applies sheer but full of pigment. And, the silver metal tube is divine 🙂 Now I'm eyeing a neutral rose-nude colour!
Clarins 4-Colour Eyeshadow Palette (SG$65) – I used to go for only bright colours on my lids, but since *ahem* getting older, I pretty much only use neutral shades these days. Mine is the 01 Nude palette which I personally reckon is the nicest (I compared them all side by side at the counter)! The shades are satin, matte and iridescent they apply soft when dry and much more dramatic/pigmented when wet. It comes with a little guide on how to apply the 4 colours as well, which is really helpful.
Now I'm eyeing the Clarins Fix Make-Up Spray (sounds totally necessary in SG's humidity) and the Clarins 3-dot Eyeliner (cool idea, much?)….!