So it looks like 2017 is shaping up to be one hell of an exciting year for us.
Namely, we're having a baby girl!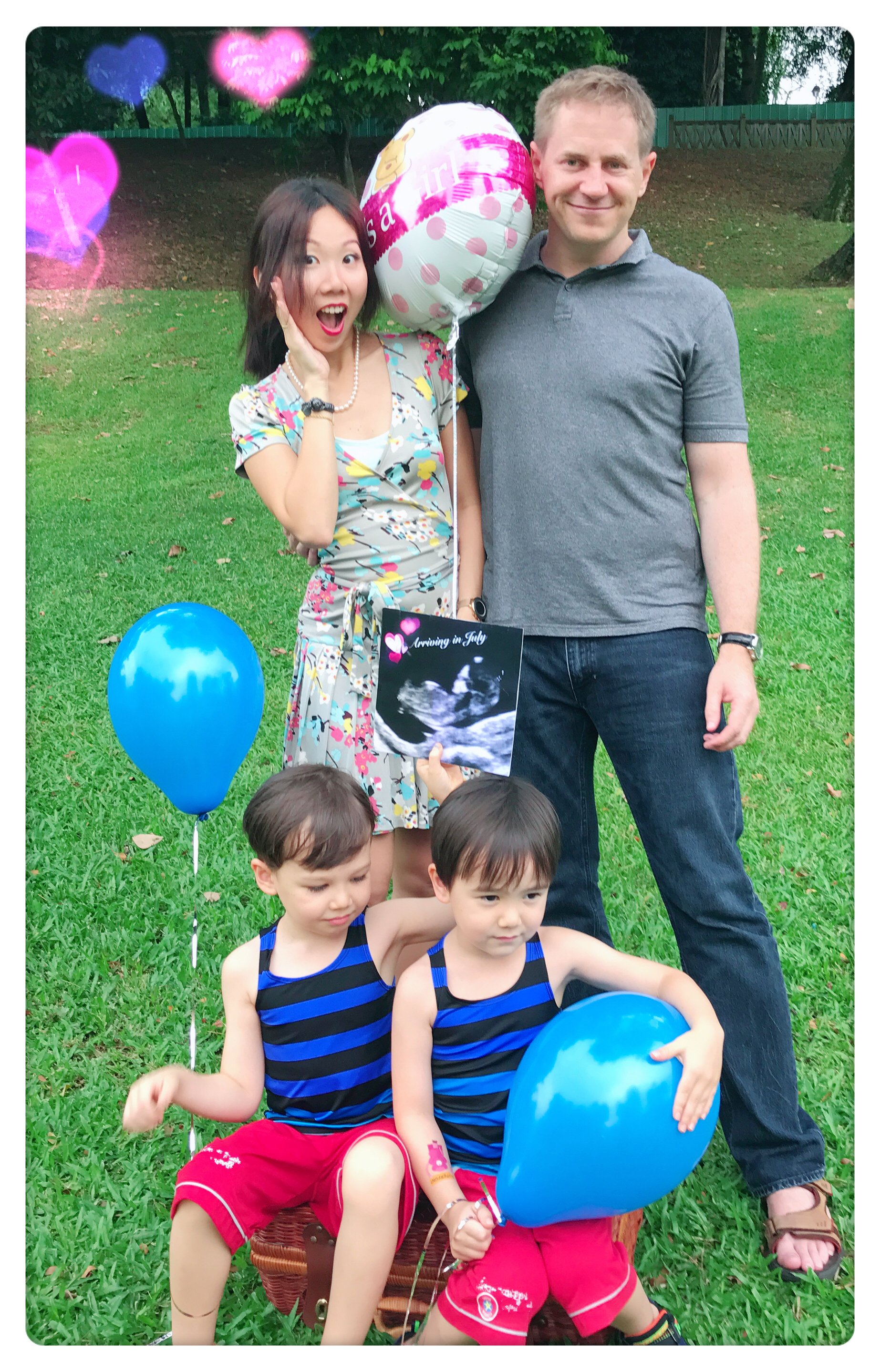 Utter shock is probably a good way to sum up Chris' and my reaction when we discovered I was pregnant.
We'd decided a long time ago that we were done at two kids. It just felt right to us, and I didn't have any desire to expand what I considered was our perfect little family.
I suppose God had other plans for us!
After our initial home pregnancy test, we pushed it to the back of our minds and….. went into denial mode. In fact, I went through a business trip, our Australia holiday, Christmas celebrations and New Year… without seeing my gynaecologist to confirm the pregnancy. I remember at one point musing to Chris hopefully "Maybe I'm just in early menopause…?"
When I FINALLY went to my gynaecologist many, many weeks later, she popped the ultrasound wand on me and exclaimed "Oh my! You are very far along!"
Looking at the ultrasound, and at our baby bouncing and stretching away, it felt both amazing and unreal. Our single thought of relief? "Thank goodness it's not twins."
Apart from our parents, we didn't tell a soul for the next few weeks either – not even Hunter and Carter. A lot of people asked me how I could keep so silent about being pregnant for so long. Honestly, it's very easy to when I half didn't believe it myself!
Yet, I was sick as hell the entire first trimester.
With both boys, my pregnancies were very lovely. No nausea, no aches and pains, and I felt pretty glorious through most of it.
With this pregnancy, IT ALMOST KILLED ME. I was feeling sick round the clock, and the nausea would hit hard and fast at any time. I had tons of aches and pains (still do) and loads of headaches and mega fatigue. I remember saying to Chris at one point in Australia, "this baby is sucking EVERYTHING out of me." It honestly felt that way, and SO different to my previous two!
So our parents, and us, were suspecting we were having a girl. Yes, old wive's tale that is debunked and all, but I just felt SO different that it was the only explanation I had.
And when we got the gender confirmation shortly afterwards, I didn't even feel that surprised.
A GIRL!!
And with that news, my whole head spun. I never dreamed of having a girl – ever. And the thought of girly things and girly emotions is totally foreign to me. I'm still in disbelief, actually!
So just before the 15 week mark, we announced to the kids.
The boys, especially Hunter, had been asking for a baby sister (yes, very specific!) for almost a year now. And if you've met Hunter in real life, you'll know he has a MEGA soft spot for lil girls – he simply adores them.
And so we got some balloons and brought them to the park:
Not seen in the above video is when we first told them we were having an addition to our family. Their first reaction wasn't actually delirious joy and excitement (that didn't come til about 1-2 hours later when we went out for a celebatory dinner). Their first reaction was bewilderment!
"Is this real?"
"Is this a dream?"
"Are you kidding me?"
"Why's your belly so small?", Carter demanded doubtfully, "A baby can't fit in there!"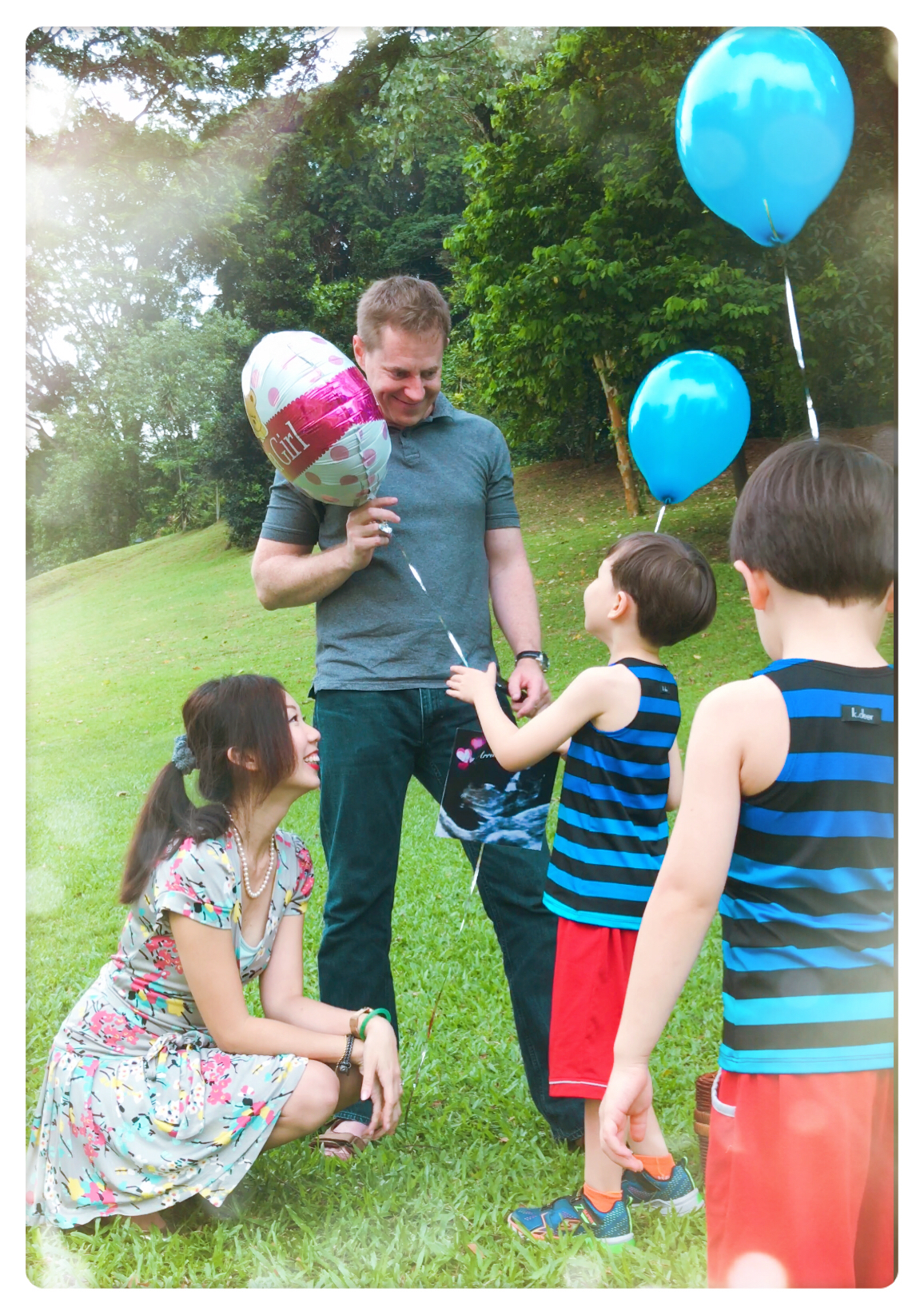 They got more and more excited during dinner afterwards, arguing about who will get to hold her first, look after her, etc. And every morning and every night, without fail, they'll scurry over to me so they can say Good Morning and Good Night to my belly and stroke it.
And that's what I realise is so lovely about a significant age gap between kids – the boys can understand what a baby is and anticipate her. So different to when I fell pregnant with Carter when Hunter was just 9 months old, so he has no concept of life without a sibling.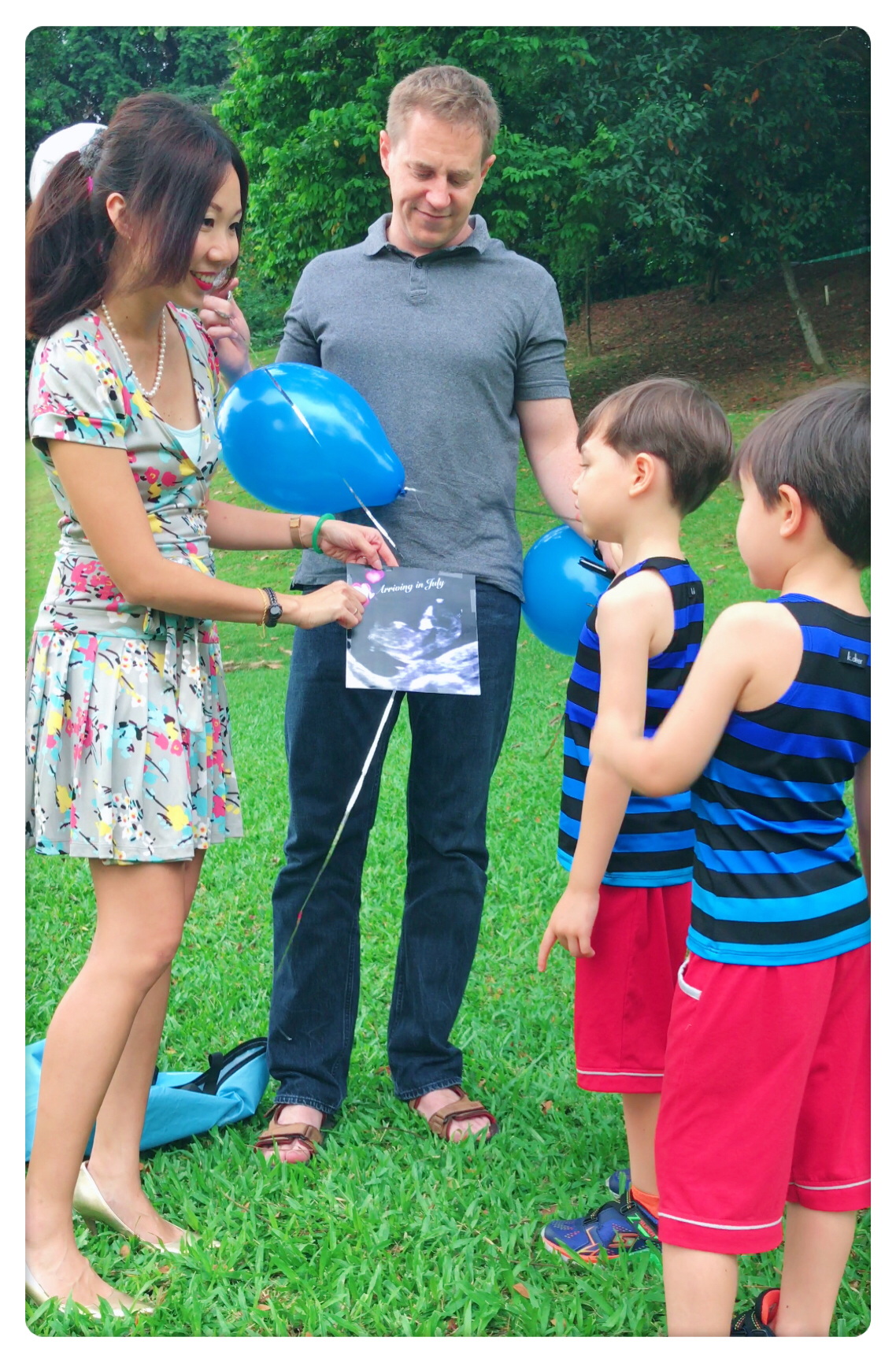 Hunter is still totally delighted that his "DREAM HAS COME TRUE!" and Carter keeps asking me if the baby "will come out tomorrow" so I'm thinking the next few months are going to be a pretty painful wait for everyone 😉
But….. Baby #3! WOW! As surreal as it still feels to me, I'm so happy that she's made our family so eager and delighted with anticipation.
2017 is going to be one amazing year indeed 🙂