Because I rarely shop in actual offline stores, (no time!), I've ordered online several times from Sephora in the USA, and have always had a really positive experience. On the downside, I've always had to have the packages re-shipped to my local address in Singapore, which stacks on extra waiting time and is also fairly pricey.
So I was very eager when Sephora Singapore launched their online store!
The shopping process is just as stream lined and swift, which is actually probably a bit dangerous for my bank account 😉
I'm pretty happy with my skincare regime, so I wasn't looking to get any new skin care. But, I was specifically after an eye cream. Recently, I haven't been having great sleep and have been feeling tired during the day. So instead of a 'regular' eye cream, I wanted something a bit special. I was looking up online reviews and the Guerlain 'Abeille Royale Gold Eyetech Eye Sculpt Serum' caught my eye specifically because it had a fresh texture and, a 22-karat golden-tipped applicator that was cooling! The thought of this solid-weight smooth and cool touch on my tired eye area was too much to resist 😉
So here's what the shopping process looked like for me –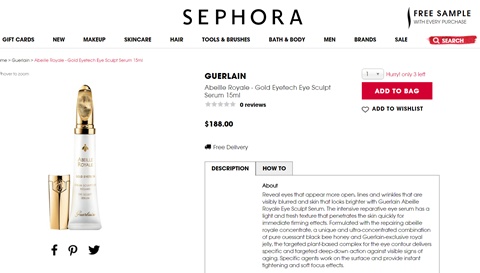 Sephora online stores worldwide are consistent, which is fantastic for me since I'm used to ordering from their USA site previously. All I did was click Add To Bag!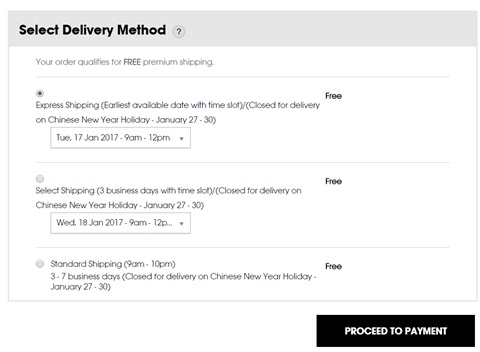 Free shipping? Oh yes please! It's free for all orders over S$40 by the way.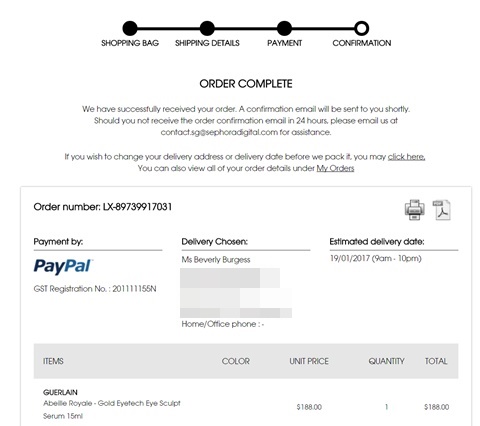 And that was it – checkout in a jiffy. I selected my free sample as well, and they also credited my Sephora membership with the appropriate points, just like in the actual store.
My package arrived by courier, nestled in a cardboard box and in gift-worth condition. I love a company that takes pride in their packaging.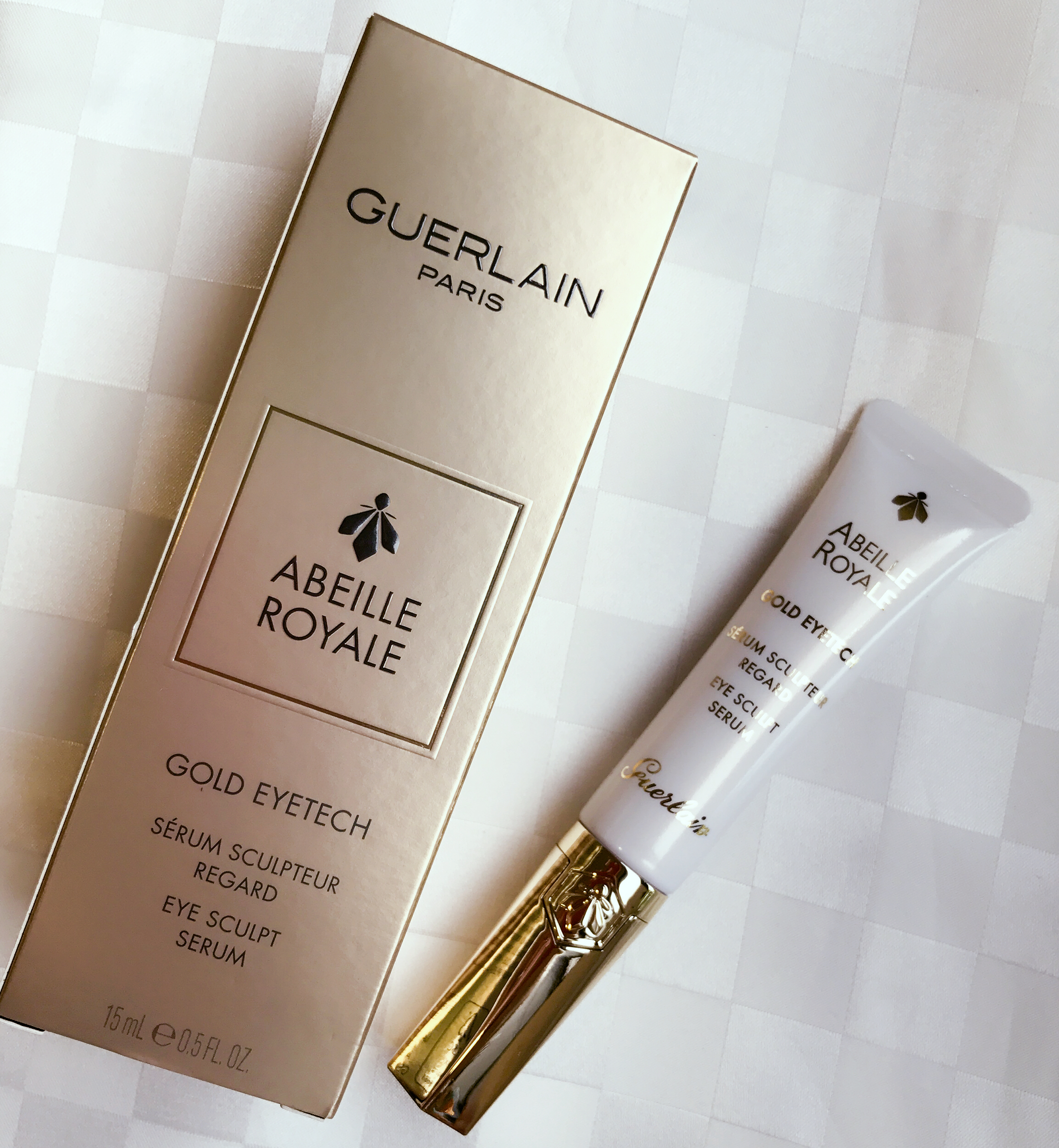 And the Guerlain 'Abeille Royale Gold Eyetech Eye Sculpt Serum'?
The serum is formulated with royal jelly and pure bee honey, both of which are meant to be effective natural healers. But, most of all, the serum is really silky and doesn't have a strong scent – both bonuses for me.
I squeeze a bit out and dot it around my upper and lower eye area. Then, I use the gold wand to press lightly for a few seconds on my pressure points around the eye. Maaaaan it feels reaaaalllyyyy goooood to feel the coolness of the wand tip!
After that, I lightly stroke the serum in by rolling the tip in an arc shape, following my eye socket. It feels pretty amazing in the morning, and makes me feel really perked up and pampered after this little regime.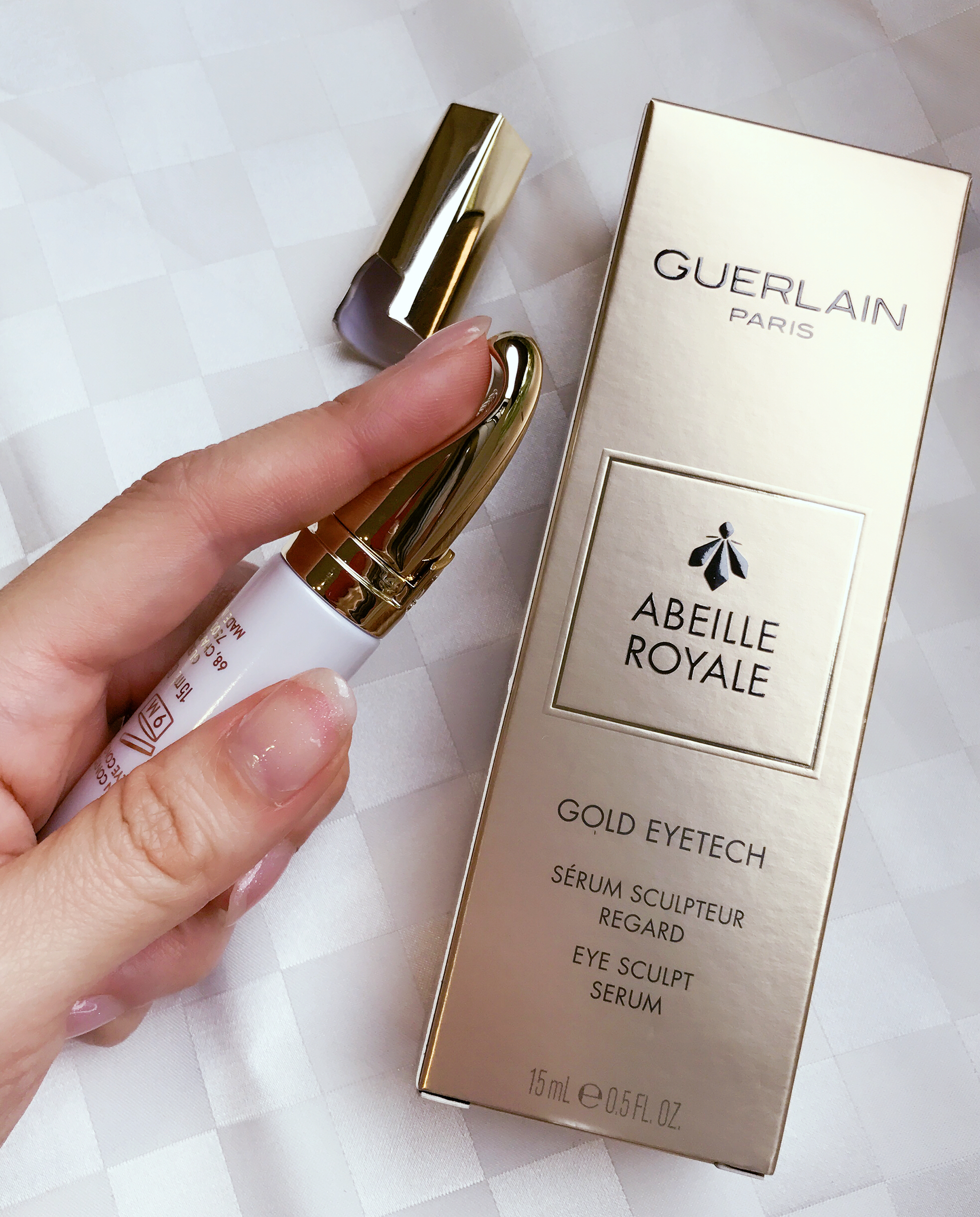 I'm still using a slightly richer eye cream at night, but in the morning, this Guerlain eye cream is pretty spectacular!
Thanks Sephora for giving me the opportunity to shop!