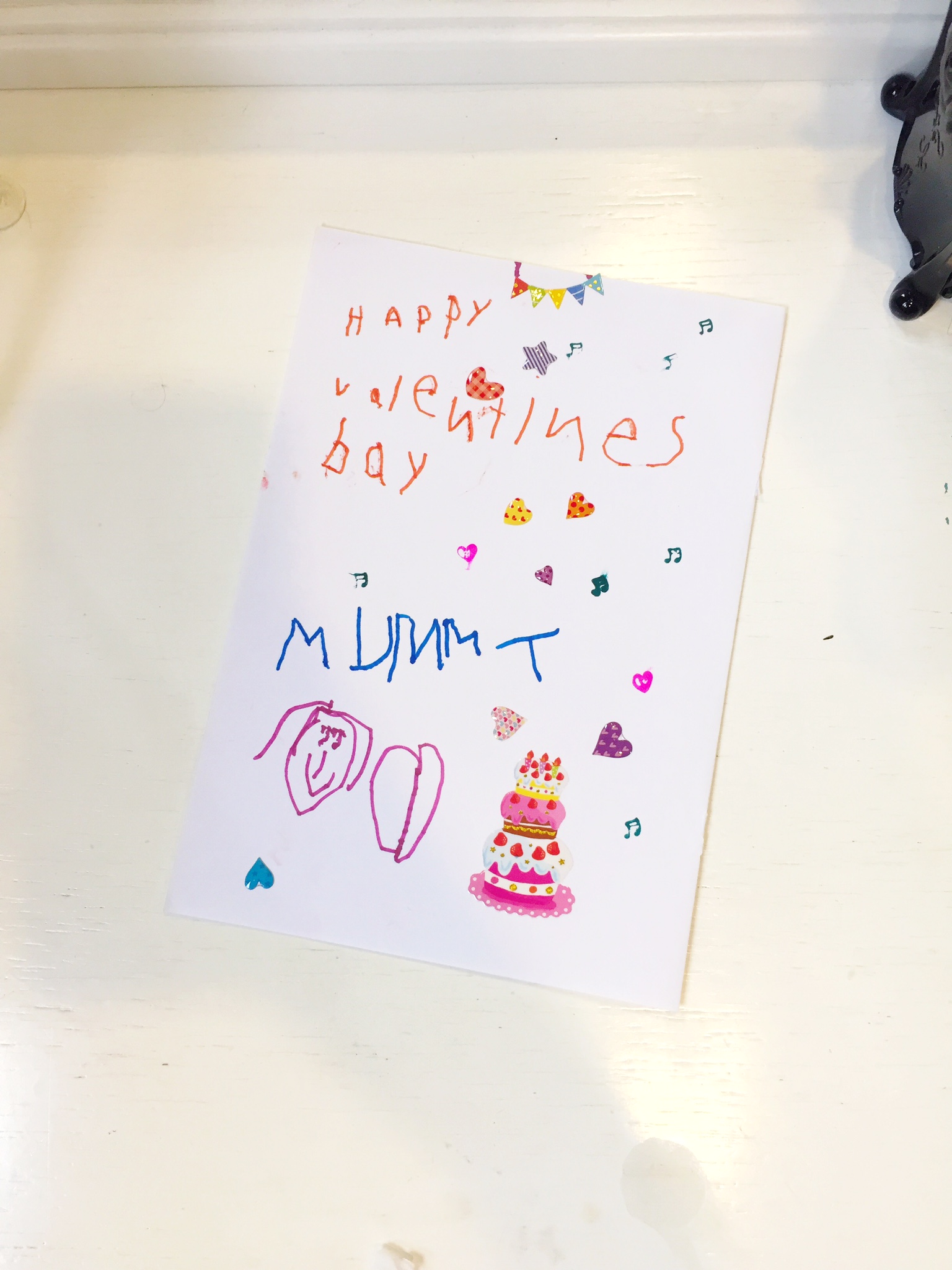 A very special card, because it's the first one where both boys are able to write letters. Carter wrote "Mummy" (complete with an upside down Y), and Hunter wrote the rest. The card makes me smile – proud that my kids are writing now, and wistful that they well and truly aren't babies anymore.
What happened to all those days of breastfeeding and quiet cuddles nestled in my arms?
Are they really all just memories now?
I still so clearly remember it all…
Now my babies are replaced with little boys – equal parts sweetheart, equal parts mischievous.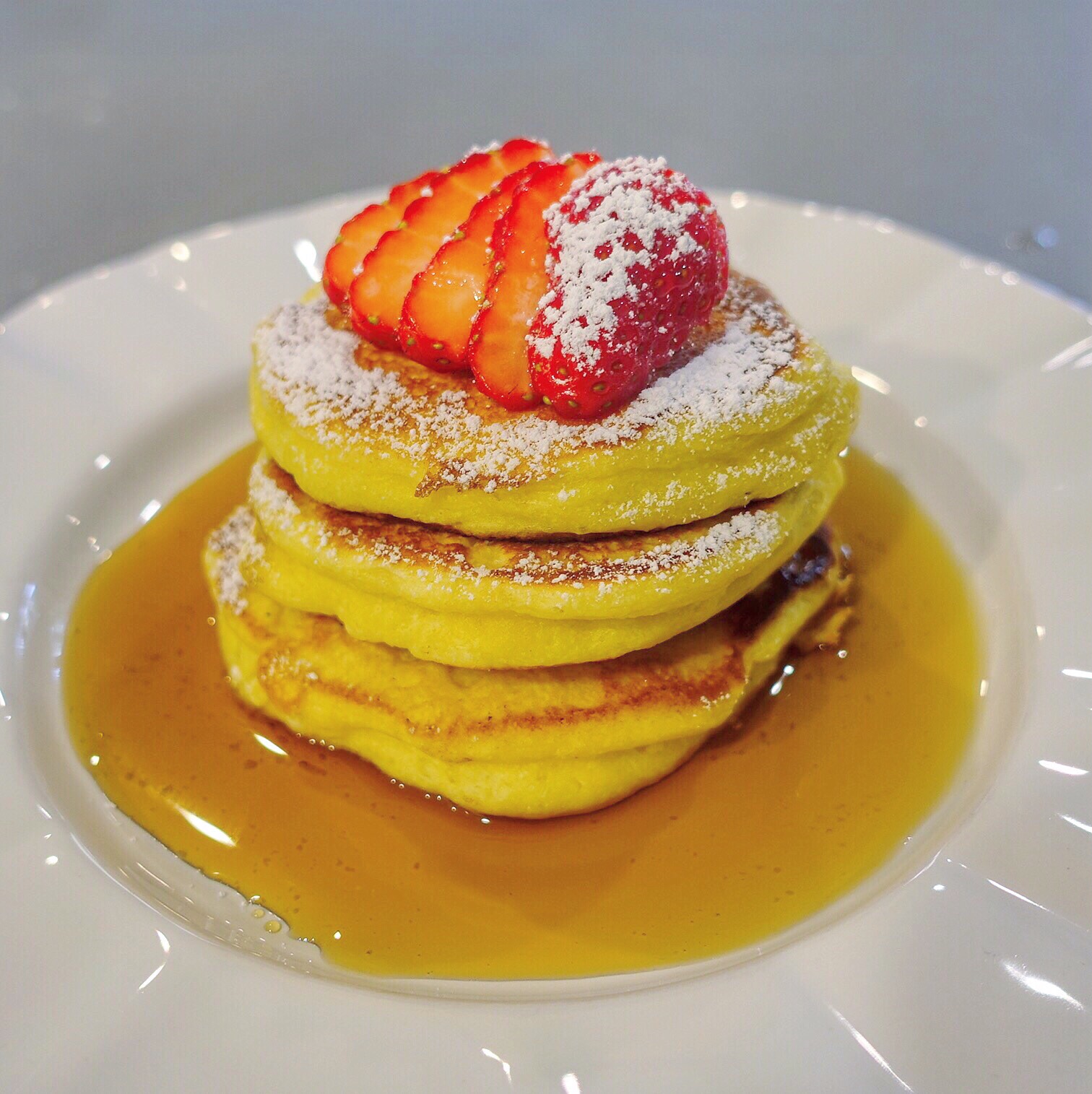 Chris impressed me (and himself, haha) by whipping up a batch of Ricotta Hotcakes for our Valentine's Day breakfast.  I did my part by slicing the strawberries 😉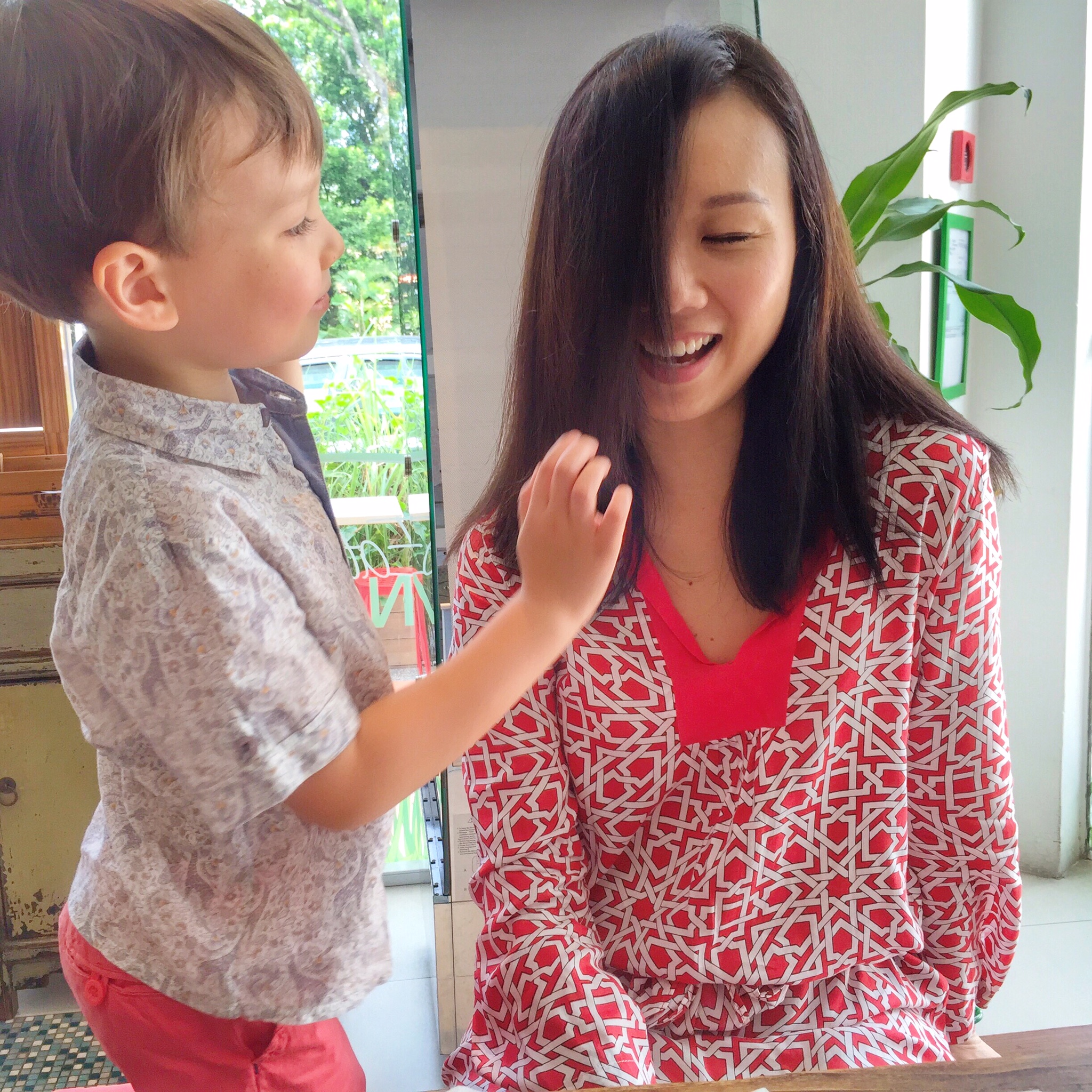 We had a quiet Valentines Day lunch in the sundrenched The Living Cafe, whilst Hunter brushed my hair and arranged it just so. He was pretty proud of his handiwork!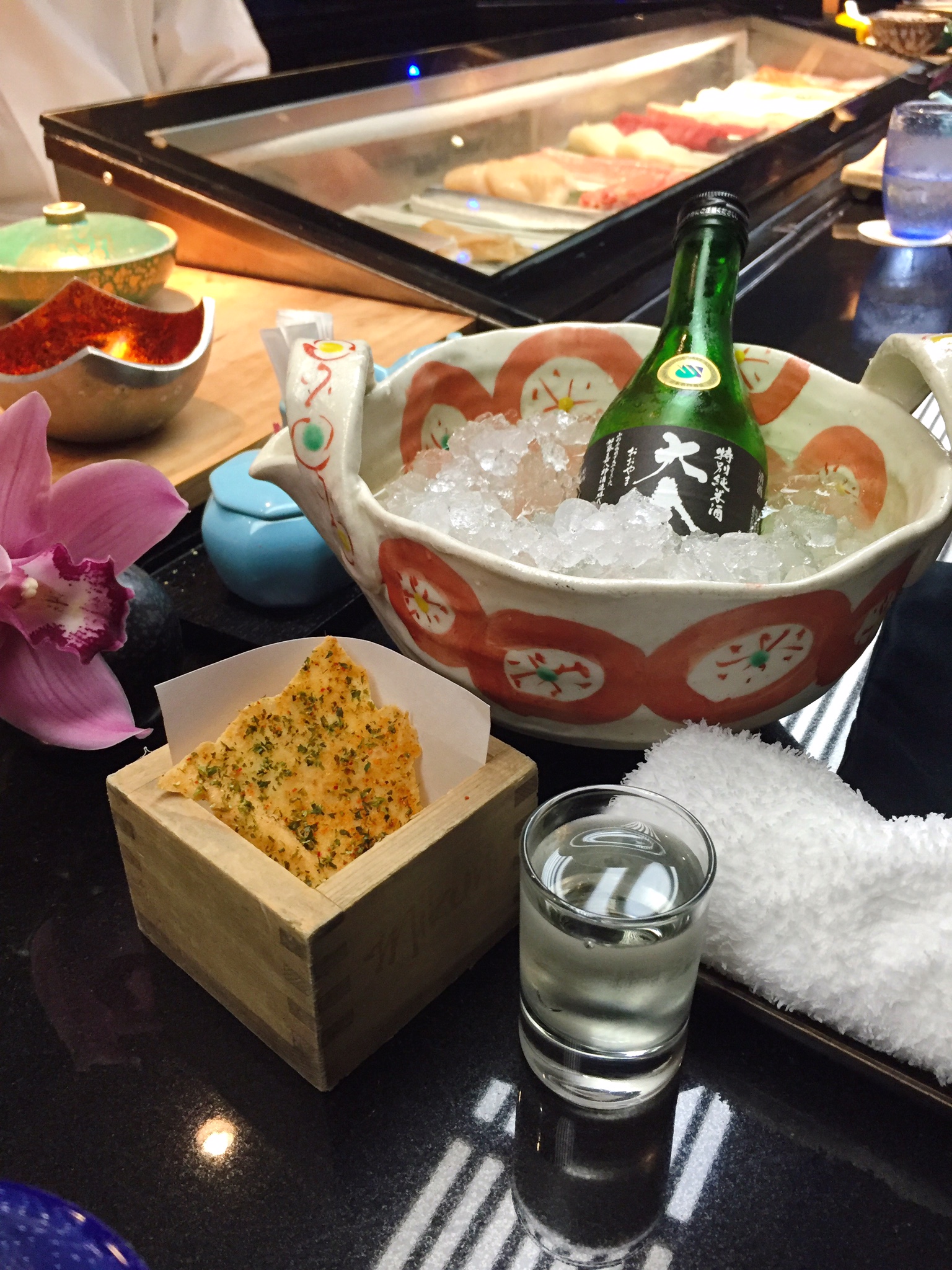 Dinner was at Mikuni @ Fairmont Hotel, one of our favourite Japanese restaurants with superb ingredients and impeccable service. We so rarely have nice dinner dates, so it was a big treat for us to have so much alone time. And for that alone, the dinner was worth it!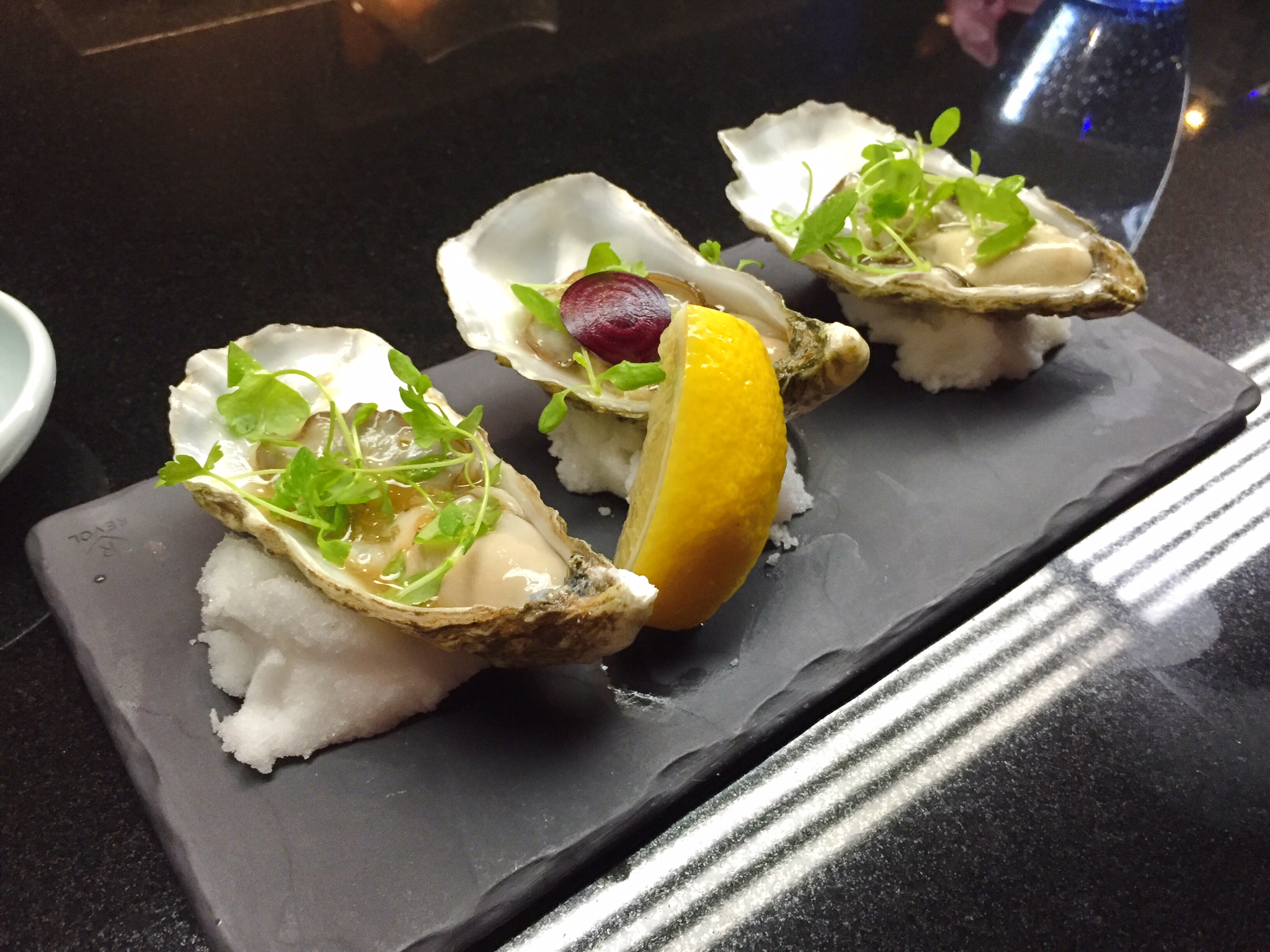 First time we ordered the Oysters with red wine vinegar and wasabi ($26) and I'd order them again in an instant. The plump oysters were so fresh there was zero fishy taste, and the light vinaigrette added the perfect zing. Just wish it was half a dozen oysters instead of just three!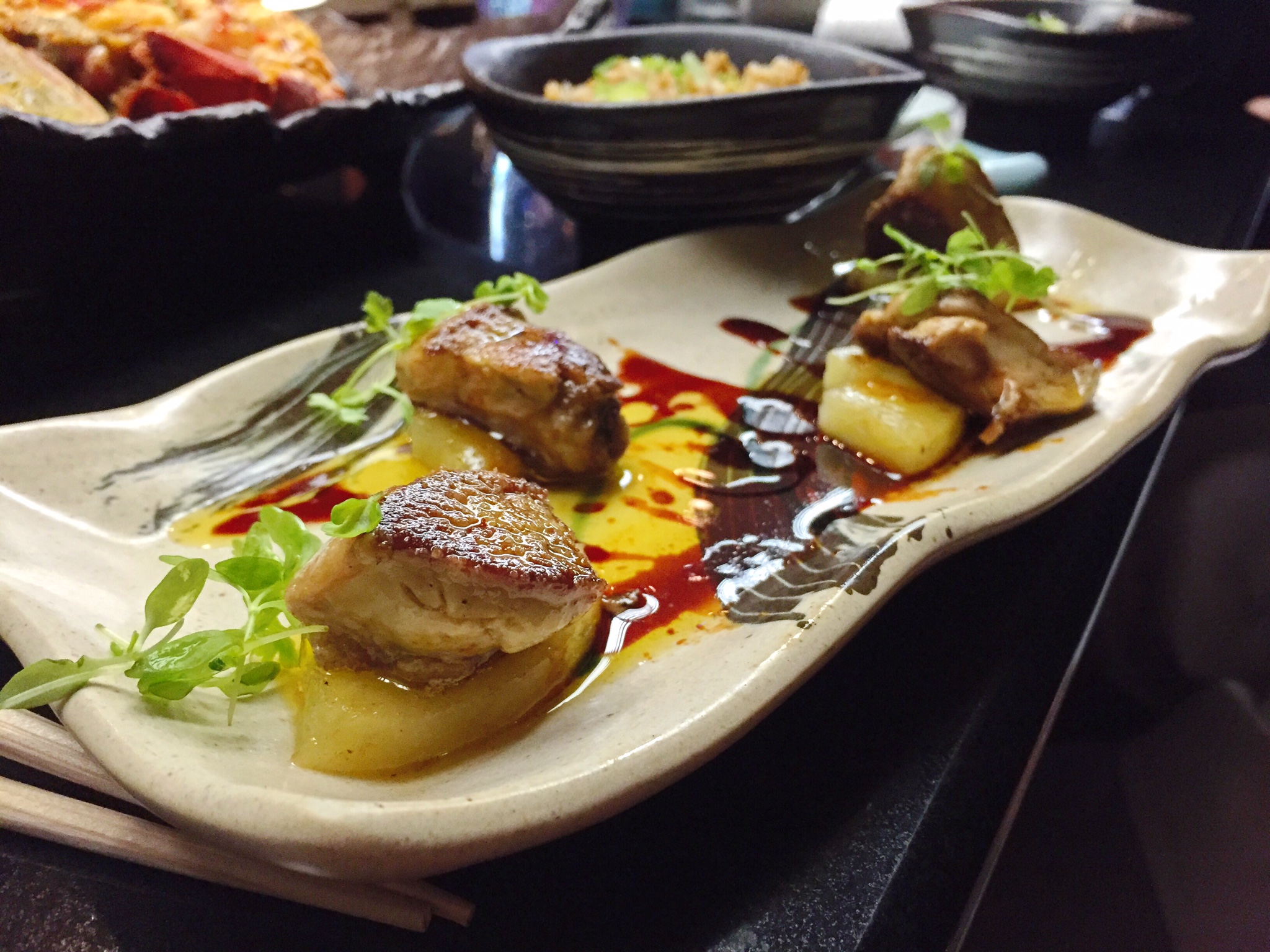 One of the best dishes at Mikuni is their Foie gras with caramelized pineapple. It is SUBLIME. The morsels of foie gras are pan grilled warm, and rest on small slices of sweet pineapple. The mix of flavours is amazing and it is by far my favourite dish there.
The Hokkaido scallops with cod roe and yuzu butter ($28) normally is one of my favourites, but I swear this time the scallops were a bit smaller than the previous time. I do think Hokkaido scallops sashimi style is the best, because it allows you to experience the full sweetness and juiciness of the scallop, so would get that next time instead.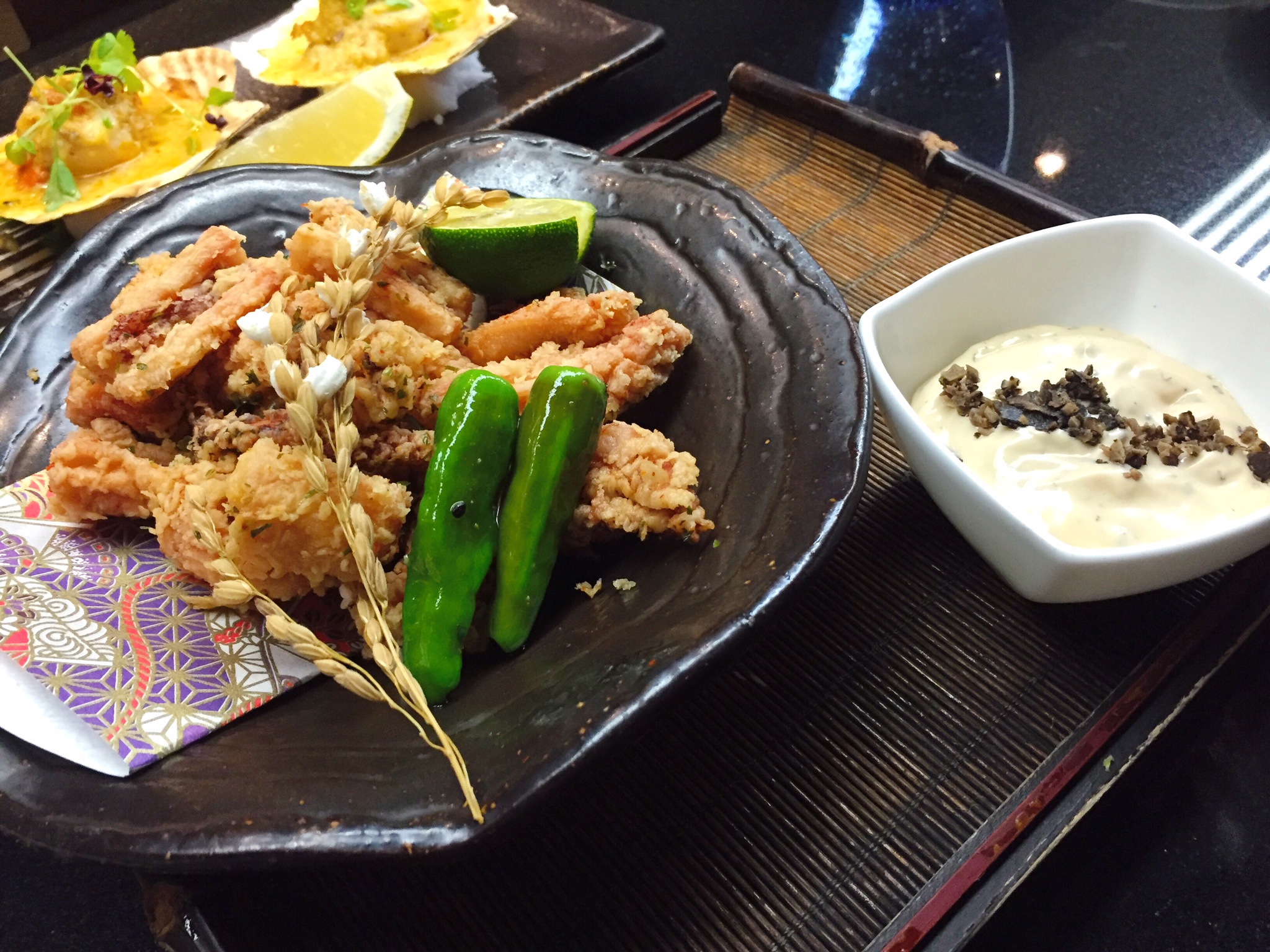 The Crispy fried squid with truffle miso mayo ($20) is worth getting for that dip alone. There's some sort of sorcery going on, because the dip is the most addictive and delicious dip I've ever had.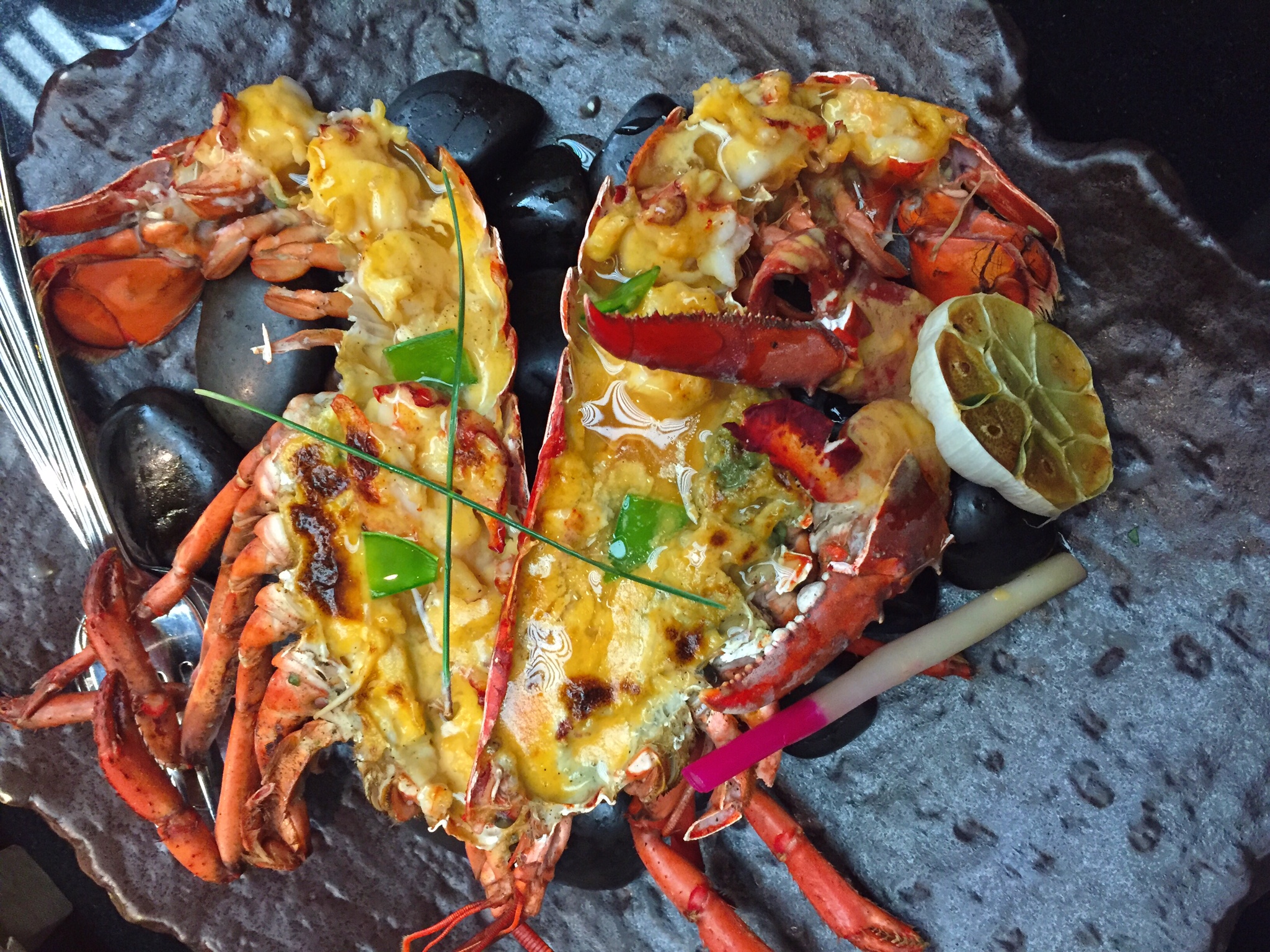 My other favourite and must-order dish at Mikuni, the Grilled Boston lobster with sea urchin cream ($48).No need to fuss and dig around for the lobster meat, because it's been removed and chopped into big chunks before being placed back in the shell and smothered with that pleasure-inducing sea urchin cream sauce. That mix of creamy umami flavour is freaking terrific and I haven't had a lobster in Singapore as good as this one.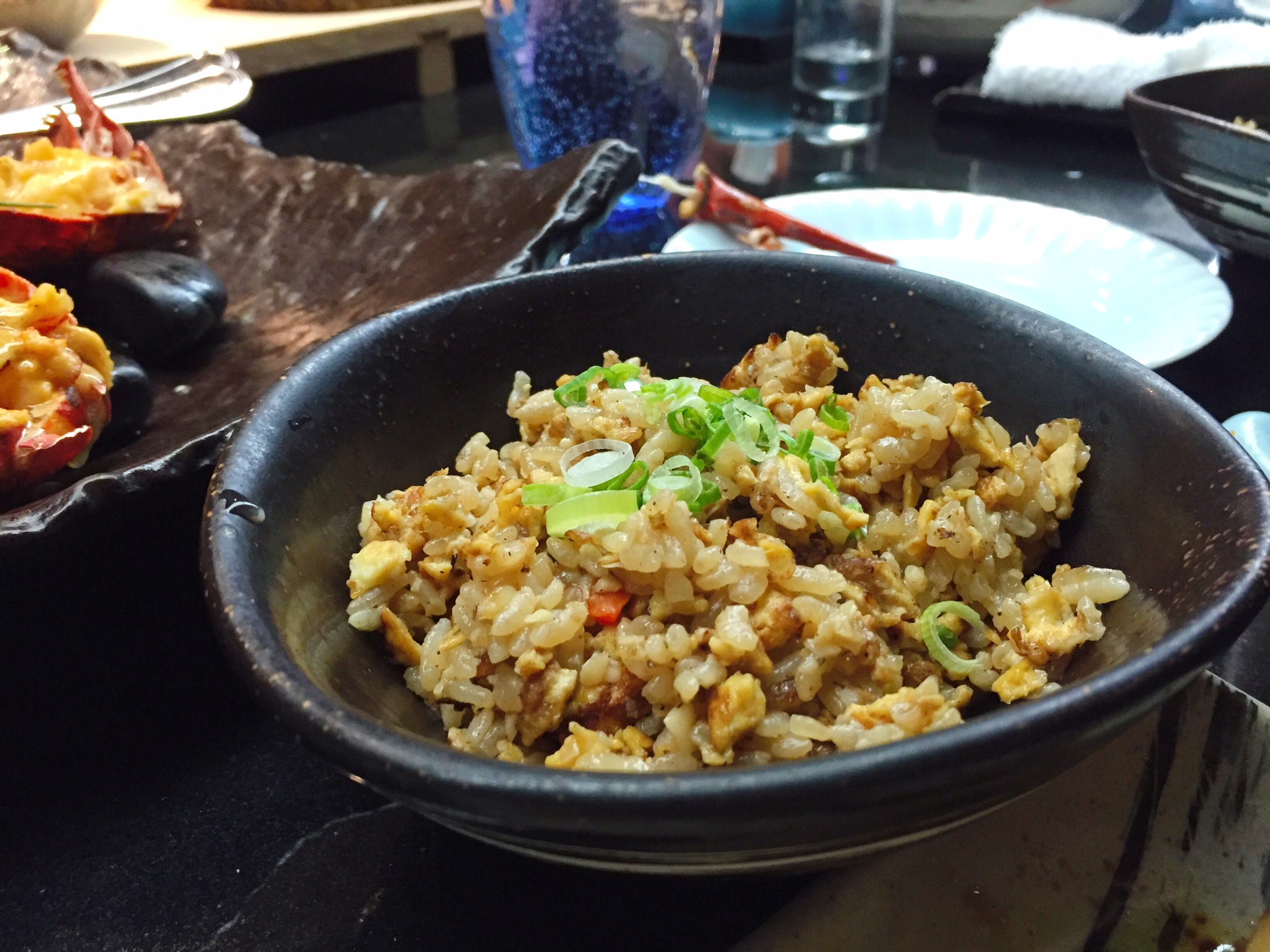 A fairly standard Garlic fried rice. In retrospect we should have ordered some sushi hand rolls for our carb fix instead.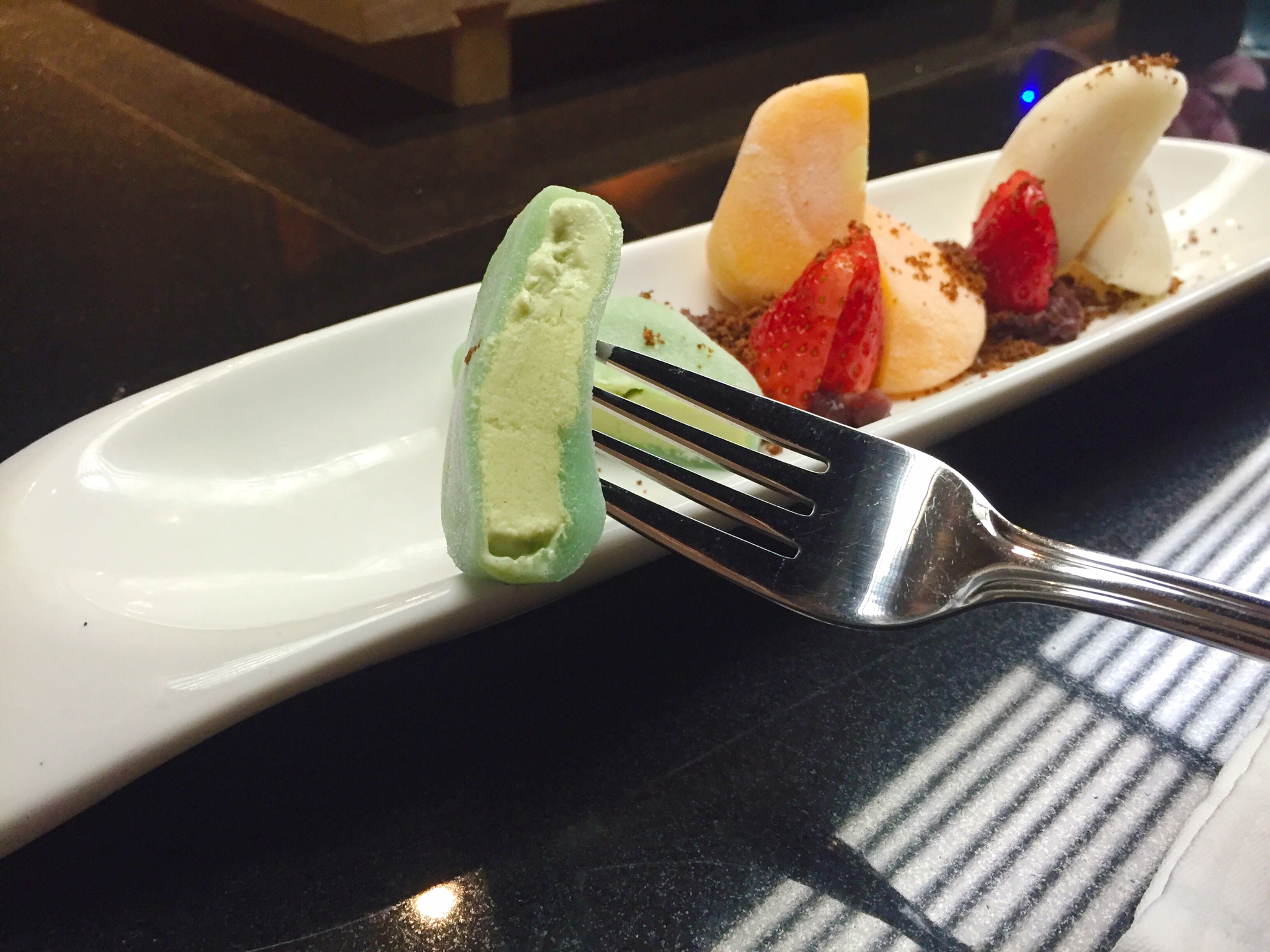 We were a bit full to enjoy a rich dessert, so settled for a simple Assorted mochi ice cream. Delicate, slightly chewy, and with just enough sweetness to round off a luxurious meal.
Thanks for the lovely Valentines Day dinner, Mikuni!