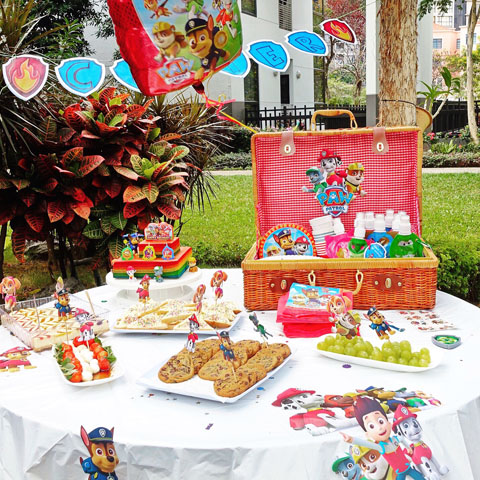 Our baby wombat turns THREE years old today! 
He's one of the cheeriest and most stubborn 3 year olds I know – with a knack to frustrate and an even greater knack to charm.
He truly has a heart of gold. Nothing makes him happier than to make others happy. We had his birthday party at school today, and every kid got a box of chocolate biscuits included in their goody bags. I made a goodybag for Carter too, which he opened. Then, instead of eating all the chocolate biscuits himself, he proceeded to give them out one by one to all of the kids – delighting in just seeing their happy faces. This is something you just can't teach, and you just can't force. It comes from within, and I feel SO GOOD that my kid derives pleasure in making others happy. I hope this perfect innocence never ends, and that it's never stamped out by mean kids when he gets older!
So anyway, we threw him a Paw Patrol themed party!
I didn't have much time, nor energy, to throw a fully fledged theme party. So I only invited four or five families to celebrate with us, and kept everything to a minimum.
The decor was clipart that I bought online for about $2, then printed and cut out. It did the trick! I bought two balloons, and some plates/cups from eBay for a few dollars as well, and that was about it.
It was a jiffy to set it all up and was the most budget party I'd ever done (the whole setup cost <$20), but Carter enjoyed seeing Paw Patrol everywhere, so he was pleased! It actually makes me really happy to have DIY parties, just wish I had more time to do more..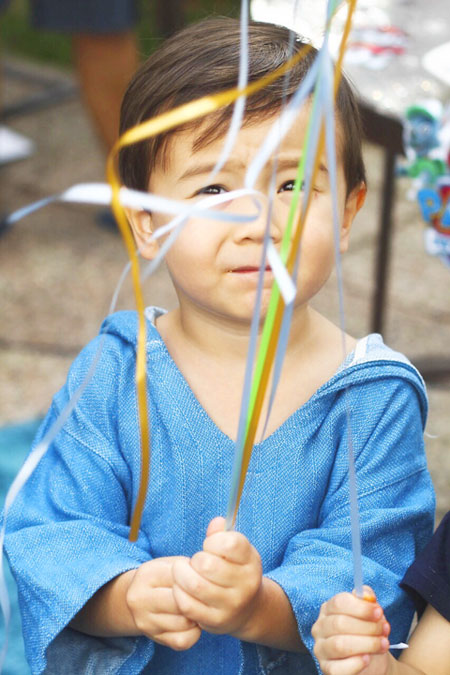 The birthday boy with the last minute pinata, because Hunter was dead set keen on having one at the party!

Birthday cake 🙂 Rainbow kueh lapis cake that we popped some Paw Patrol figurines on, and some Paw Patrol candles I bought on eBay. I actually liked the effect and was happy with it. I feel a bit odd spending $400-500 on a full blown fondant cake, because it's just too excessive for me when there are people in the world that need money and here we are spending hundreds on a cake… and also because I don't really see the value of getting an expensive cake. It gets eaten!!
Personally, my favourite would be a home made cake that I bake and decorate myself. But, well, no time…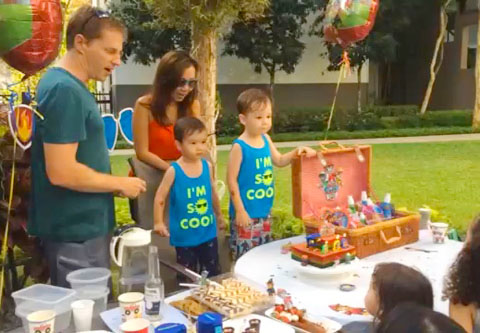 Happy Birthday song. I love their singlets 🙂
Video!
We managed a group shot! All of the kids, save 3. Not a bad effort.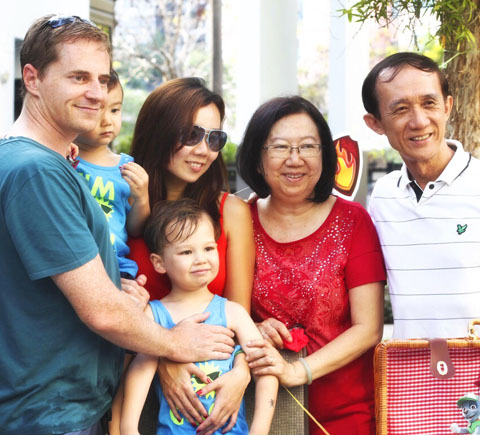 An (extended) family shot.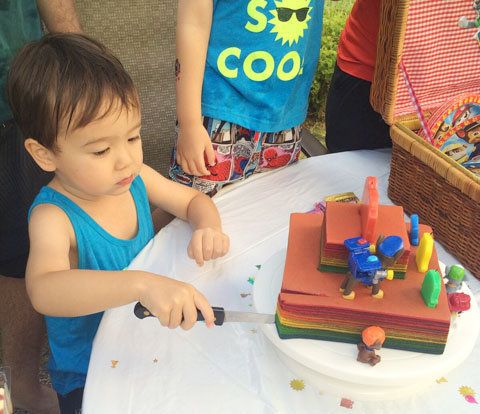 Old enough to cut his own cake with a real knife.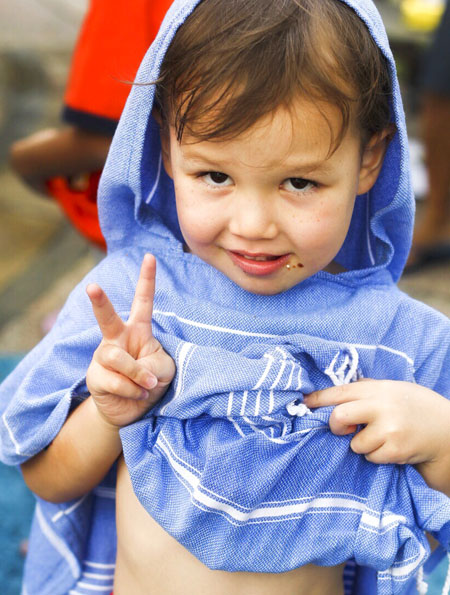 Hunter enjoyed himself too. He was so excited that Carter is 3 and he is 4!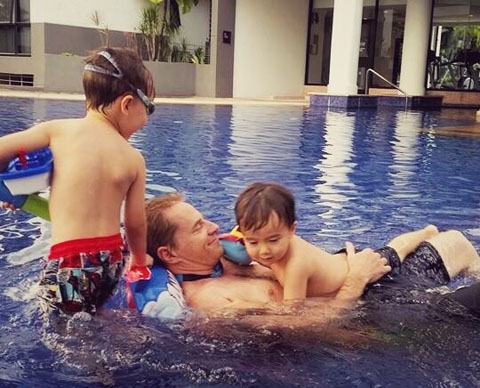 Of course, a Burgess party is never complete without a dip in the pool..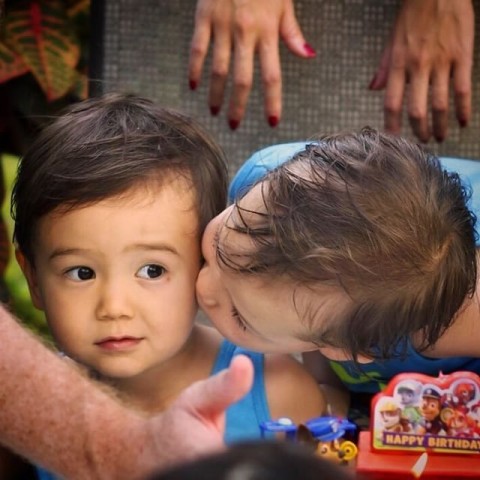 Birthday kisses for the birthday boy. Hunter, at 4 years old, was mature enough to let it be Carter's day.. letting him soak in the attention and dishing out lots of cuddles and kisses and encouragement to the birthday boy. However, he had a bit of a cry when it came to present-opening time and he was hit with the full realisation that presents are for the birthday boy and not him…… Oops. Life's tough, honey!