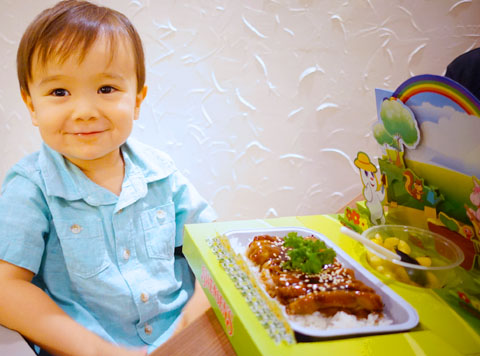 What's Carter so smugfaced over?
His funky new kids meal!
Swensen's now has a new "Garden Kids Meal" that has kids in a bit of a frenzy. Because it's REALLY, REALLY CUTE.
This is the Swensen's located at ION. It's a really large space, this is just one section of the restaurant! Big thumbs up for their plethora of booth seats – always a hit with my kids.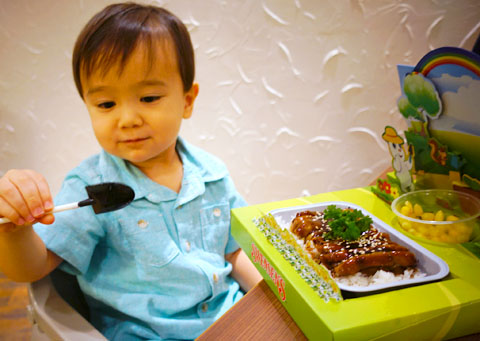 So back to this "Garden Kid's Meal". It's $9.90 and arrives in an adorable pop-up box, with little colourful animals that my kids zero'd in on, discussing which one they liked the most.
It has a Corn-in-Cup with little corn nibblets (which my kids both wolfed down), a selection of 6 main courses, and a drink (soft drink, iced Milo, or apple/orange juice).
Best of all…………. IT COMES WITH A MINI SHOVEL!!!!
I actually don't know why Swensen's don't promote the heck out of it, but they should. I was kind of AMAZED when Hunter quickly picked up his shovel, and started… shovelling! He ate his corn nibblets (of which he has never eaten in his entire life, because he doesn't like corn), and asked us to hurry up and cut up his meal so he could start shovelling that too. WIN.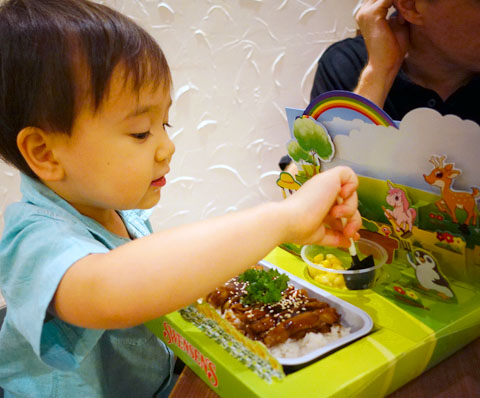 Carter was also delighted with his mini shovel, and attacked the corn cup. He scoffed it all down pretty quickly!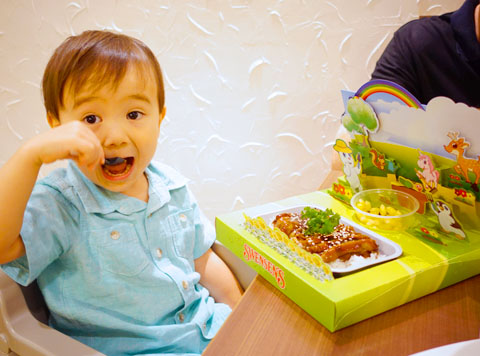 Carter's main meal of choice was the Chick 'n' Rice (grilled chicken and teriyaki sauce served with rice). This is an idea pick, IMHO, if your kid loves his carbs – like this guy here. It's actually quite a sizeable portion, enough for an adult with a normal appetite. Even Carter couldn't finish the entire set meal. Or maybe because he was just hanging in there for dessert 😉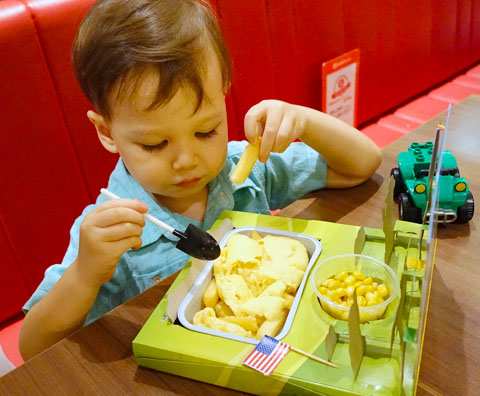 Hunter was very focused on his meal, and feeding himself – something that's very rare for him. He picked the Cheese Omelette (omelette filled with creamy cheese, served with fries), and ate every thing in his set meal. The only thing I'd change about this would be to add something into the omelette – like veggies and ham.
So I saw THAT photo above on the menu, and had a conniption. Despite not really being able to eat spicy food, I love chilli crab. However, I don't like crab – too fiddly. So this Fried Crayfish with Chilli Crab Sauce was just the bees knees for me! Crayfish patties, served with chilli crab dipping sauce and fried mantou breads. Oh please, just get in my belly already.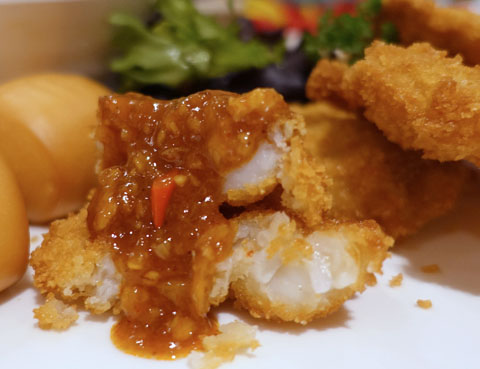 The crayfish patties are awesome. I'm not a fan of patties, and certainly not seafood patties. But these were SO good I would go back to Swensen's just to eat them again. They were crisp, yet so tender and juicy inside.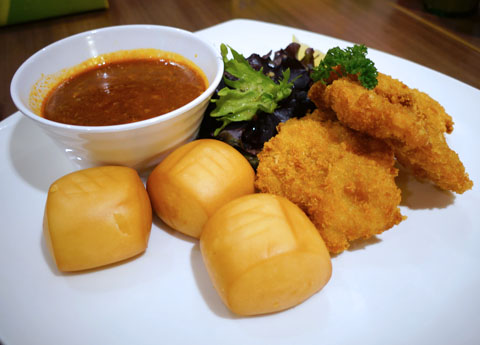 This is the whole meal. It actually looks quite petite against the large plate it's served on, and is also not filling enough for a big eater. I'd love to have seen 4-5 mantou buns, and 4-5 crayfish patties instead of the 3 each served.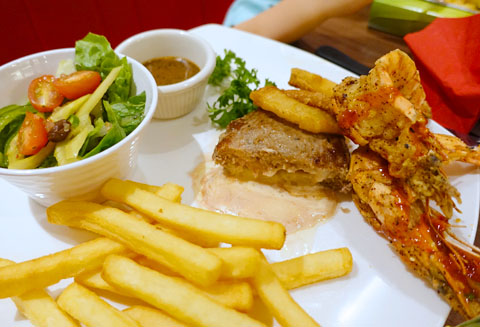 Chris opted for the Surf 'n' Turf, which is a pretty solid choice if you're after some meat, but don't want it to be too heavy. This features a beef patty that's infused with ooey gooey cheese (yum), and two big prawns. You get a side garden salad and fries, as well as onion rings. The onion rings are DELICIOUS!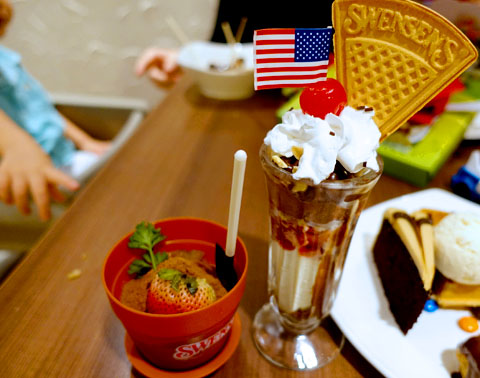 Also on the kids set menu is the ability to top up $3.90 for a Milo ice-cream Dirt Pot (normally $5.90), or $2.90 for a Coit Tower Junior (normally $4.90).
The latter looks impressive and great bang for your buck, but it was the Milo ice -cream Dirt Pot that had the kids hopping in their seats in excitement. It's adorable! The little plastic pot housing the ice cream comes complete with Milo 'soil', a little gummy worm, a planted strawberry and a sprig of parsley. And a mini shovel to go digging!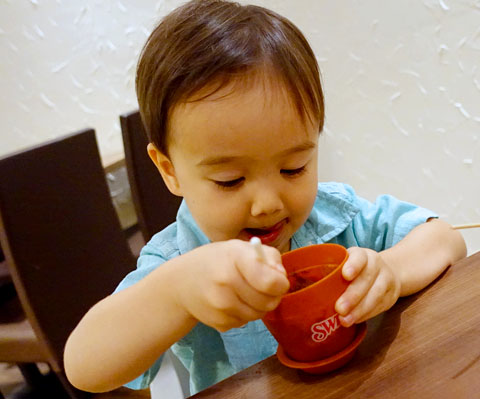 The. Kids. Loved. It.
Us adults had the Ice Cream and Dessert Buffet (only available at ION Orchard). It boasts over 50 ice cream flavours, more than 40 toppings, and two very attractive fodue fountains. Plus, there's a large assortment of pastries, waffles, cakes, etc. Diet what diet?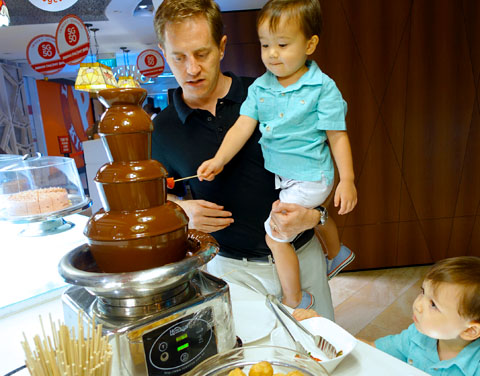 The kids had a grand 'ol time dipping strawberries into the milk chocolate fondue. It's also lovely drizzled over whatever ice cream flavour (of the 50 options there) you select.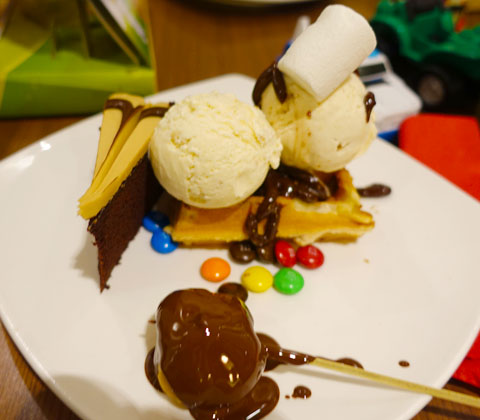 I exercised self control and simply got myself the Chocolate-espresso cake, a waffle wedge, two scoops of Macadamia ice cream, and a cream puff with chocolate fondue. Sugar coma: engaged.
Personally, I would bring the kids back for this Garden Kid's Meal. I was impressed with how Hunter eagerly fed himself, and with the quantity and quality of the food served for the price. Eateries should take a leaf out of Swensen's book and pop their meals into cute kid-attractive boxes like this. And don't forget the cute shovel!