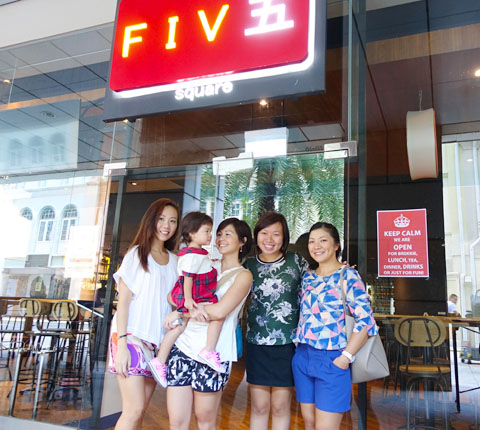 We all know that GRUB Noodle Bar is absolutely kickass, but it is in the most random of locations!
Now, GRUB Noodle Bar Express has launched, at the new Fiv? Square on 1 Pickering Street.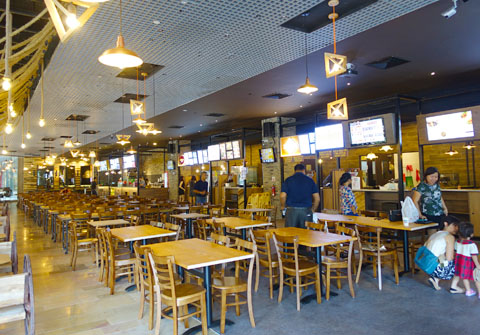 Fiv? Square is the latest food court concept in town. I say "food court" with a pinch of salt. Think upclass, fancypants food court, smack in the city, but still with reasonable prices. There are only a handful of stalls here – from the likes of Teppei japanese, a tapas/paella joint, a salad/meat bar, etc.
The ambiance is a bit on the rustic side (think metal rimmed lamps, raw ropes hanging from the ceiling, etc), but cozy. I bet it's going to be a very popular place for the office crowd at lunch time.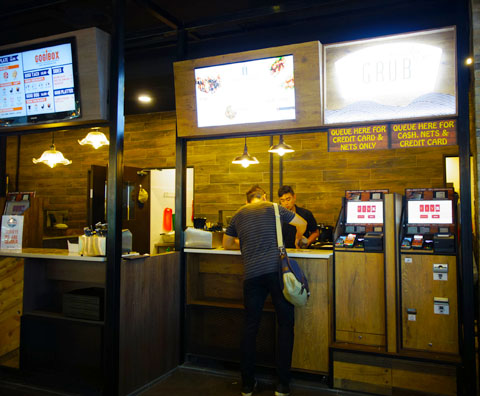 The ordering concept is swift, and great for the lunch rush. You simply choose what you want via the computer screen, then pay via card or cash. You pop in your phone number, and you'll get an SMS when your food is ready for pick up (how tech savvy!).
Easy peasy. Let's get started!
This is the menu that GRUB Noodle Bar Express has here. It's short, to the point, and nails all their star dishes.
You'll notice that, exclusive to this outlet, there is Pork Noodles – either pork collar, or kurobuta (ie. black pig) collar. All noodle options come soup or dry. I'd HIGHLY recommend the dry version, as you get a bowl of rich broth with it anyway, and you get a free serving of Kang Kong Salad (this deal is not mentioned anywhere, which is weird. Well, now you know!!).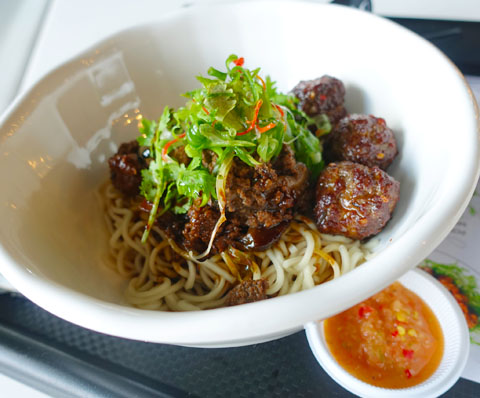 I ordered the Sirloin Beef Noodles, dry ($13.90), which came with the Kang Kong Salad (not pictured because the whole concept of a salad is beyond me, but those of you that like salad will appreciate this).
What you see above is just one of the TWO bowls that you're served. This one is the dry noodles, topped with a bunch of beef balls and mince beef with shitake mushrooms. The rich gravy is thick and flavourful, and to be honest, is a meal in itself!
But wait, there's more…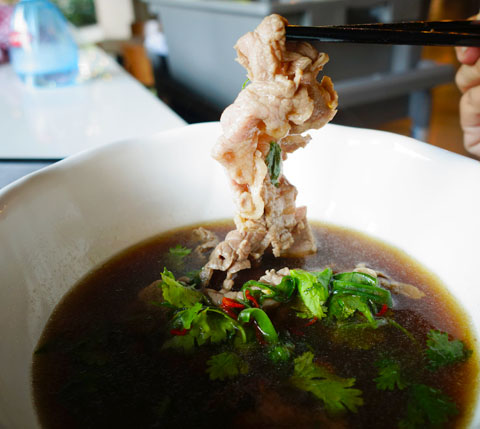 You're served a SECOND bowl, of equal size, of the Sirloin beef in soup. This, in my opinion, is the STAR of GRUB Noodle Bar, and absolutely amazing.
The sirloin is thinly shaved, and you get a generous portion. It is incredibly tender, and wonderful with the spicy chinchalok dip that is served alongside.
And that broth. Boiled lovingly for hours and full of beefy goodness. It's sweet, but not overly so, and has the rich flavour of natural beef stock. It's wonderful.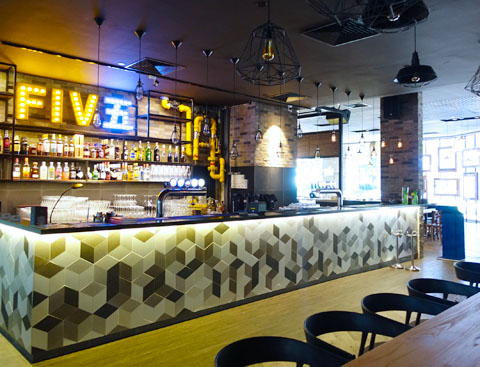 This is the bar/cocktail area of the food court. There is even a whole whisky room. See what I mean when I say it's not a traditional food court?
It's well worth a visit if you're craving some excellent beef noodles, homemade and packed with goodness. And thank goodness for the central area!