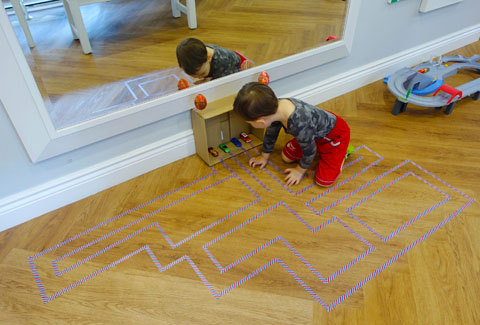 I was pottering around Daiso (ie. gloryland of $2 goodness), when I spotted their washi tapes. I'm a bit of a sucker for them, because I like wrapping up my presents and using washi tape to stick it all together. But they had this red/blue tape that wasn't my style…. however I thought it'd be great for the boys.
And so, voilà, Carter and I made some washi tape tracks on the ground – good for cars or trains!
Simply stick and go. Best part? Washi tape comes off really easily and doesn't leave behind a sticky residue. It's also great for fickle kids, because you can keep changing the tracks and they don't get bored. Also, a good (and cheap) alternative if you don't want to pay for actual toy train tracks (which get real expensive, real quick!)
Granted, the one that Carter and I made is super boring. It'll be way cuter with different coloured tape, and perhaps put little props like trees and such around! Regardless, it kept Carter occupied for a good half hour or so, and Hunter was absolutely delighted when he got home from school and saw this. Win-win!