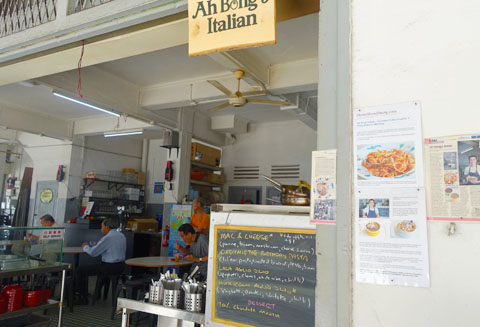 The name Ah Bong's Italian totally makes me giggle. It's adorable! I find the whole premise really charming – a pokey little Italian joint right in an old school local coffeeshop. And because it's located in the trendy Tiong Bahru area, it's just cool.
Oh, they're only open from 10AM – 2PM, so pop in for lunch!
Look up and you'll see the small signage indicating you're at Ah Bong's Italian. Other than that, it's totally nondescript. The menu changes daily and is scribbled on a blackboard (see above photo).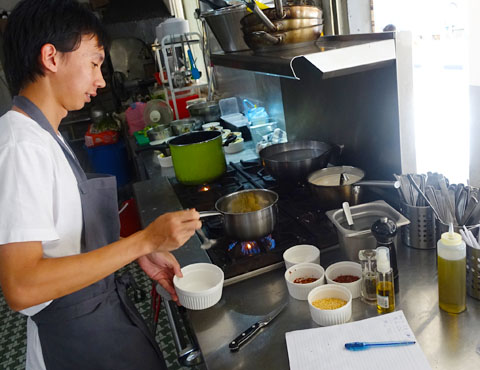 This is the kitchen, which is literally just a stove top, much like what you would have at home. It's impressive that they can whip out good food from such a small space!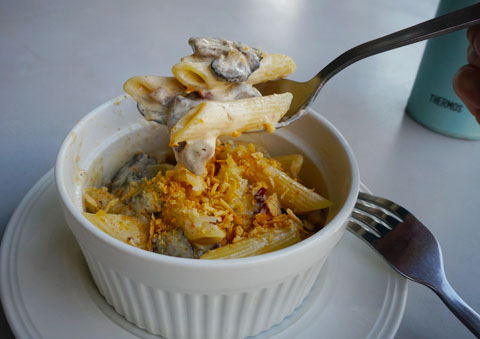 I'd already eaten, so all I could fit in was the Mac & Cheese ($5) with Truffle oil ($1). It arrives in a small ramekin pot, studded with bacon bits, shitake mushrooms, and smothered in a creamy cheese sauce. I particularly like the sprinkle of bread crumbs on top, before the dish is baked in the oven.
If you're wondering why the cheap price, well, it's small. You'd need to order about 4 of these to make it a decent main meal. This is actually fine by me, because I'd rather pay a few bucks for a small dish, and order multiple dishes, than get stuck with the same old same old large dish.
Flavour wise? SUPERB! The pasta is cooked perfectly al dente, with a generous ration of bacon and mushrooms to pasta. It's a sublime mix of creamy (but not too stodgy), chewy, crunchy, and totally spiked with truffle.
I'd happily go back to Ah Bong's Italian for this again, and to check out more!