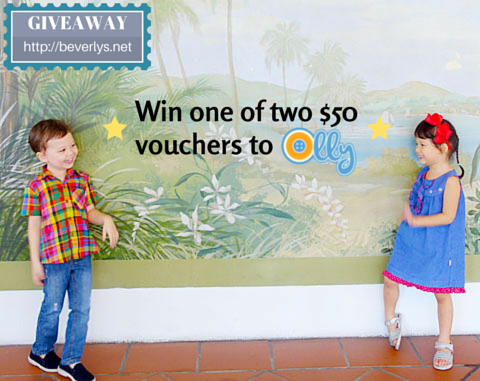 Olly (ollyshoppe.com) launched late last year and they pride themselves on being "a children outfitter with a carefully curated collection of versatile, colourful and comfortable clothes".
What I personally think makes them different (and very cool) is that all the brands they stock are meaningful – they are Fair Trade certified and/or organic cotton. They ship internationally too!
Here's a sneak peek of some of their goodies: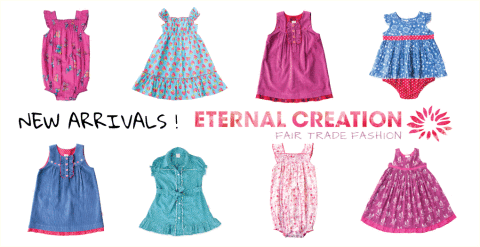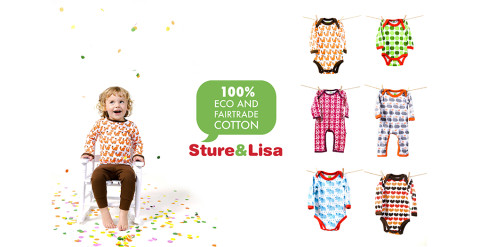 I'm excited because, for the first time ever, they are hosting a little giveaway… plus a rare storewide discount. Yay!
Olly is giving away two $50 gift vouchers!
(open to international readers)
To enter, just do all the super-quick steps below:
Click to Like the Olly page
Click to Like the Beverly's Net page
Subscribe to Olly's newsletter to get updated on discounts and new arrivals.
Click Comment on the Facebook post below, telling us what you'd buy with your $50 if you won, then Share it with your friends!

Giveaway will run from 3-12 April 2015 inclusive.
Entrants must perform all listed steps, which will be verified prior to contacting the winner.
The winner will be announced on Beverly's Net Facebook page.

And that's not all….
Get 20% off STOREWIDE at Ollyshoppe.com from today until 12 April 2015!
You'll see the discounted prices on the site right now.
Here's what their clothes look like when they're on three rambunctious lil kids.. 😉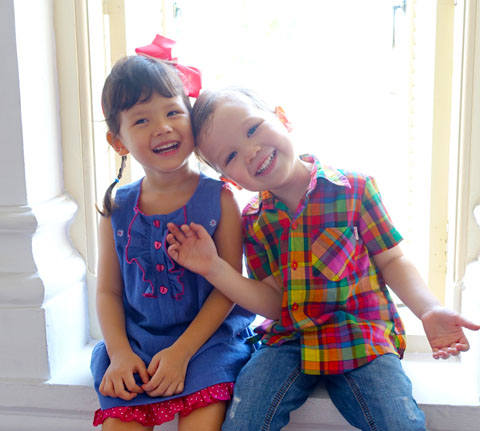 These two are in a bit of a love-hate relationship. It was swinging toward the "love" side during this photo session, which is probably a good thing! They had a fabulous time clowning around together whilst I chased after them like a crazy woman….
Hunter is wearing the Eternal Creation 'kaleidoscope' shirt. I cannot recommend this enough!!!! You know how in Singapore it's just so hot and humid that boys tend to schlep around in t-shirts? I hate that. I find the whole t-shirt look soooo sloppy. And so boring.
Yet, a proper collared shirt is often just too hot and bothersome for a kid to wear. But this shirt is nothing short of awesome. The cotton material is very soft and with a light weave, giving it a texture almost like linen. This makes it thin, breathable, and my kids run around outdoors in their shirts – I reckon they look both dressed up and cool (literally). This is VERY rare to find in kid's clothing!
The rainbow also means I can pair it with standard jeans, but I also brighten it all up with red shorts, etc.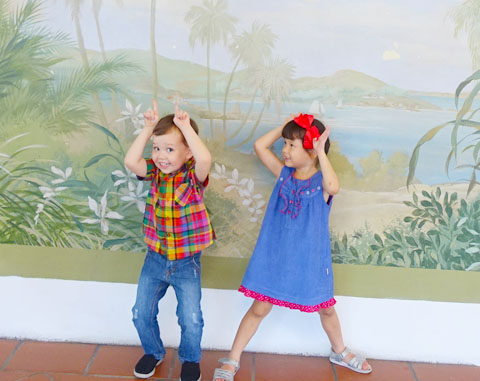 Hunter's girl friend is wearing the Eternal Creations corduroy pinafore. The detail on this dress had me yearning for a boys version for my kids. I really like the A-line cut of the 100% cotton pinafore, and the red ruffle hem combined with the embroidery killed me! Plus, the buttons are little heart-shaped red buttons! Girls get all the cutest stuff………
She is wearing it as-is, since it's warm outside in Singapore. But I reckon it'd look really nice with a white skivvy underneath, or white leggings. It's a really girly dress, but looks cool since it's mostly blue (instead of the usual pink).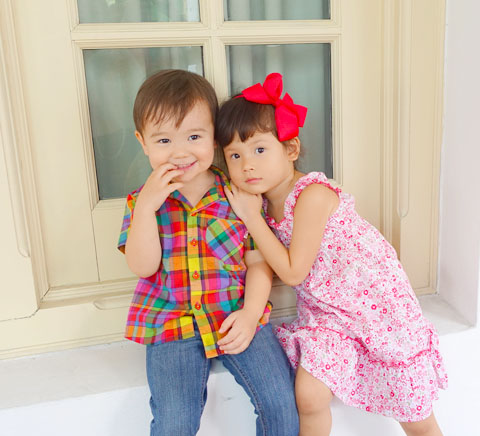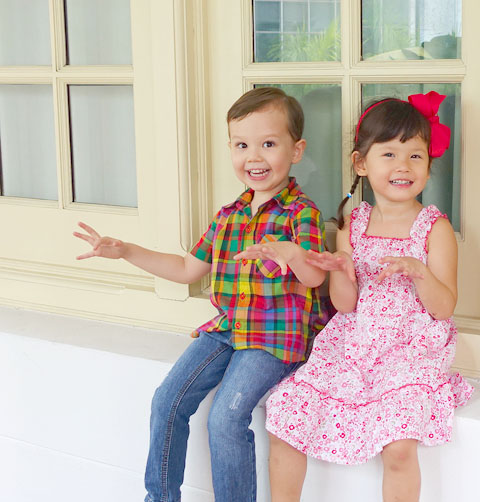 And here, our little girl is wearing the Eternal Creations 'florentine' dress. This is girliness to the max and just screams SUMMER! It's thin and light, with lovely details like a shirred neckline and chest, with a cute ruffled hem. I thought she looked completely beautiful in it, not being biased or anything….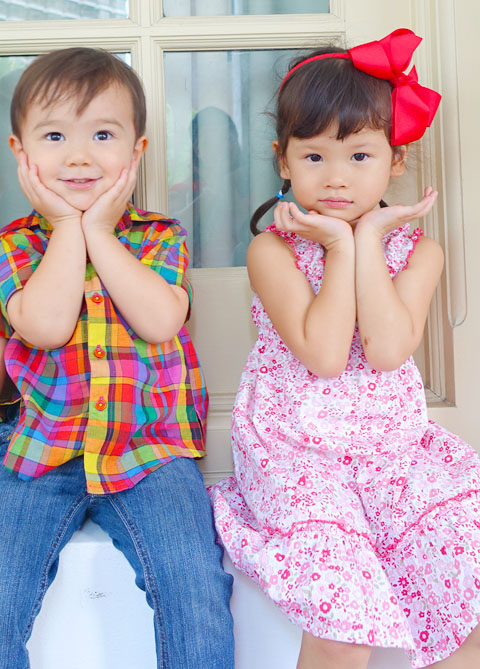 They're all ready for their close-up 😉 Oh! See how Carter's shirt has red buttons? I like that detail.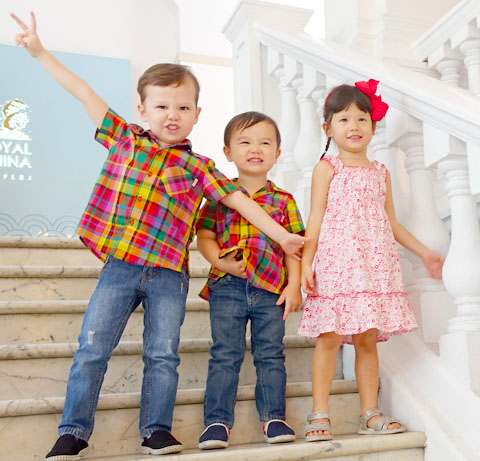 Gorgeous prints that show up so nicely in photos. Incidentally, we've also had 3 different groups of people stop and ask where the boys' shirts are from – it's pretty rare to find rainbow boys clothing, so I suppose it stands out!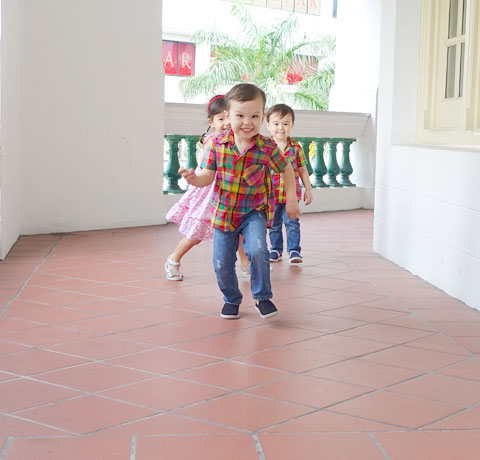 These kids were racing around the place in the heat, but didn't sweat much, because the shirts are really breathable. Thank goodness!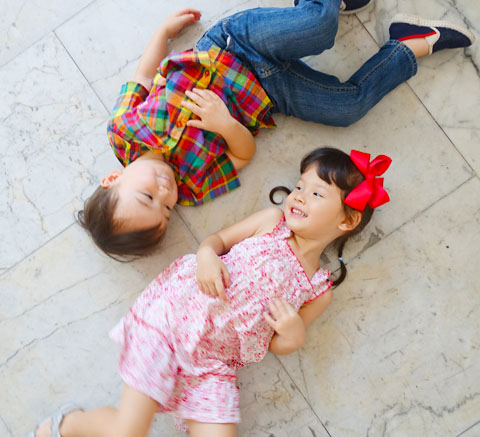 Like little lovers lying in a field of poppies. Except… errr… on marble tiles.

For the younger set, and if you're after ultra soft comfort wear, there's Sture&Lisa, a Swedish brand that features 100% eco and Fair Trade cotton.
The fabric is ULTRA soft but durable, so it can survive being chucked into the washing machine. It's perfect for daytime homewear, and for pajamas.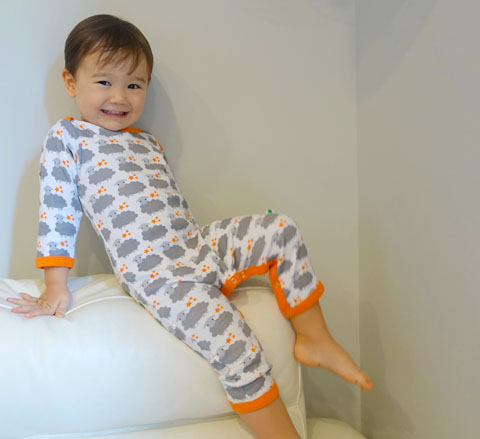 Carter is SEXILY MODELLING the Sture&Lisa sheep jumpsuit. Don't laugh – I do realise it is a tad tight for him. I stuffed him into the 12-18months size! It's comfortable, though, so he was happy to be stuffed into it and was quite a sport 😉 Shame it doesn't come in larger sizes or I'd stock up for both my kids… they are in serious need of new pjs! My boys grow like weeds….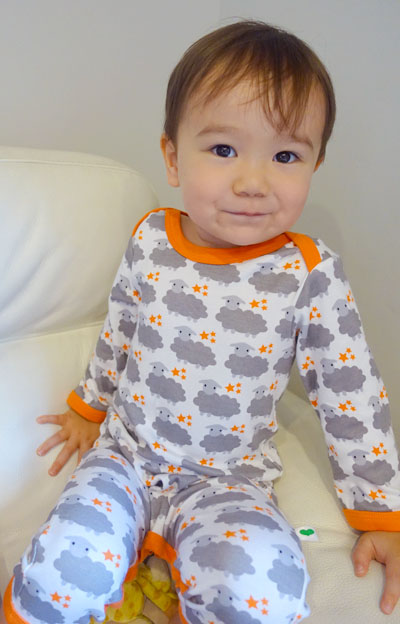 A close-up of the fabric. I like this adorable design, and it's pretty apt for this year, right? Made with 100% organic cotton, it's really breathable too so kids don't get all hot and flustered in it.
The selection at Olly is not big (they're in the process of adding more brands/designs), but what they have works. It appeals to people that are after natural, organic fabric, and those that are after vibrant and cute designs on extremely breathable and comfortable kids wear.
Psssst: remember the 20% off storewide that's on right now!
Thanks Olly!