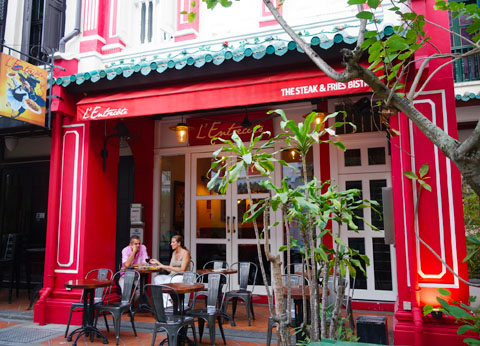 So I've discovered L'Entrecôte a few months ago, and I seriously think it's the bees knees, so I have to share it here! I've already raved about it to my friends and urged them to go, because in my opinion, you will find no cheaper good steak at this price in Singapore.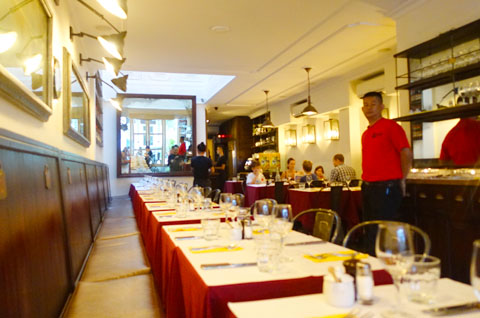 L'Entrecôte at the Duxton Hill branch is a darling of a French bistro, decked out in red, white and warm brown. There is outdoor dining among the trees, and the ambiance of the bistro makes me feel like I'm back in France.
Iced water is complimentary, and the staff there are alert and friendly.
This is their signature menu. It consists of:
an entrecôte steak (rib-eye) in either a Standard portion ($29.90) or Large portion ($39.90), served with fries
walnut green salad
glass of Kir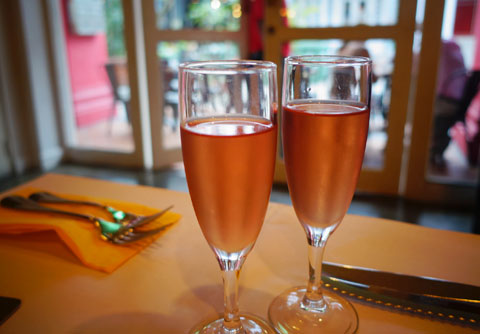 This is the beautiful glass of nectar, otherwise known as Kir. Served chilled, it's absolutely delightful and a great way to kick off our meal.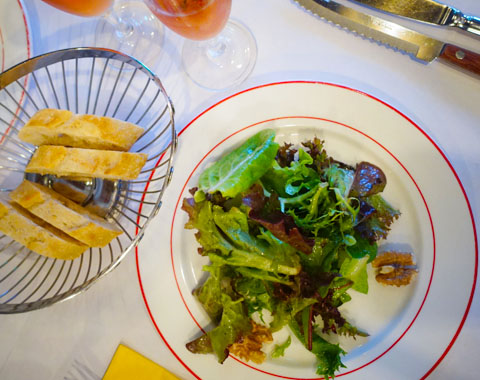 The walnut green salad was actually larger than anticipated, and provided a refreshing start to the meal. We also appreciated the complimentary baguette slices that were served alongside our salad.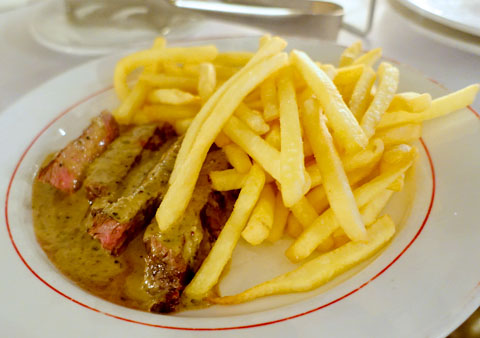 Their star – a entrecôte steak, sliced thinly, draped in a gorgeous butter-gravy. This is about 2/3 of the Regular portion. Interestingly, they leave the remaining 1/3 on a tray, above a small candle. This keeps the rest of your steak hot, and the warm steak is placed onto your plate as you finish off what was originally on your plate. Interesting concept and I LOVED the idea. I often feel a bit sad as I near the end of my dish, so this feels like a bit of a bonus! "Oh you mean there's MORE steak? For ME? And it's nice and warm? Woohoo!"
The shoestring fries are a winner for me, not because they are anything better than regular shoestring fries (they're not), but because I am a shoe string fries addict. And, guess what? YOU GET UNLIMITED SHOE STRING FRIES! There is a massive mound on your plate already, but if you finish it – they are so good drenched in that gravy – you can request for more, for free.
Between the excellent pricing and the good food (I've always been delighted with how tender and delicious their steak is, especially paired with the sauce), L'entrecôte is one of our favourite casual steak joints in Singapore. I've been back so often, and intend to go back very soon!