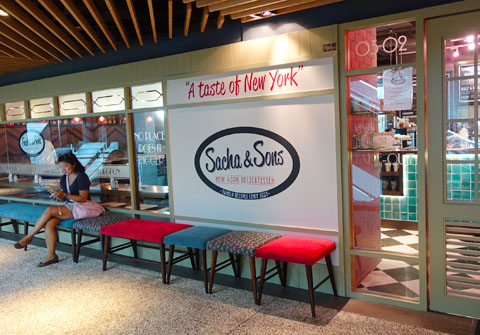 We rocked up bright and early one morning to check out a (by rumour) bonafide New York delicatessen right here in Singapore! Opened by the same folk of Wild Honey, Sacha & Sons is located in Mandarin Gallery…. right next to Wild Honey.
"Sorry, we open at 10AM", we were told.
"Erm.. I thought I read it was 9AM online?" I asked, confused.
"Nope. Always 10AM". 
OKAY THEN. 
Thinking I must have been drinking a few too many glasses of wine whilst looking up their opening hours the night before, I backed away from the door. Only to see a huge sticker on the glass door saying "9AM – 9PM". Duuuuuh. When I enquired why, the waitress finally admitted that they had recently changed their opening hours.
"OK", I said, "Will it be alright if we just sit inside since you're all set up, and we'll order in 15 mins when it's 10?"
"No."
*siiiigggghhh*
Normally, I'd simply turn around and walk off. But I wasn't really in the mood to go walk to another cafe, and they did have comfortable looking cushioned chairs outside, so we decided to bite our tongues and wait patiently.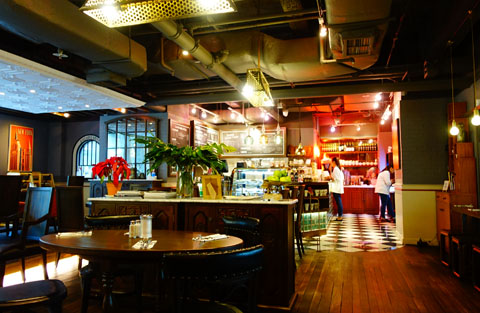 This is the interior of Sacha & Sons. It's GORGEOUS. Moody and luxe with dark woods and carefully curated decor pieces, we spent a good few minutes poking our noses around and admiring everything, taking in all the little details. It does create a pretty authentic feel of a New York deli, so we were eager to try their food.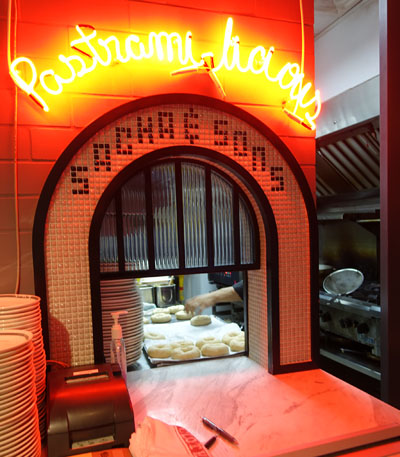 I hereby call this the Magic Bagel Window… because this is where we saw bagels being freshly made! I don't know of many (any?) places in Singapore that make their own bagels, so I am duly impressed.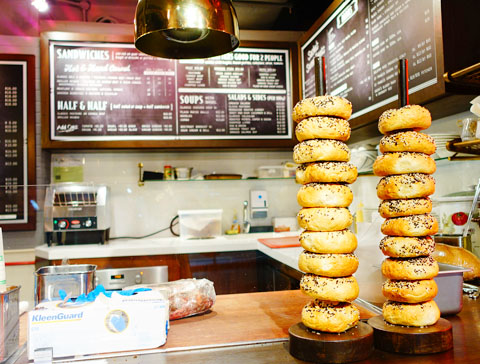 Two high towers of stacked sesame bagels. Don't they look enticing? Oddly, however, Sacha & Sons only make one flavour – sesame. This isn't a good thing, as there are people (myself included) that don't like sesame. It's actually the only bagel flavour I don't like 😉 I'm surprised they don't offer a plain version, at the very least.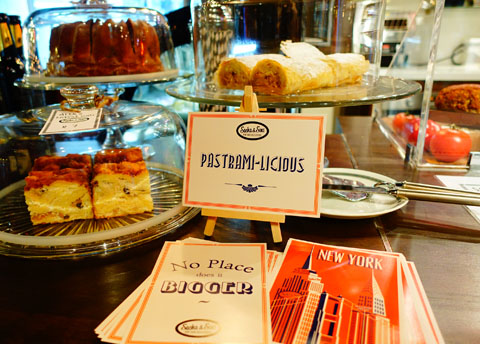 This was their selection of desserts at the counter, which was very appreciated since I reckon customers like having a look at what the sweets are like before ordering.
This was a sight to beyond and really captivated me – a large hunk of pastrami (their signature meat), which is deftly carved to order.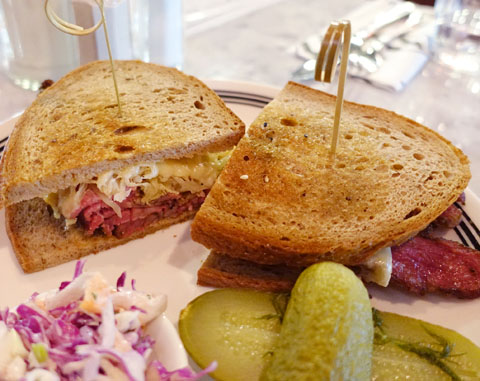 Obviously, we had the Grilled Reuben – pastrami, sauerkraut, Swiss cheese & Russian dressing ($18 for 150g). THIS. IS. ASTOUNDING. I'd order this again in and instant, and I personally feel this is the best dish at Sacha & Sons.
The pastrami is tender to the bite, devoid of stringy or chewy bits. The plump pinkness of the meat renders it just juicy enough, but the flavour is further heightened with the bright and sour note of the sauerkraut. It's simply luscious and makes one of the most delicious sandwiches I've had (which is saying a lot as I dislike sandwiches).
I would have preferred to have the option of a side of fries instead of the pickles, however.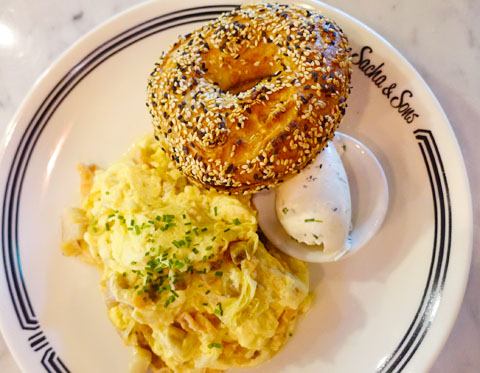 Sacha & Sons pride themselves on smoking and curing the meats and seafood in-house. One of their popular ones is the smoked sturgeon, so I was keen to try the Scrambled eggs with smoked sturgeon and smoked salmon, caramelised onions, bagel and cream cheese ($18).
This dish is excellent if you have a hefty appetite. It will fill you right up! The scrambled eggs were a little too firm for my liking (I prefer them a tad creamier), but I was impressed with the generous helping of sturgeon and salmon in there. They lent the right amount of saltiness to the subtle flavour of the eggs.
The sesame bagel came out a touch on the burnt side, but we still enjoyed it. It had a texture and flavour very close to NYC bagels – not an easy task! Only downside was that the helping of herbed cream cheese was skint. It was enough to cover only one half of the bagel!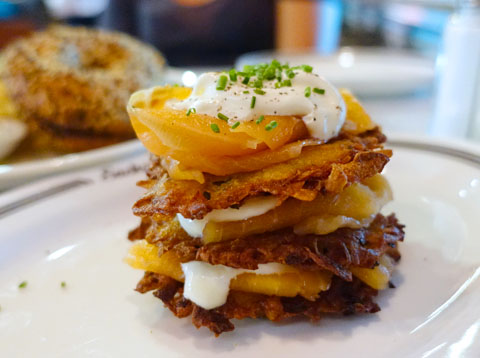 I adore rosti, so the Latkes and Gravlax with creme fraiche ($16) piqued my interest. Be warned that this dish is tiny – a little deceptive as it's priced similar to the other full-sized dishes on the menu. It comes out looking rather beautiful, like something out of a nice dining restaurant.
The latkes (onion and shredded potato cakes, flattened and pan-fried) were crisp and delicious, but what really stood out was their gravlax. The salmon texture was soft and silky, and yielded easily. Both came together so well with the generous dollops of creme fraiche, which added creaminess to the dish. Yum!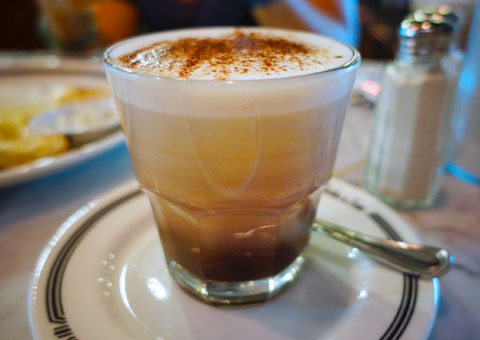 The Mocha Dolce ($7) was delightful, but toe-curling at seven bucks for a teeny tiny glass of beverage. It was a winning blend of espresso, chocolate, milk and honey – sweet, rich, and drinkable.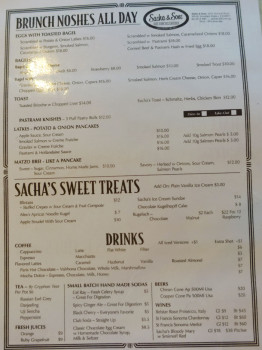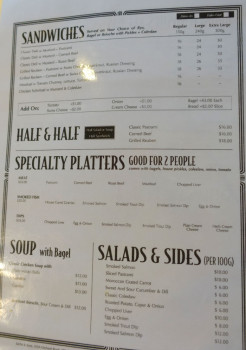 You can click above to check out their menu. There's a lot more to try out, but I'm glad I managed to try some of their signature dishes!
I'm keen to go back to try their bagel with smoked trout salad, and of course, that pastrami…… Mmmm…