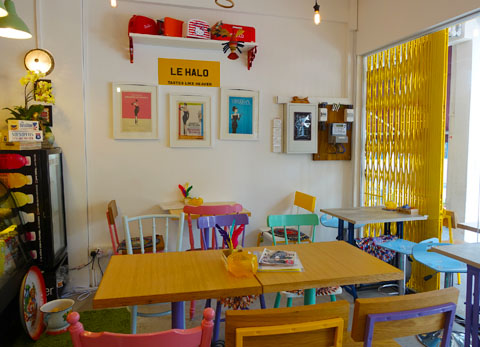 If you're into pretty little treasures and vintage finds, you'll squeal with delight when you enter Le Halo. It's a little nook of a cafe, tucked away in Jalan Bukit Ho Swee (near Tiong Bahru markets).
It's a small space and feels like you've stepped into someone's darling little home, complete with incredibly warm service.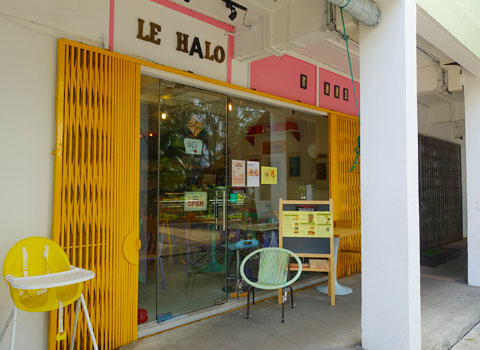 This is the exterior, with a cheerful sunny-yellow gate and matching high chair. Adorable!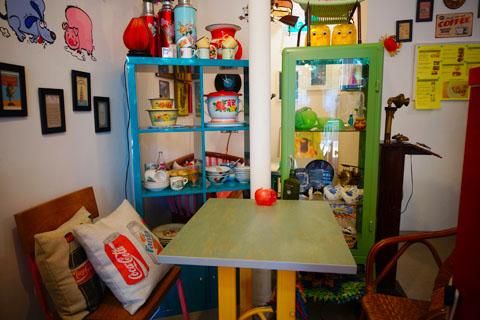 The tables and chairs are sourced by the owner, and custom painted. I oooooh'd and ahhhh'd over the adorable vintage sewing tables (coloured in brilliant shades of pastels), as well as the beautiful pastel wooden chairs.
Give youself a good few minutes when you enter to poke around and check out every nook and cranny. There is a lot of stuff crammed in this small cafe, from the beautifully nostalgic to the kooky. Even the ceiling has stuff hanging on it to check out!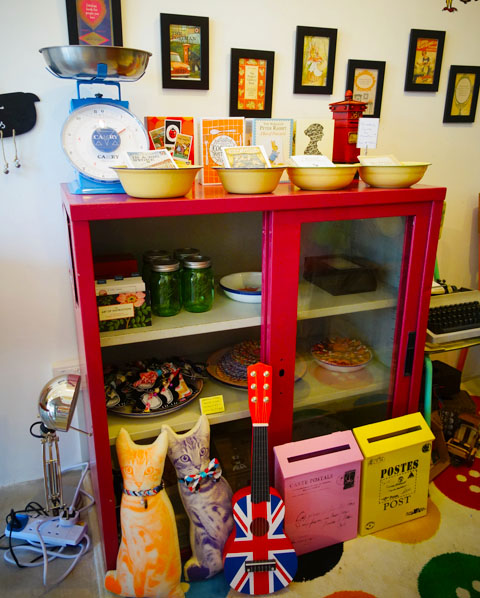 A whole mish-mash of vintage treasures are abound in Le Halo, sourced from Chair-ish The Moments. Some may considered it cluttered, but I found it pretty charming because it gave the cafe a unique touch and it was nice seeing the owner's taste in knick knacks.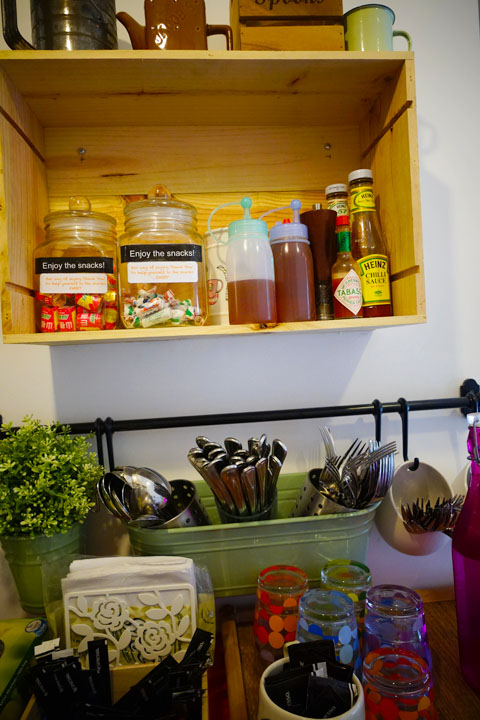 Humongous props to their provide-everything-for-you approach. All sauces and condiments are free for you to take, as well as serviettes, cups, and chilled water. There are even glass bottles of vintage snacks for you to take as you please!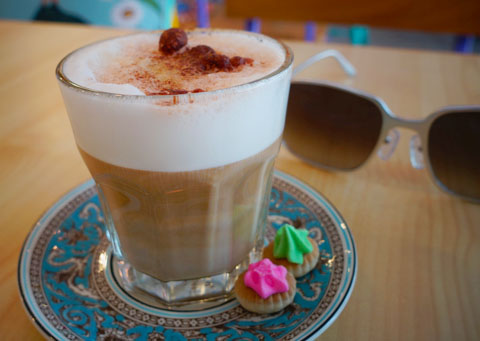 Unfortunately, Le Halo is not a specialty coffee place, nor does it profess to be one. It is clearly stated on the menu that the coffee is from Nespresso, and I found my Cappuccino ($5.50) on the pricey side for what it is. Mostly because I can make the exact same thing at home 😉 But I needed my caffeine fix, so it sufficed!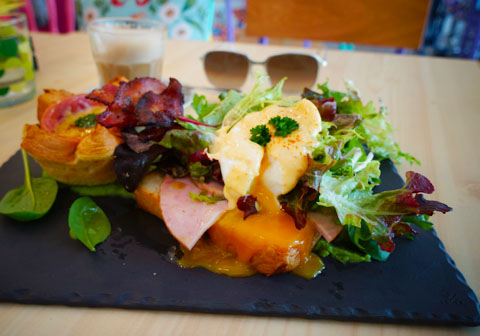 The lady owner convinced me to order the Eggs Benny ($13.50). I'm glad I did, it was a real beauty and EXCELLENT! It arrived on a slate board – which immediately makes it photo-worthy 😉 On top of the board was a large slice of brioche, lashings of ham, and topped with a perfectly poached egg. But that's not all. There is one more – a baked version! Another piece of brioche is baked into a cup shape, lined with ham, and with a poached egg baked in the middle. Personally, this was the better one because it was both unique and awesome. The brioche was slightly crisp from the toasting and I love how the cup-shape contained the gooey egg. Perfection!
 Their chef hails from At-Sunrice Global Chef Academy Singapore and has worked at the Ritz Carlton, so I'm keen to go back and check out the rest of their menu.
Bored whilst waiting for your food? Check out their old school games and novelty items, stacked neatly in a box on your table. Great for fiddling, and even better if you have kids in tow! Instant entertainment!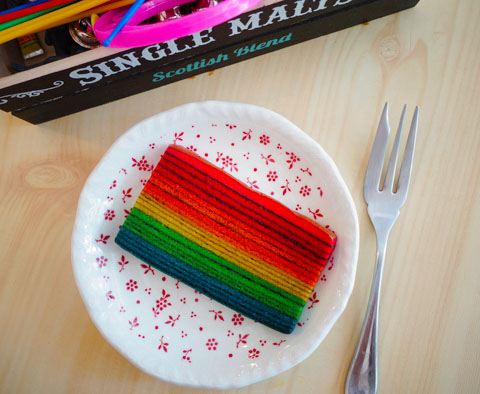 Their pièce de résistance, a drop dead gorgeous slice of rainbow kueh lapis. Yep, this was the place that supplied Hunter's 4th birthday cake 🙂 This is a MUST-ORDER, simply because it tastes awesome (so moist!), and because it's perfect to post on your social media channel 😉
They also have an assortment of other old school cakes there, which are worth checking out!
Let's Chat!