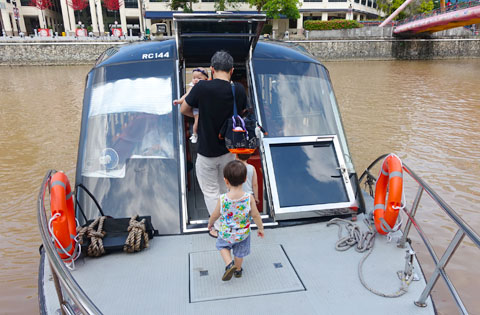 Who knew that one could take a boat ride in Singapore for 40 mins… and it would cost just $3 per adult?? Not me!!
The Hop-on-and-off river taxi service has been around for awhile, I believe, but I never paid it much attention. I thought it would be difficult to figure out where to get on and off, and would cost a lot. So I'm totally delighted with having 'discovered' this and hope this information helps you guys living in Singapore – because it's seriously worth checking out.
I personally think it's particularly excellent for play dates. We live right at one of the stops (the kids always watch the boats go by from their playroom window, so were quite excited to actually get on one!), so it's easy to hustle the kids there and simply hop on the boat. Once on, we simply stay on the boat for 20 mins, then get off and hop on a return boat for another 20 mins. There's sights to see along the way, it's cool and breezy on the water, and the kids are kept contained and occupied for a good 40 mins. That's a pretty stellar play date IMHO!
Plus, afterwards, you can simply pop into a riverside cafe for a meal and let the kids run around by the river. It's completely awesome and I hope to do this more often, especially when we have friends over!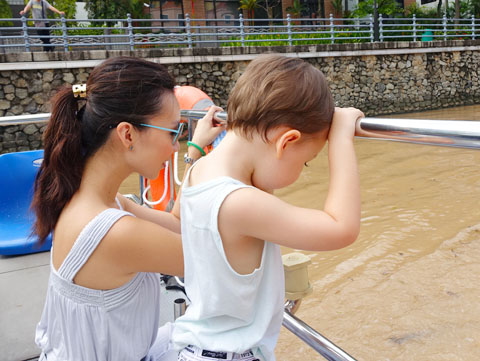 Hunter loved watching the boat's propellers churn the water as we floated down the river. On the downside, Singapore River is no Great Barrier Reef. The water is murky and… ermm… this colour. It's not clear and crystal turquoise 🙁 I believe the government did a big clean up exercise (I think?) so either that didn't work, or the river was even worse before?
But looks aside, the kids still loved it and weren't fazed by the colour of the water. And at least the air was fresh and cleaners pull out rubbish from the river every morning. Shame on the crappy people that chuck their rubbish into the river!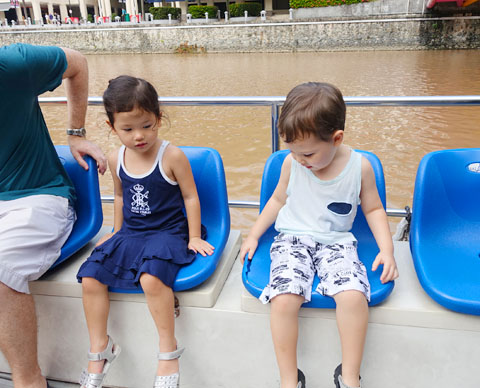 There are seats at the back to enjoy the fresh air and sunshine. It gives great views of the river bank as you float by.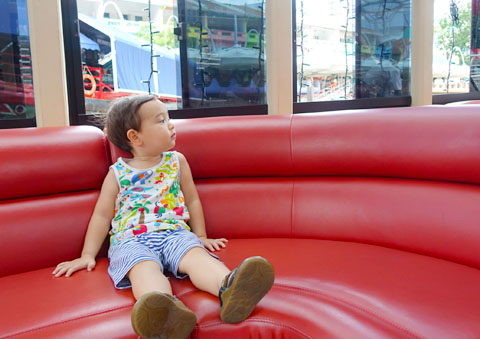 The seats inside are plush! Really comfortable, super clean, and great for lazing on.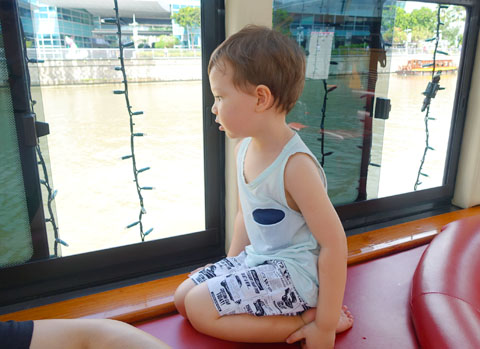 Hunter particularly liked perching up here and watching the world go by through the window.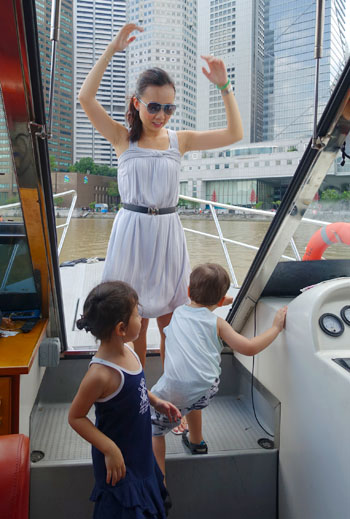 Hilarious candid photo of all 3 of us in awkward poses. And me airing my arm pits. Stay classy!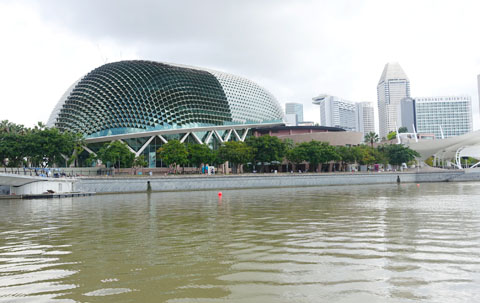 Singapore's giant durian. Otherwise known as the Esplanade theatre.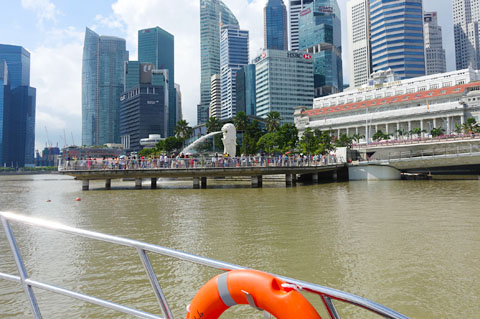 The Merlion! We had a great (and different) view of it from the river.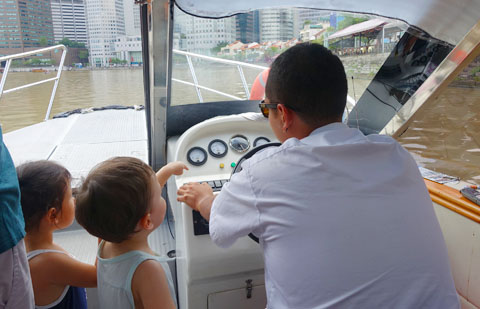 The kids checking out all the knobs and dials of the ship. Way more interesting seeing it in real life, than in the Science Centre 😉
I fully recommend doing this for fun with some friends, or for a play date! It's such a nice and easy ride, and sooooo cheap. LOVE it, and really quite delighted we found out about this little gem!
 —
Enjoy unlimited rides within a single day while experiencing some of Singapore's greatest sights and attractions. Hop on and off as many times as you want at any of the 13 Embarkation Point
Commuter Service Commute along the river cashless by ezlink from 7am – 10pm, Peak Hour (8am – 9:30am and 5:30pm – 7pm) 10-15minutes interval. Off Peak Hour 20 – 30minutes interval.
DEPARTURE SCHEDULE:
Daily 7am – 10pm
Last boat departs: 9:30pm
You can also check out the River Explorer brochure.