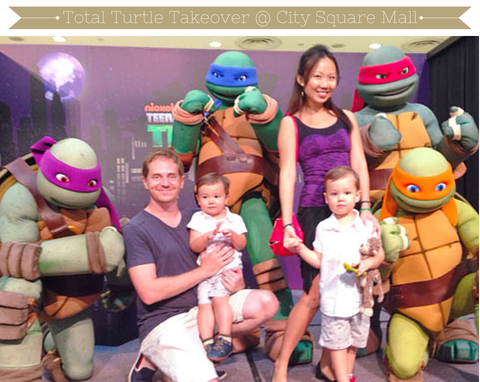 Part of our crazy-busy weekend past included checking out the Teenage Mutant Ninja Turtles at City Square Mall! 
I probably should have 'prepped' our kids on what these turtles actually are. They've never seen the TMNT in their entire lives – so the word SHOCKED is probably pretty apt when the turtles hopped on stage!
The kids couldn't believe their eyes!! Carter couldn't understand why they were such "big BIG turtles!" and why they were jumping around so much – "they're naughty turtles", Hunter surmised. In retrospect, I should probably have shown them a TMNT figurine, or at the very least, showed them an episode or even a picture of them online.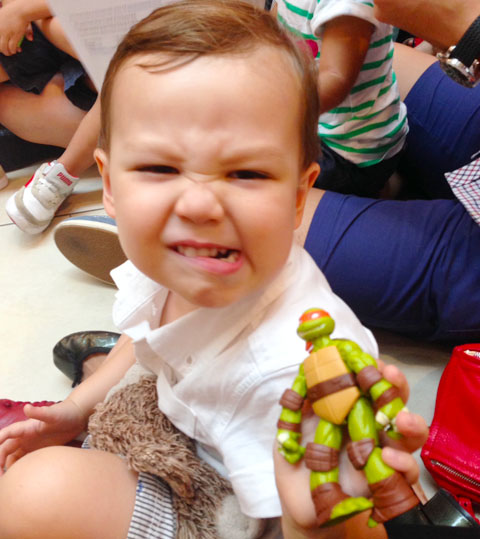 Hunter was delighted with his gift of a turtle figurine. He says that he got a "naughty turtle robot", though, because of the grimace on it (which he mimicked here in this photo above). "They fight a lot. They don't listen to their mummies", said he.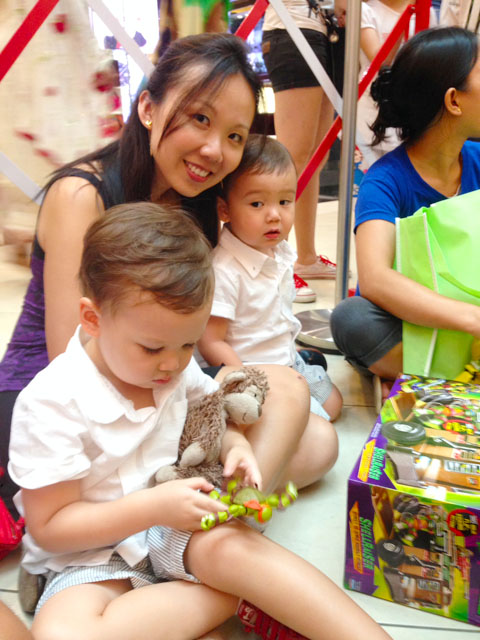 Waiting for the show to start. Get there early – the show is super popular!!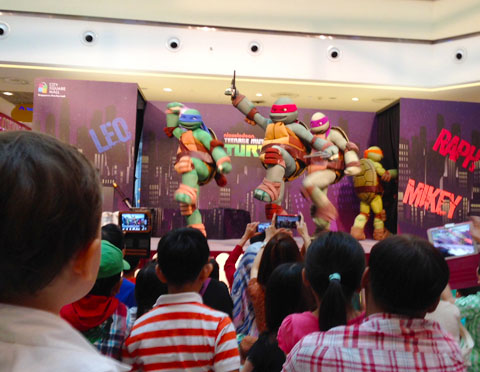 Turtle powerrrrr! The show is super engaging for kids, because it's action packed and also gets the kids to join along. Mostly, I was impressed with their costumes, and how they were able to jump around in them. They managed all these acrobatics whilst encased in these bulky suits!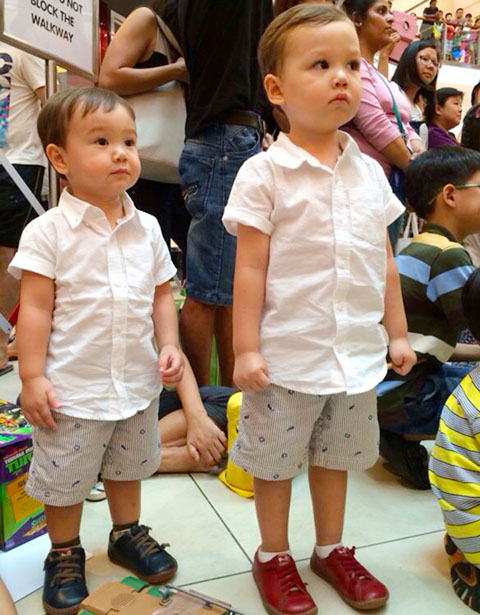 My kids went into total zone-out-I-can't-believe-it mode. They pretty much had this expression on the entire time 😉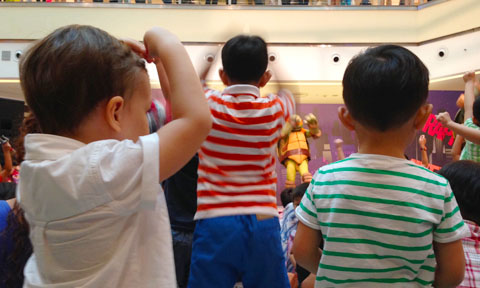 Hunter did join in on the actions though, the FIRST time he's ever done so in a show- ever. Normally, he's so zoned out and absorbed in it that he won't move a muscle. So was pretty surprised when he started mimicking the turtles!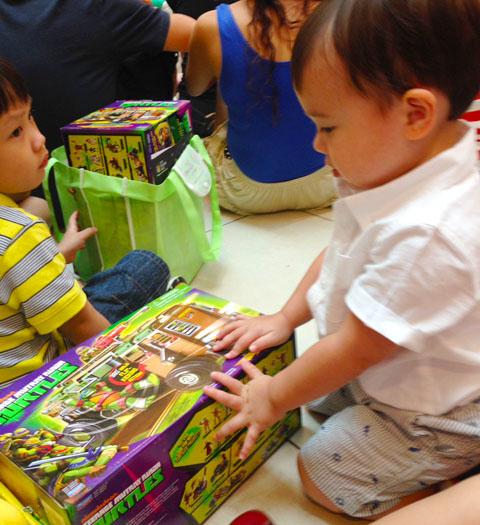 We got this cute turtle truck, which they were delighted with and excitedly set up once we got home. It allows you to DIY and stick on your stickers, which the kids particularly loved. Except we ended up with stickers everywhere!! Stuck on our hands! Stuck on our faces! In our hair! Everywhere! I did manage to get all the stickers onto the truck, though, so it looks quite cool now 😉
(click the picture for full info)
From 6 to 14 September, the Teenage Mutant Ninja Turtles will rise from the sewers of New York City and hit the stage at City Square Mall in an all-action experience!
Look forward to meeting the Turtles – Leonardo, Raphael,Donatello and Michelangelo – join in the action as they share some tips they have learnt from Master Splinter.
Be ready to get up close and personal in a Meet & Greet session by redeeming an exclusive Meet & Greet pass with a minimum spending of $50.
Timings
Mon-Fri at 2pm & 7pm
Sat & Sun at 1pm, 4pm & 7pm
*A maximum of 3 same-day combined receipts. 50 passes will be given out 1 hour prior to each show, strictly on a first-come first-served basis. Receipts used to redeem this Meet & Greet pass cannot be used for any other promotions, except for Free Weekday Parking. Other Terms & Conditions apply.