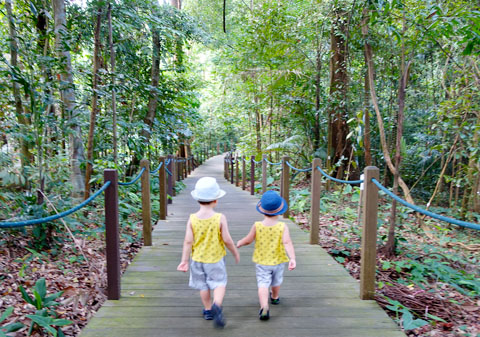 It's so freaking hot in Singapore that the thought of going to the Singapore Botanic Gardens makes me shudder. All I associate it with is us, all DRIPPING with sweat, feeling all hot and bothered.
The weather in Singapore hasn't changed, and my opinion hasn't changed.
BUT, at least there's something that's a bit cooler (well… relatively) that we discovered at the Botanic Gardens! It's the Rainforest Trail, and is shrouded in tall trees and actually makes for a lovely little wander. It takes anything from 5 mins (if you're powering through) to 20 mins (if you're sauntering around with kids in tow), and is a straightforward and safe path for families with young kids. It's also fairly pram-friendly, since the paths are all paved with wood planks.
We were there for the kids' school excursion, so I was pretty delighted to have found out about this place! The kids had a lovely time pottering down the path by themselves, and were pretty stunned to see so much foliage around.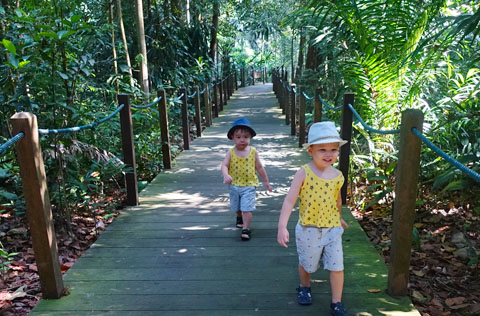 "WOW. So many trees. Soooooo tall!", was Hunter's exact reaction as he stared up into the sky.
Carter spent most of the time trying to do monkey bars on those blue rope barrier things, but I'm sure he appreciated the trail too 😉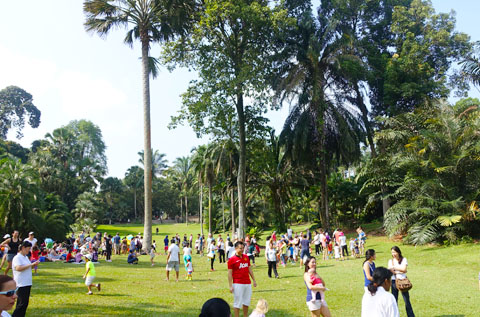 All of us settled in the main garden area for a picnic, and little games and activities the teachers prepared for the kids. The kids were all running around like energizer bunnies, but the parents looked really wiped out – including us. Haha. It was getting hot and humid and adults obviously have about 1/100th the energy little kids do!
At least the whole area was very safe, so we could chill and watch the kids let loose some energy.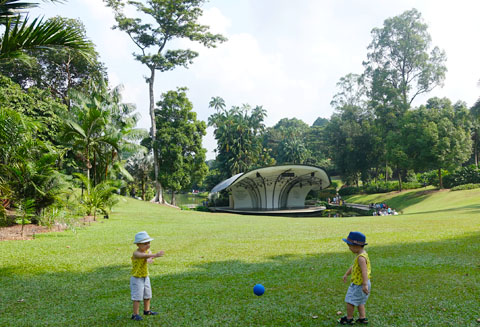 Carter, our little sports athlete, made a BEELINE for the balls and spent the whole time kicking and tossing them with so much glee!
Hunter preferred to wander around and check out the fish in the pond, or play with one of his classmates (pictured above). It was actually really cute to see him happily running around and playing with a mate! His friend is the new kid in class and, somehow, Hunter has taken him under his wing and befriended him. So the kid wanted to wear his bucket hat today "because Hunter has one at school" – so cute!! And Hunter went straight to him once he spotted him in the crowd, and they spent the rest of the time hanging out together.
I'm also proud to boast – NO fights between those two! Hey, this sort of little achievements mean a lot when you're three years old, you know…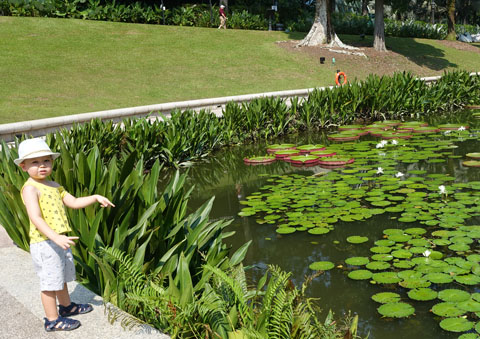 Hunter, fascinated with the dragonflies at the pool. Too bad we didn't spot any cute frogs there too! I love frogs!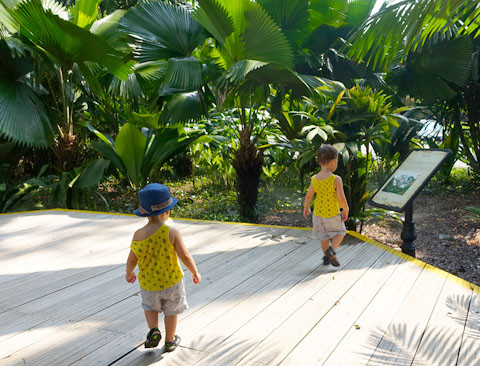 At the main entrance area of the Singapore Botanic Gardens, waiting for Daddy to get the car and soak up the A/C 😉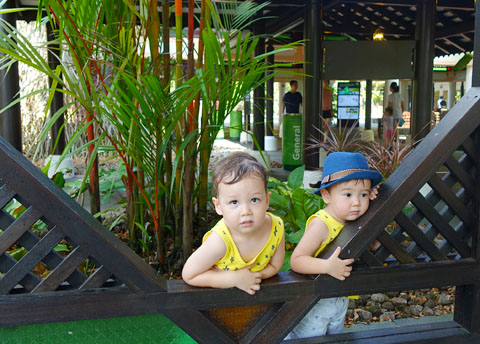 Super sweaty and exhausted kids. But we had a lovely morning at the Singapore Botanic Gardens! Now if they could only figure out how to make the temperature there at least 5 celcius cooler…………