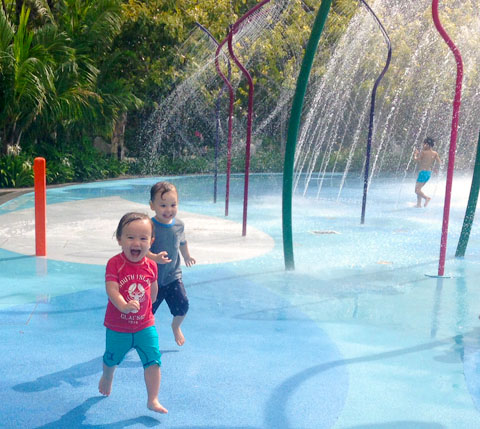 I think the photograph above pretty much sums it all.
The children's water playground at Gardens By The Bay is flippin' fantastic!
It's rare to find FREE things that are fantastic, and this water play area is a part of the larger (also free) Children's Garden which stands at 1 hectare (!) and cost a toe-curling $10 million to build (ZOMG!!).
It's pretty empty on weekdays (though it does pick up in the late afternoon), so that's the best time to go if you have really young kids. I was personally pretty surprised when Hunter displayed HUGE interest in changing into his swimmers and going for a play – he's normally not that keen on water playgrounds because he's a bit scared of the jets of water going everywhere!
But he warmed up to this very quickly, and the spacious area gave the kids an incredible workout as they dashed back and forth.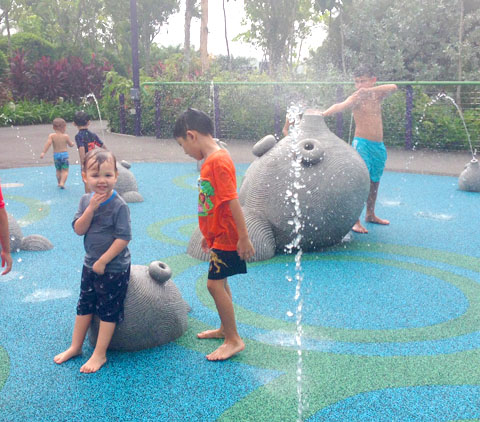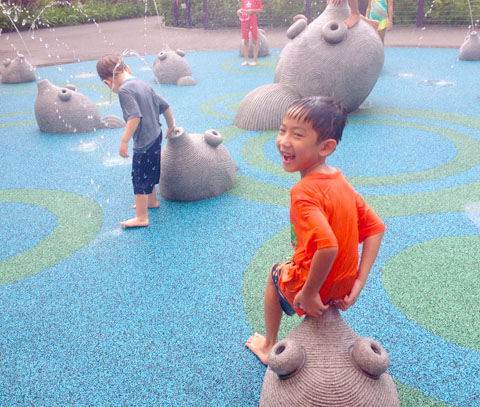 Cheeky Hunter and Cheeky Cousin Elliot using their bums to sit on the water spouts. It gave the kids a serious case of giggles, but if your kids do this, please keep an eye on them. We witnessed a few other kids that gave this a go, but shot the water out at angles that hit the (fully clothed) adults sitting at the perimeter!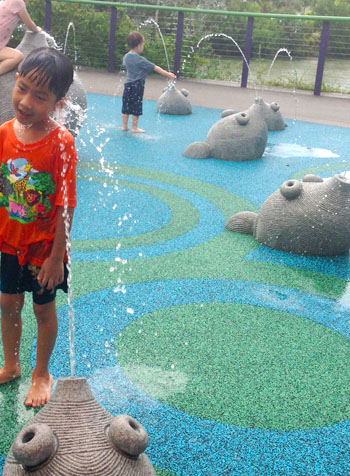 Another use for the water jets – cleaning out your ears 😉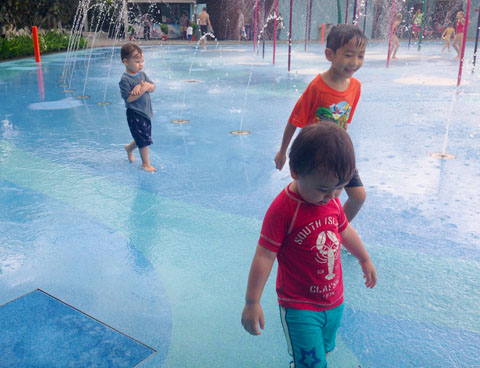 The three cousins, having a grand 'ol time splashing around. This is terrific if you've been walking around outdoors all day and want to cool off. There's a grandstand-like section for adults to sit at (complete with huge ceiling fans), and a spacious bathroom area to clean up afterwards.
Free water bubbler for quenching your thirst, but be warned that the snacks/drinks in the little shop there is pretty pricey and the food is more toward the junk food side than homecooked healthy food.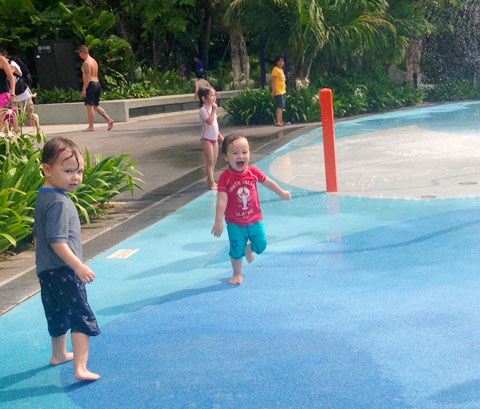 Hunter giving his best 'blue steel' impression 😉 The kids had a wonderful time and we'll be back for sure!
[ Follow me on Facebook for real-time updates 🙂 ]