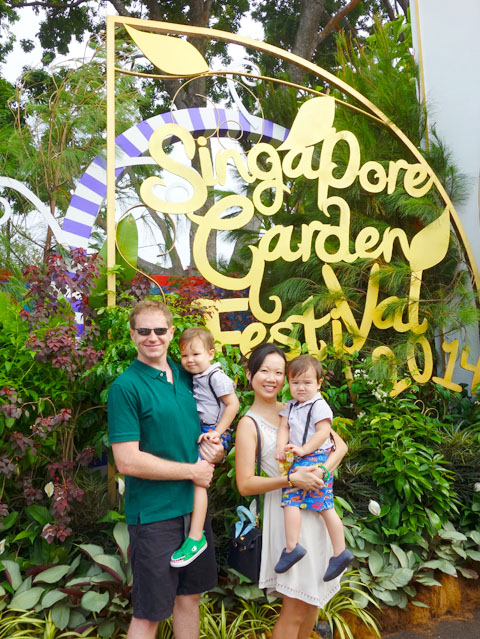 The Singapore Garden Festival 2014 has hit town this week – with a bang!
With a jaw dropping gardens and floral display featuring award-winning horticulturists, the event is a bit of a extravangaza for the eyes. If you're after a relaxed family day out where the kids are kept well-occupied and interested in all the things to see and do, then the Singapore Garden Festival is it. My kids were completely absorbed for the 1-2 hours that we were there – in fact, it was pretty tough trying to restrain them and keep them holding onto our hands!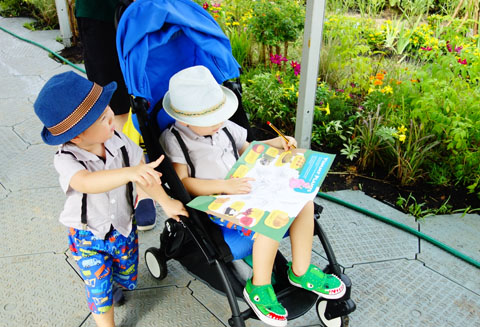 The event is held at The Meadow, at Gardens By The Bay. It's part outdoors, part indoors. There is lots of space to roam, and the array (over 2 nectares worth!) of flowers and plants there is dazzling.
 The 6 festival highlights are:
Landscape and Fantasy Gardens
Floral Windows to the World
Balcony Gardens
Orchid Extravaganza
Garden Fiesta
Vibrant Marketplace
Every one is a veritable treasure trove of beautiful horiticulture displays and hands-on activities. You can spend hours checking everything out. Frankly, you'll need a full day (with a break for lunch) to cover everything. For this reason, your ticket to the Singapore Garden Festival includes entry to the massive Flower Dome (that houses the Orchid Extravaganza) which can be visited on another day – for this reason, we omitted the Flower Dome and will be going there later this week on a separate visit, using our existing ticket!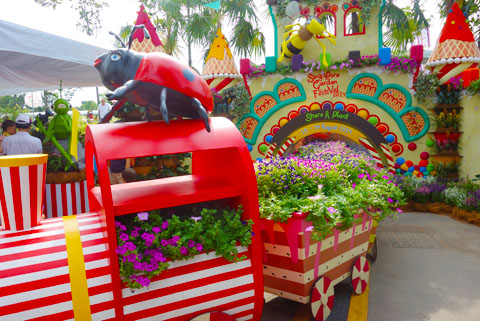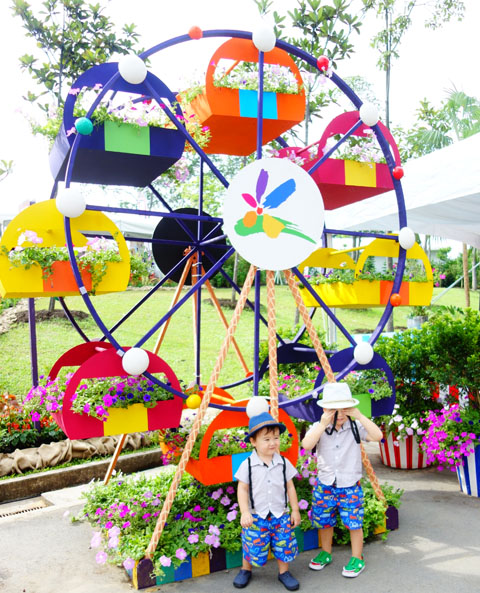 This is the outdoor entrance area, which is chock-a-block full of floral displays to check out. The rainbow colours and blooming flowers were a big hit with the kids, who excitedly ran around pointing out "ferris wheel!", "ladybug!" "LOOK!" etc, etc. I don't think they've seen so many flowers in their life 😉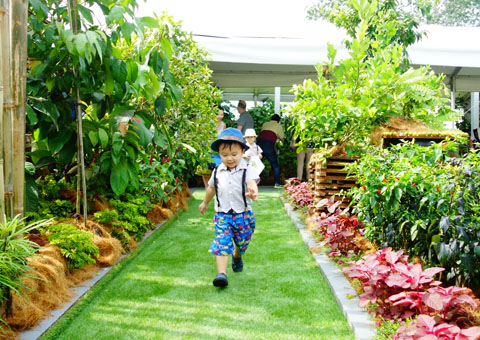 There's lots of grassy areas for kids to run around in, all teeming with beautiful plants. It's a real different experience to the concrete jungle of Singapore!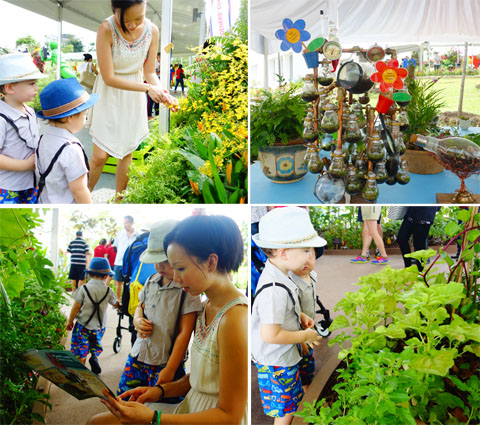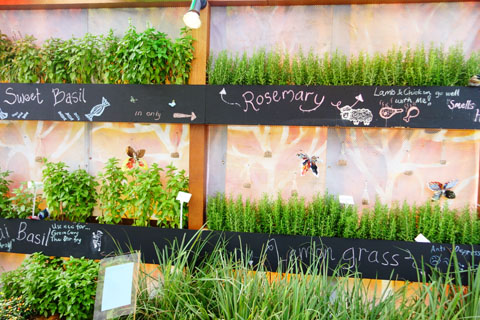 This is in the Garden Fiesta area, which the kids really liked because it was all up close and personal. Kids are given an activity sheet (best for 4-10yrs old) to fill out, and they can learn a great deal about fruits and vegetables here. Hunter and Carter found out that cherry tomatoes and chili grow on a plant and are plucked to eat – my city kids have never seen that in their lives!
Then, they went around sniff sniff sniffing the various herbs, and learning about how herbs flavour our dishes naturally. As you can imagine, all the hands-on stuff is excellent for young kids. And probably for adults too!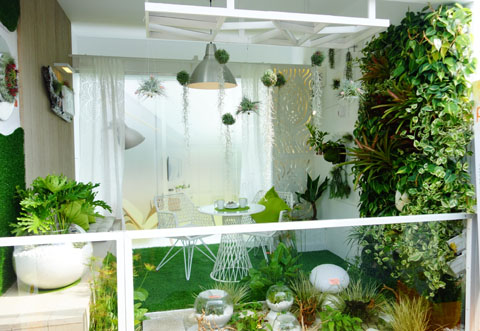 I only managed one shot of the beautiful Balcony Gardens, and so this is just one of the dozens of balconies on display. Each designer creates their version of an ideal balcony and it's really quite a sight to behold!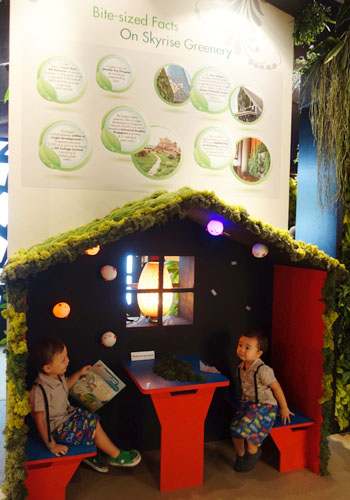 These are the kids inside an eco house, which is inside GIANT tents housing the Landscape & Fantasy Gardens, and Floral Windows to the world exhibits. These tents are fully air-conditioned and are actually pretty chilly, so bring a jacket if you're the shivery type.
The air-conditioning provides cool relief after you've wandered around outside, and there is a huge amount to see inside. It's all pretty dark inside, so make sure you hold onto your kids' hands and don't take your eyes off them!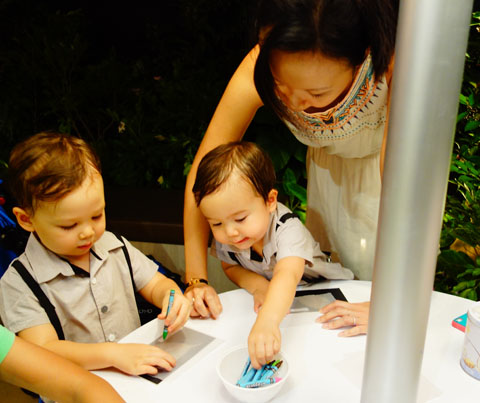 This was one of the hands-on activities that my kids enjoyed. It's making leaf rubbings with crayons and you can bring home the piece of paper afterwards. They were very proud of their 'creations'!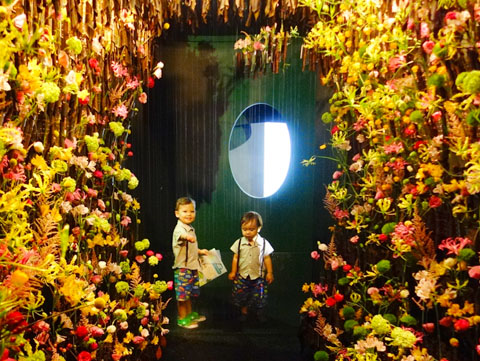 This INSANE floral display above? It's a gigantic arch of beautiful flowers, and you go around it via a very narrow and dark corridor before popping out back where you came from. Surprisingly, my kids LOVED it! They went through it again and again and again and again. The tiny streams of water (where Hunter is holding out his hand) completely fascinated them as well. I saw lots of young kids going round and round and round this one after we left, so if you have toddlers, look out for this particular display inside the tent – your kid might like it too!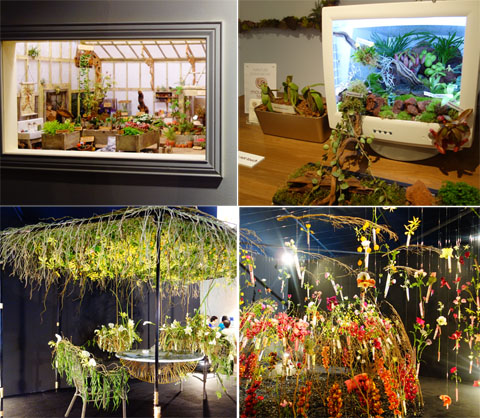 These displays are all housed within the air-conditioned tents too. Check out the cute Minature Gardens! They're adorable, and real.
Side note – if you're planning for a wedding, this place is probably good to get some ideas. Check out the beautiful (and huge) arrangements they've done int he pic above! I'm thinking of a luxe garden wedding theme here….
Cloud Forest: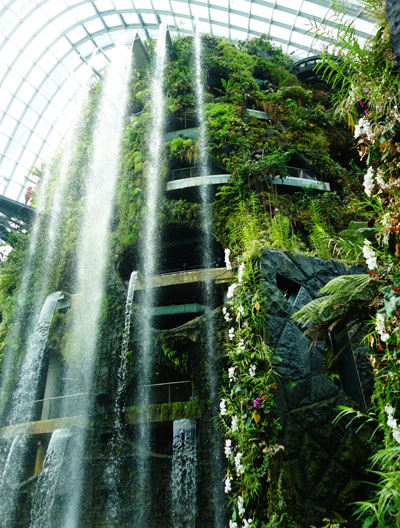 So since we were in the area, we also popped by the Cloud Forest. The entire thing is housed under a gigantic dome and air-conditioned.
How big is it?
7 floors high, and housing a waterfall.
Crazy huh?? The kids absolutely loved it!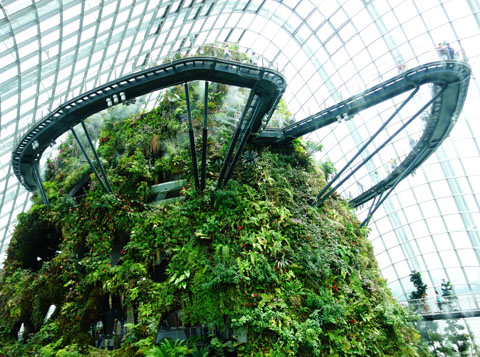 This is the platform hiiiiiigh up on the 7th floor. I'm scared of heights, so this was a little confronting for me!!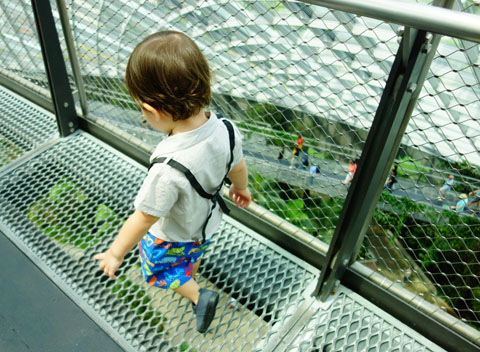 Carter, on the other hand, has ZERO FEAR of heights, I've realised. He was racing up and down on the see-through area… not even on the solid area. EEK!!!!!! And then he would jump up and down there, and rattle the wire railing.
Faint.
I think he'll be bungee jumping by the time he's 5, no worries.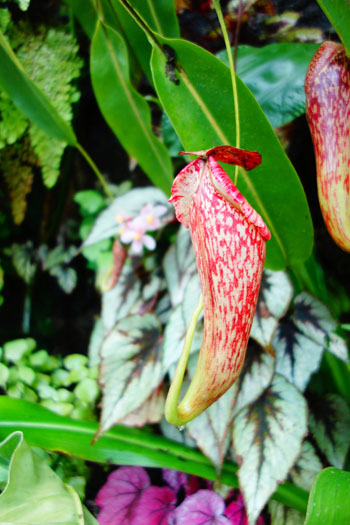 One of my favourite plants, the pitcher plant. How beautiful is it? There was this and a whole lot more to look at in the Cloud Forest, which is probably worth an hour (easily) of your time.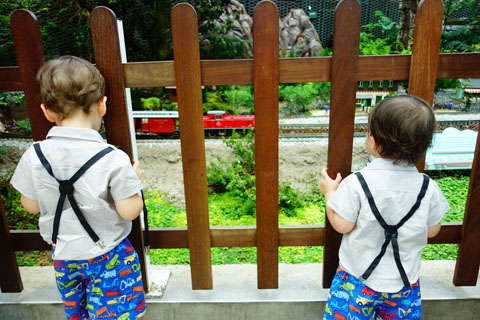 The kids, in particular, were extra keen on the electric train going round the mini village. It had them mesmerized for ages!
The Singapore Garden Festival 2014 is held 16-24 August 2014, 10am – 10pm daily.
Ticketing info here.
Official brochure here.