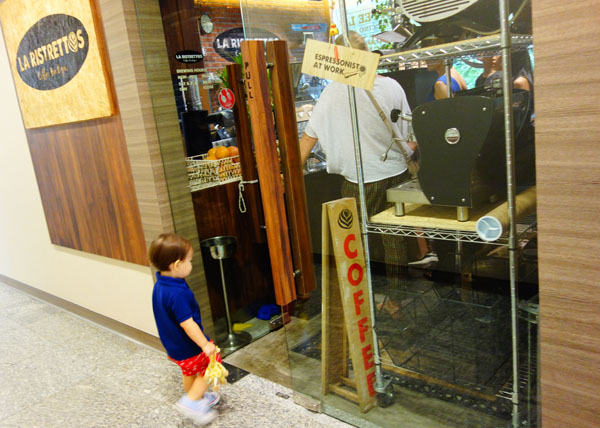 La Ristrettos has one of the most random locations I have ever experienced – tucked into a medical centre and up on the 8th floor! It's completely out of the way for passer bys, so it's pretty much just a word-of-mouth cafe. And yet, it's crowded. It attracts the nearby office crowd, as well as hipster/coffee aficionados that are after their caffeine fix.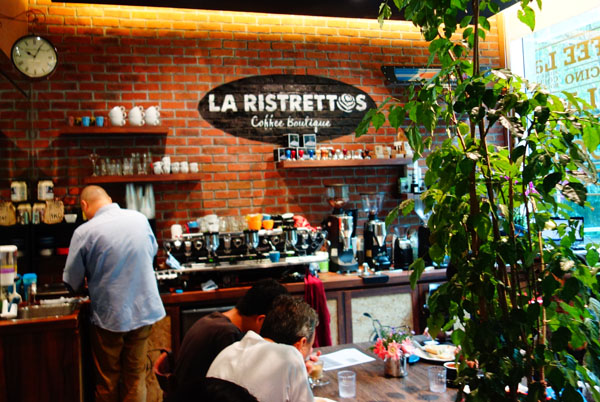 The space is so cramped that the coffee barista stands at one wall of the cafe, whipping up his creations. It's all decorated in dark wood and brick, so the space does feel pretty enclosed and 'heavy'. It is also extremely baby unfriendly – I wouldn't recommend bringing babies here (no space to park your pram), nor toddlers (loads of breakable things, and no space to run around).
Fortunately, Carter was in a good mood that day and mostly sat in the chair (note: no baby chairs).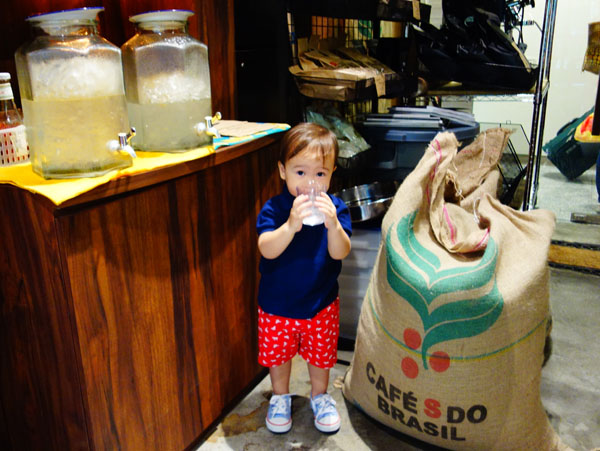 Top marks for complimentary iced water! I love cafes like that 🙂 I took this photo of Carter cos I thought it was cute how he was the same height as the bag of coffee beans.
The coffee is freshly roasted, but they weren't roasting any when we were there – a shame or I'm sure Carter would have enjoyed the 'show'!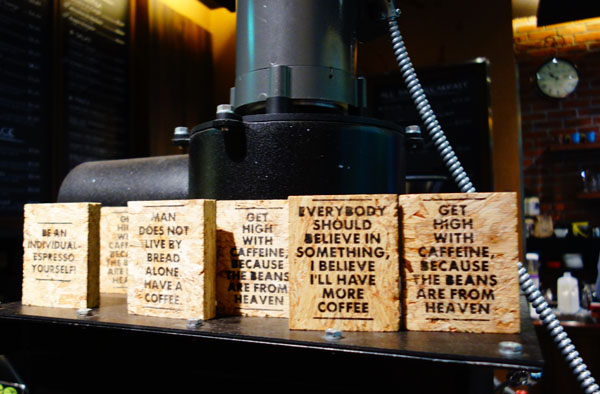 I liked the little quotes they had, printed on cork 🙂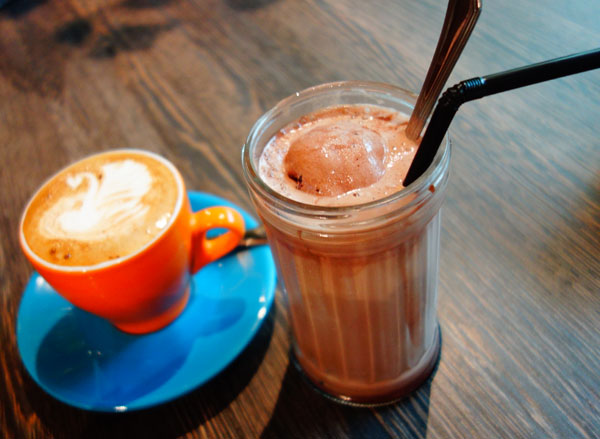 I was impressed with my cappuccino with swan-shaped foam art ($5). It was in a tiny glass (unfortunately), but the coffee was well-balanced, at the perfect temperature, and was delicious.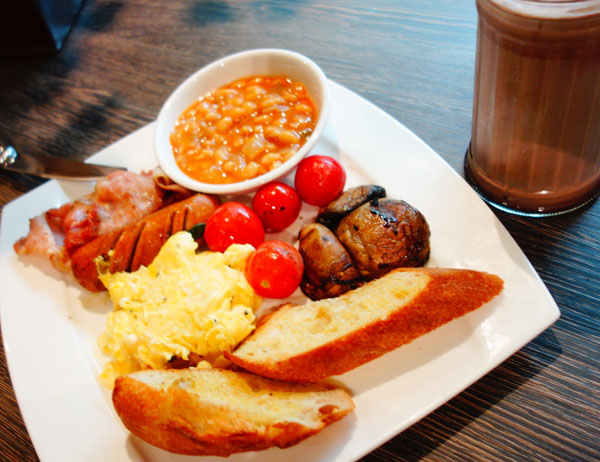 The Grande breakfast ($14) looked really impressive and seemed very popular among all the diners. That said, I'm personally not into the whole 'big breakfast' concept because it's so unexciting and standard to me (not to mention I always suspect most of the food is pre-cooked and simply slopped onto the plate). It did look colourful and came in a pretty large portion size, though.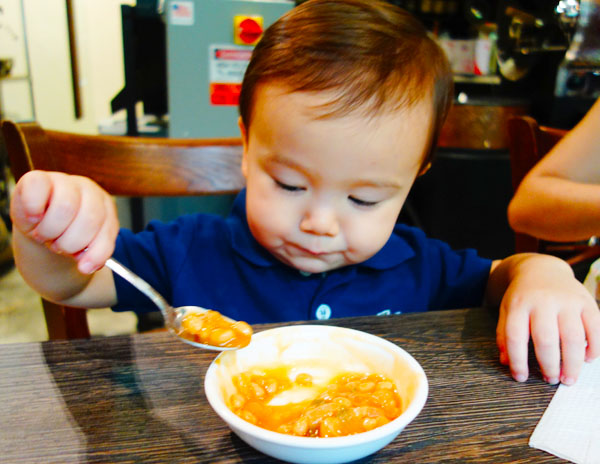 Carter really digged the baked beans!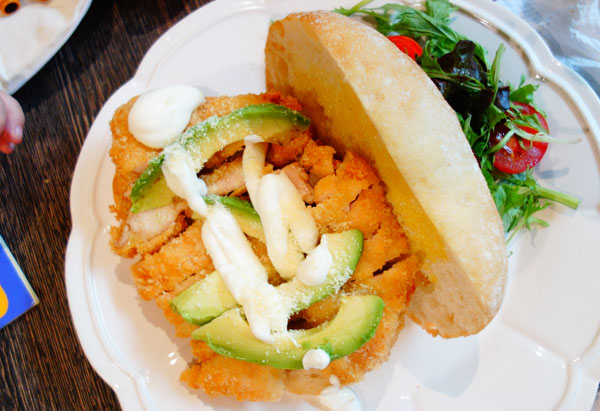 I thought my Panini cotoletta – parmigiano crumbed chicken, avocado, lemon aioli on toasted panini and salad ($11)  was pretty fabulous. The panini was very soft and fluffy, with crispy crumbed chicken that was still juicy inside. The avocado was a little underripe (and I was only given 4 thin slices) and the aioli was poorly slopped on (not very attractive!) but, eaten, the whole sandwich was delicious. The flavours came through, with a bit of moistness provided by the generous amount of aioli. I would order this again.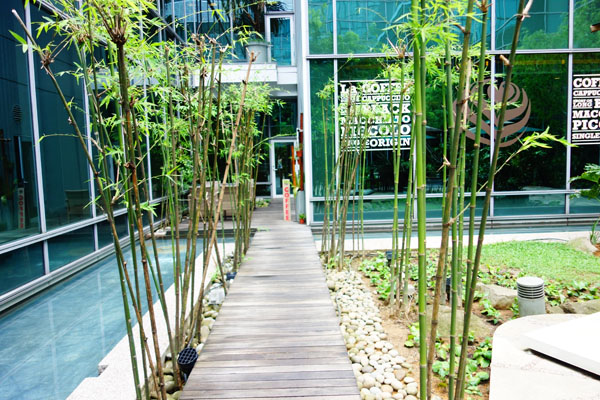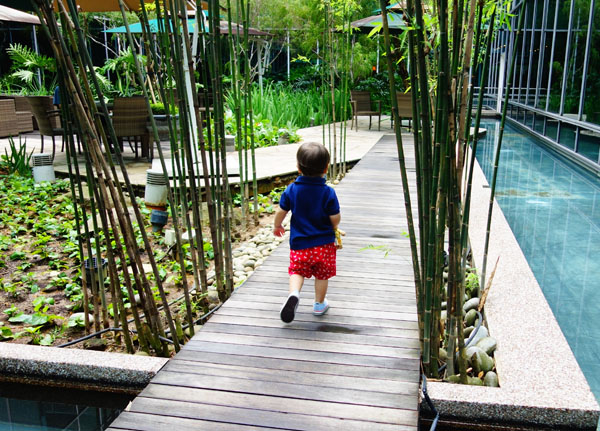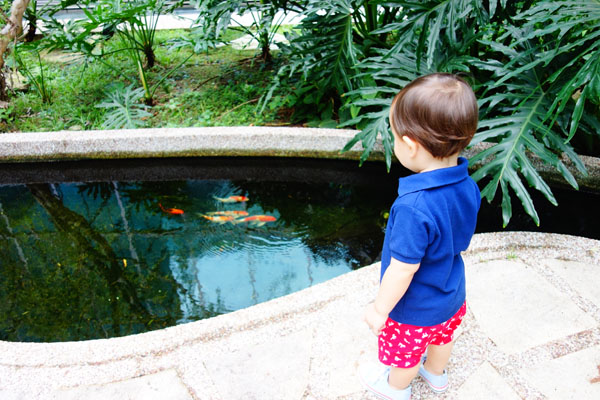 It's the outdoor area that really stands out. I was surprised that, being up on the 8th floor, there would be an outdoor area and garden. It's pretty tranquil and leafy, and Carter had a great time running up and down the wooden boardwalk and checking out the fish. Just keep an eye on your kids if they're young – there are no barriers so they can trip and fall into the water!