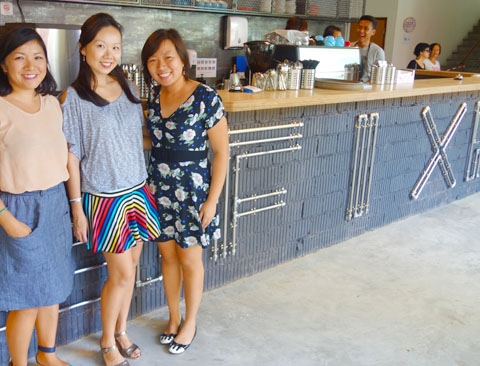 Brace yourself guys….. a new kickass cafe is in town! 
Opened by the folks at GRUB, Fix Cafe offers the same laid-back vibe, but with very different food and setting. Situated within HomeTeamNS-JOM Clubhouse, the public can enjoy breeze poolside dining at very affordable prices. Better yet, SAFRA members can use the pool whilst having their Fix. More on that later.
But check this out –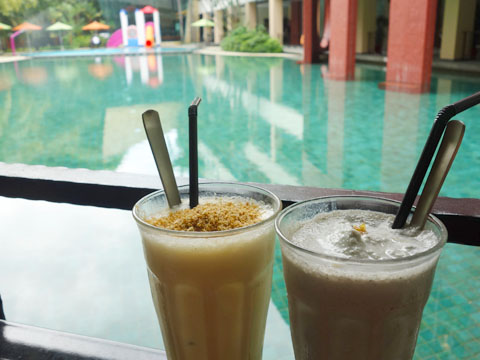 Can you believe this is in the middle of Singapore? Chill back and enjoy poolside dining with an icy cold artisan milkshake and gourmet, thoughtfully-created food. It sure feels like I'm on a holiday!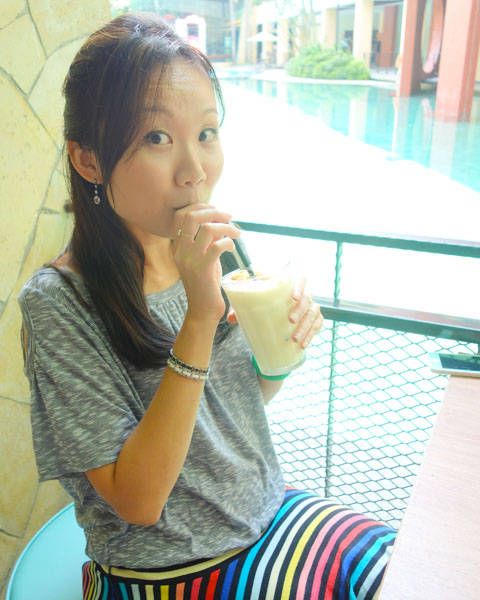 And that's exactly what I did. Pictured here is the Lemon Curd Milkshake ($7), which is smooth and milky with a surprising twist of tartness. Very refreshing!
There is also a Butterscotch with Toasted Coconut Milkshake ($7) (pictured above) which is basically like liquid caramel popcorn. This will be a hit with kids!
We also enjoyed the Black Sesame with Brittle Milkshake ($7) (pictured above) which impressed me because the rich nuttiness flavour really came through, and it was not too sweet.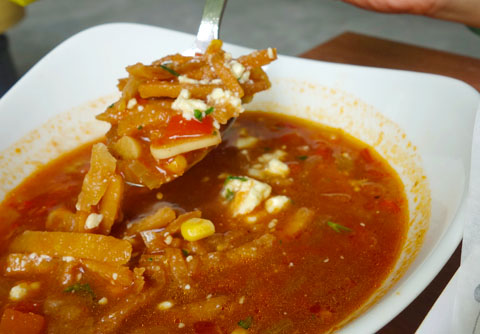 The Mexican Tomato Soup ($7) is not an attractive dish to look at. I suppose it's not easy to make soup look pretty 😉 But, I liked it so much I'd order it again – and I don't like soup in general! The base was full of tomato flavour but not sour, and it was chock-a-block full of ingredients. I particularly liked the crispy tortilla chips inside, which added a different dimension of texture to the soup.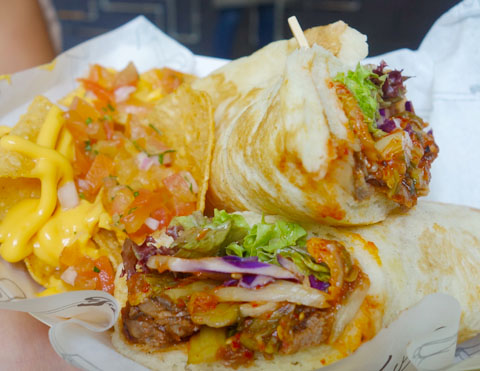 Fix Cafe specialises in Naanwiches, which are basically wraps using naan bread. The naan is specially made for the cafe, so expect deliciously warm, ultra moist and soft homemade naan.
We were recommended the Beef and kimchi naanwich ($10), which had me a bit aghast when I first heard it. It doesn't sound appetizing!! But, it was excellent. The beef used was high quality, and cooked until fork tender – much like a chunky beef ragu. The kimchi was not overpowering and not incredibly spicy, but lended a lovely kick to the meal.
The Naanwiches are served with a side of tortilla chips drizzled with melted cheese and salsa. They are tasty, but a bit of an afterthought as, frankly, the Naanwich is so freaking filling already! It will sufficiently fill up a hearty eater.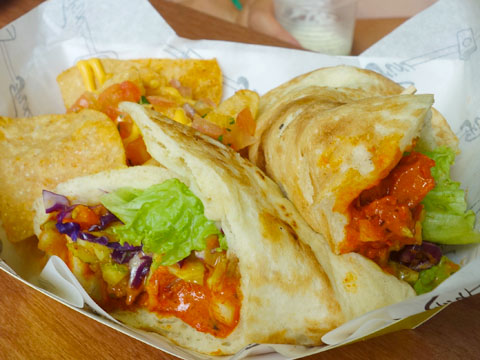 The Chicken Tikka Naanwich ($10) features the same fluffy naan, this time encasing big chunks of really tender chicken. I particularly enjoyed the creaminess of the curry gravy, which was enough to make the whole naanwich super moist but not drippy. There is a delicious achar (local pickles) in the mix to add a a bit of crunch and subtle sourness. The refreshing lettuce is well-received, though I found the sticky-out bits of raw cabbage a bit odd.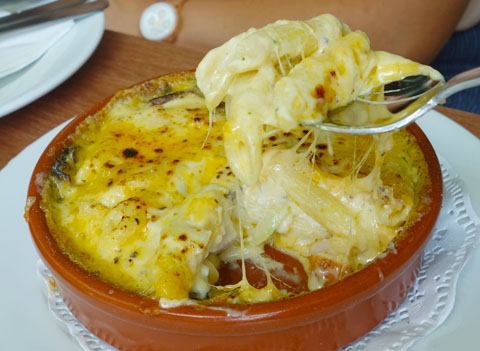 So let's cut to the chase here: the 3-cheese Penne Gratin ($10) is a flat out STUNNER. If you're into ooey gooey mac & cheese, this one is it. It's not too tacky and rich, but just smooth and creamy and utterly delicious. The flambeed cheese on top is so tasty, and I enjoyed the diced onions and mushrooms studded through the dish.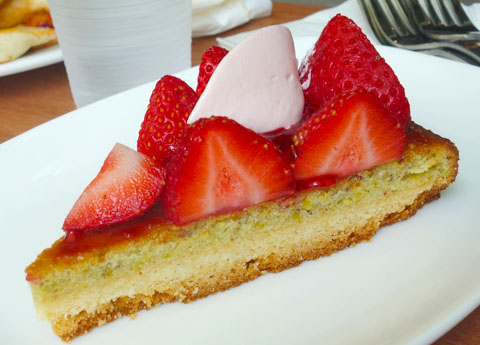 The oddly named Scarlet Rose Tart ($6) is actually a biscuity tart base, laced with pistachios. It's actually pretty awesome on it's own! However, it's topped with juicy red strawberries and a dollop of ballet pink rose cream (the tart's namesake). Think of it as an artisan take on the standard Strawberry Fruit Tart.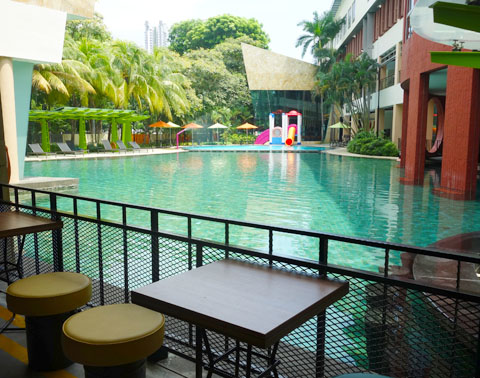 This is our gorgeous view. Fix only seats 40 diners in their space, but you can take the food out and sit on the deck chairs and tables/benches around the pool if you're a SAFRA member with access. We were particularly intrigued by the edgy decor featuring handmade furniture crated from scrap materials like paint buckets, recycled wood and metal pipes. Cos it's all about 'fix'-ing things up, geddit?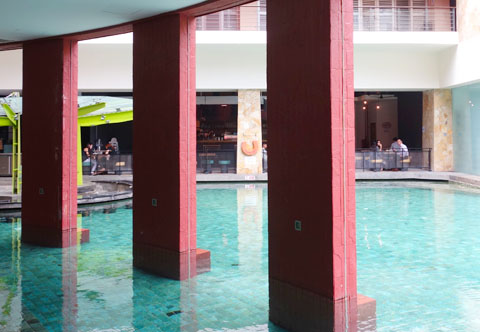 Built on the premise of "Original Handmade Goods", the workshop-inspired Fix Cafe serves up a variety of cakes, milkshakes and mains – all handmade in their own kitchens.
For families that are SAFRA members, you can also enjoy a dedicated kids' pool with a water slide & large floats.
Plus, you can even grab a milkshake or cappuccino while enjoying the lobby movie screening at 7.30pm nightly.
AND, all prices are nett so no additional taxes.
It almost sounds too good to be true!
Hurry on down, and get there early to beat the crowd 🙂