At first I wasn't going to write about this. There's not much fun in broadcasting your mistakes for the whole world to see and judge. But then I thought, this certainly is a major life event in our family that I'd want to document, and I do hope it serves as a reminder and alert to you parents out there.
Over the weekend, we had some of the kids' friends over for a swim playdate. Carter always has his float strapped on near the water, because he's fearless. But, we decided to take the float off and try it on my friend's son. I was fussing around with my friend's kid, and watching him paddle in the water.
And then I made a terrible, terrible mistake.
I took my eyes off Carter for a few minutes.
I knew he was wandering off to the other pool, where Chris and Hunter were. So I yelled out real loudly, "CHRRRIIISSSS! Carter's coming to you!", and left it at that.
That was a horrible mistake for me to make, because, by sheer bad luck, Chris was underwater with Hunter at that moment, and didn't hear me.
Chris didn't see Carter approach them, he didn't see Carter get into the pool, and he didn't see Carter struggle in the water and go below the surface.
A few minutes after looking at my friend's son, I suddenly and randomly (AND THANK GOD I DID THIS AND NOT A SECOND LATER!) decided to check on my own kids and Chris.
I walked over and saw Carter in the water, sort of floating there.
"Oh", I thought, "he's happily swimming", and walked closer.
Then it hit me. I remembered, HE HAD NO FLOAT ON.
And the next part happened in just a few seconds, and I was in a state of sheer shock and on auto-pilot…… My heart stopped beating. I'm sure of it. I raced to the edge, and saw Carter completely submerged (upright) under the water, his hair floating around his face, and his eyes WIDE OPEN. Not looking at me, but looking up and at nothing in particular. I wasn't scared, I wasn't horrified, it was all sort of a matter-of-fact scene, weirdly. I don't even think I freaked out.
He was motionless in the water, which was still. He wasn't struggling.
I screamed out "CARRRTERRR!!" and at this point Chris swung around and looked at me in surprise, and I vaguely recall my friend approaching from behind.
I reached in, grabbed him by the arm, and yanked him out.
He wasn't responding, from memory. But it was all a split second, so it's hard to tell. Because in that split second, I bent him over and pressed his belly against my forearm, and after another split second he coughed up a mouthful of water.
And he cried. His face turned red and he WAILED!
I was really happy to hear that wail.
He was extremely clingy after that, and very subdued. But was otherwise fine.
In fact, he had a big lunch, a cup of milo, and crashed for a 1.5 hour nap (with me hovering around his bed, just to check he was still breathing.
When he woke up, we went to the hospital.  There was a sign saying there was a SIX HOUR WAIT there. But at triage, the moment they heard what happened, we were hustled into another room at record speed. And another room, where there were checks made, more questions asked, and another room.. and it was all a bit of a blur.
But we passed through triage, doctor checks, vitals monitoring, and even a chest X-ray…. all within 15 minutes.
The doctor told me that a near drowning incident actually ranks on their top priority, like having an arm chopped off!!
He's getting his blood oxygen levels checked here: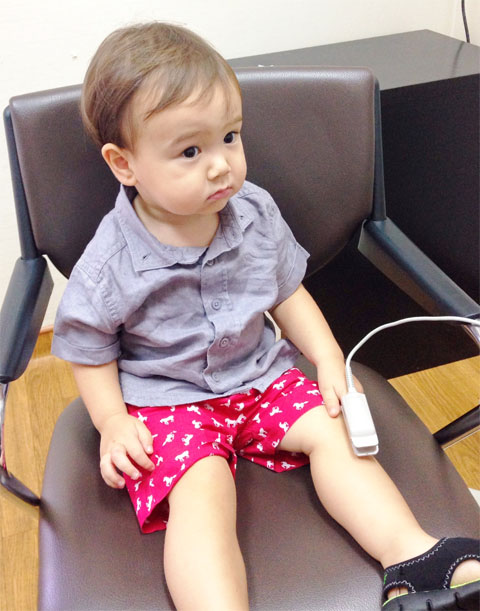 All hooked up to the machine: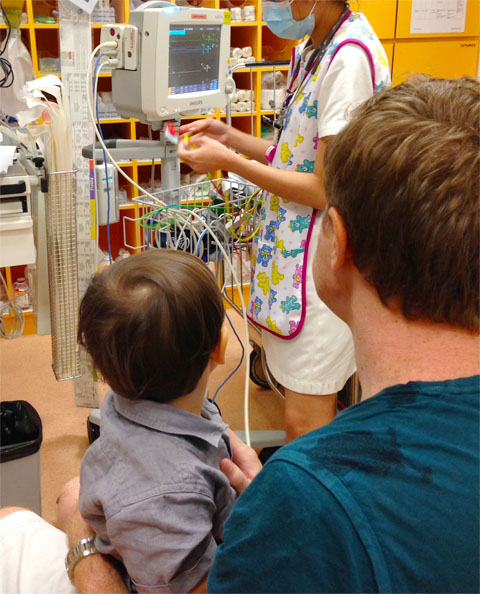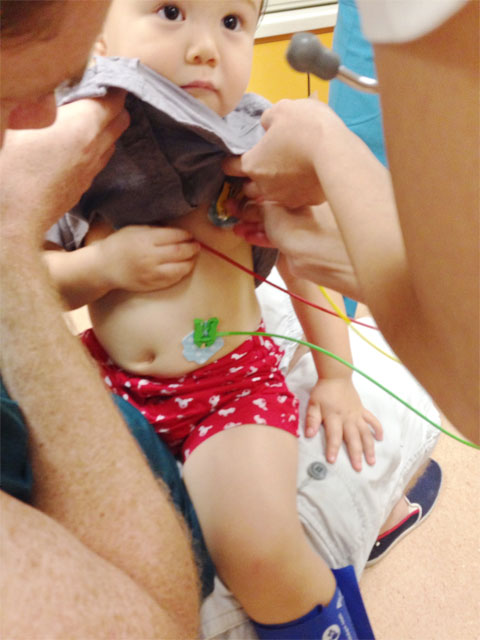 He got overwhelmed quickly and cried 🙁 During the chest x-ray, Chris had to force-hold him in between the two plates, and it was a complete nervous breakdown for my baby 🙁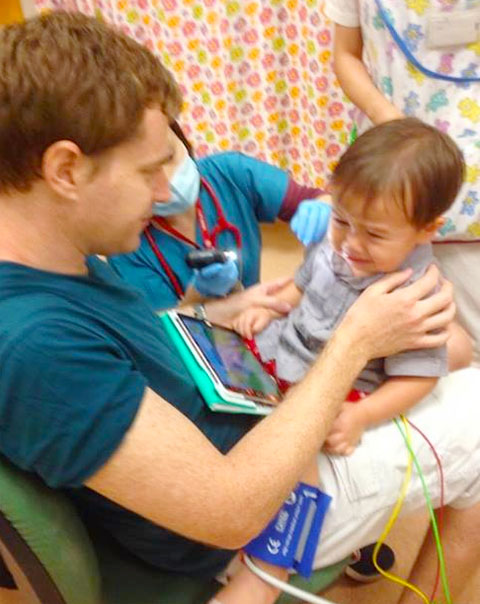 Because near drownings is serious stuff for very young kids, he had to be admitted overnight. And, oh boy, Carter was in HEAVEN!! He thought he'd struck the lottery and was in a luxury hotel or something.. with loads of attention from nurses, and a very very contrite and worried Mum showering him with more attention and kisses.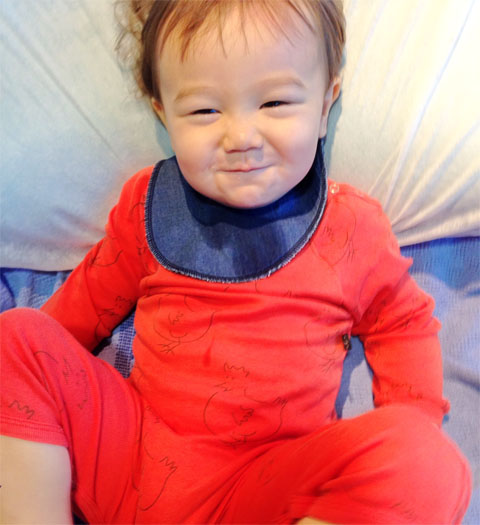 He was so happy he sang at the top of his lungs for ONE HOUR non stop before falling asleep…. and woke me up the next morning signing merrily again. He was sooo delighted!! And even more amazed and delighted that, for the first time in his life, I slept next to him in bed.
He couldn't believe it and kept stroking my face in wonder, and bursting into the biggest grin and squeal of delight every time I opened my eyes to peep at him. And he threw his arms around my neck countless times as we lay in bed, facing each other.
It was WONDERFUL, lying there in bed with my baby, and realising he was all ok and would be ok.
He was discharged from hospital the next morning, with no after effects, and seemingly no recollection of what happened. Chris and I have had nightmares since, though, and I just thank God I went to check on him not one second later. Things may have been very different…
I haven't been able to thank everyone personally, but it really meant a lot that friends dropped little notes, SMS's etc, when they heard what happened. I read everything and was really touched that people cared. We appreciate it.
And I'll never make that mistake again. And I hope you never do too.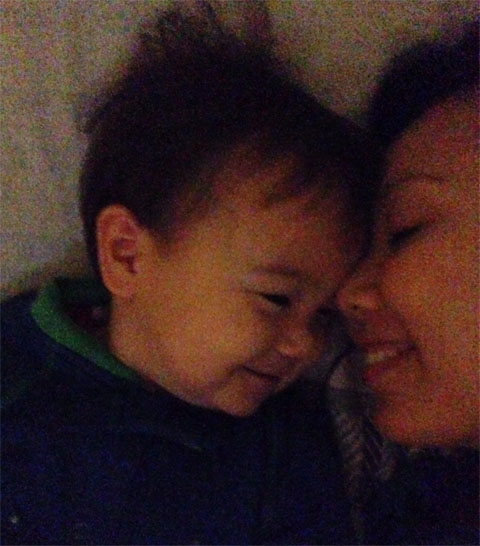 (this photo was taken just moments before he fell asleep in his hospital bed, with me right next to him. I love this photo.)