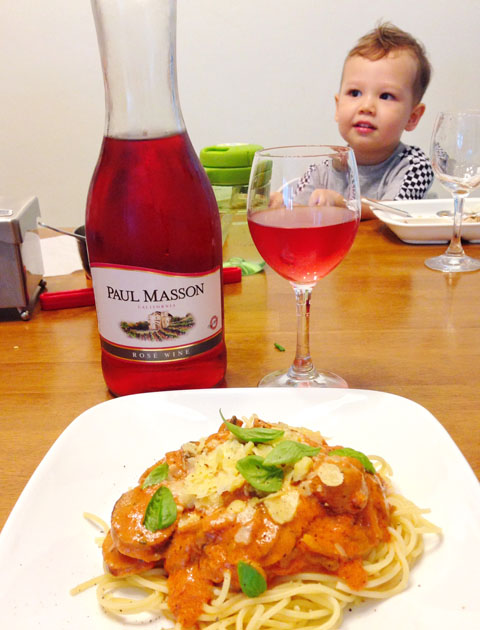 No, we are not an alcoholic family.
But, we all gobbled up this Vodka pasta I made! Kids included 😛
It's essentially a basic tomato-cream sauce, but then doused with a healthy dose of vodka. I heard that this gives pasta sauce a great 'kick', and we had half-a-bottle of vodka in our fridge.. so I figured this was a great way of using it up.
I sauteed crushed whole garlic cloves and diced onion in some salted butter, then added in 1.5 cups of vodka. After a few seconds, I popped in a tin of tomato puree and a tub of cooking cream. For seasoning, there was the usual salt/pepper, as well as some dried oregano and parsley, and paprika. For fun, I popped in some steak seasoning too!
The ingredients I used was sliced garlic&herb sausages and sliced mushrooms.
Then I served it on spaghetti, topped with freshly shaved parmesan and fresh basil leaves.
IT WAS PRETTY FREAKIN' GOOD!!!!!!
(the kids slept reaaaalllyyyyy well that night!)