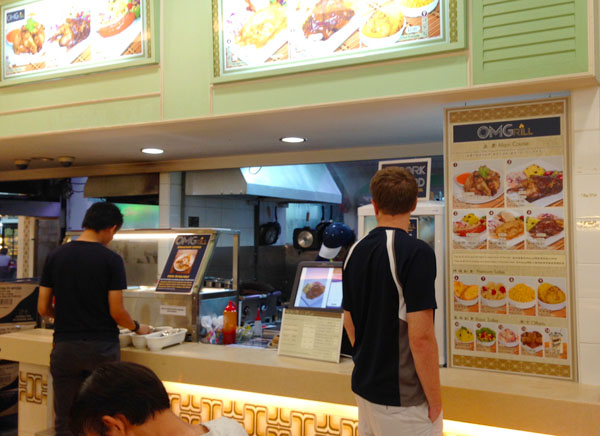 I was very excited when I heard about OMGrill opening. Started up by the winner of Singapore's first ever reality cooking competition, Wokstars, it features Singaporean-Western food in a food court – ie. cheap but good food.
I say Singaporean-Western food because Singaporean-Western foodstalls in Singapore (there is usually one in every hawker/food court) doesn't actually make food that exists in Western countries. Often, it features chicken chop or chicken wings or crumbed fish, and side dishes like fries, coleslaw and baked beans. It's very Singaporean specific.
And, yes, it's completely odd but….. I love it! It's kinda like eating "Chinese" food in the USA – it's not really Chinese food and you won't really find those dishes in China (I'm lookin at ya Black Pepper Beef, Singapore noodles, etc!)
So I had SUPER high hopes for OMGrill, because it's Singaporean-Western food, by an esteemed chef!
Unfortunately, my expectations fell flat. It did not meet my standards, and I'd even dare to venture to say it was below a 'regular' Singaporean-Western food stall. Eep!!
So this is my plate below: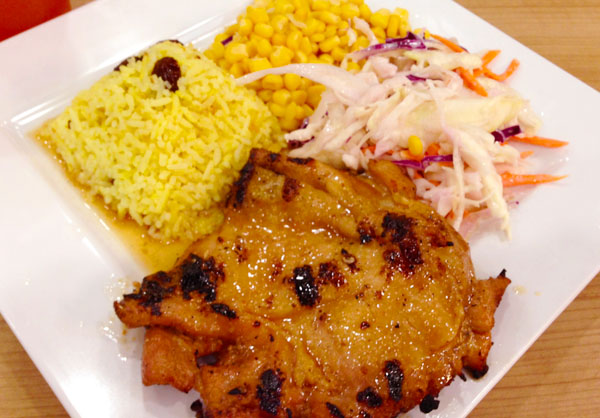 Grilled chicken chop was a large and decent portion, which I liked. The chicken was tender and juicy, but was either marinated in an extremely salty concoction or too much salt was added. It made my toes curl.
Rice was nice but nothing spectacular. I've heard some complain about the raisins, but I liked them in there.
Corn was dull. I'd expected fresher and juicier kernels, and perhaps some quality salted butter. But it was plain and rather tasteless.
Coleslaw was cut so large that it spiked everywhere in big chunks. I'd have preferred a more delicately shaved coleslaw.
Oh well. At least we got to try the famous OMGrill!