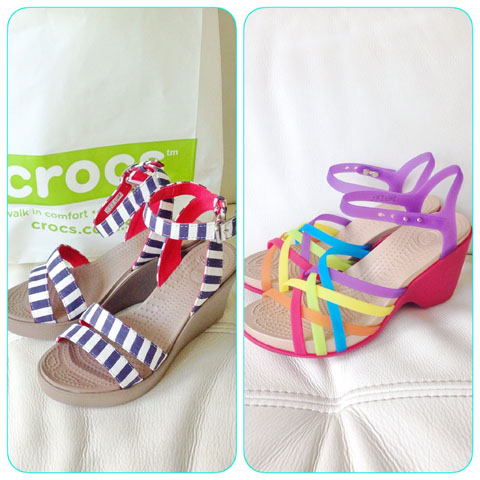 Seriously, how adorable are these Crocs wedges??
I already own too many shoes (ahem!), but I couldn't resist adding them to my collection. They are BRILLIANT.
I've never really liked Crocs, associating them with horrifically ugly shoes. Just sayin' it like it is!! Their standard clog-style shoes are just…… eww. They make me shudder.
But they're getting all fashionable now, releasing sandals and other cute looking shoes!
The ones on the left are the Crocs Leigh wedge. I saw them and was all I MUST HAVE THEM NOW OMG OMG OMG!!! I mean, they don't even look like Crocs! And yet boast all the incredible comfort of Crocs shoes. I kid you not – I can wear them all day walking around, chasing after kids, and not get sore feet. They give me (much needed height), look fantastic, and are comfortable. WIN all around and I'm in disbelief that I managed to find such good heels.
These particular shoes have also had FOUR people stop me and ask where I got my shoes from.

And the other pair of rainbow shoes are the Crocs Huarache sandal wedge. They are entirely rubber so, yes, they do look more Crocs-like. But, they're still pretty and I'm very childish and like rainbow colours so this totally does it for me! It's completely washable too.
The only downside is that I'm finding it more difficult than I thought pairing it with outfits.. without making me look like a pre-schooler or like a rainbow exploded on me. I think it looks best with a SIMPLE plain-coloured outfit. And considering I wear really bright colours and prints, I realise now I kinda need to change my wardrobe if I want to fit this pair of shoes into my daily outfits 😉