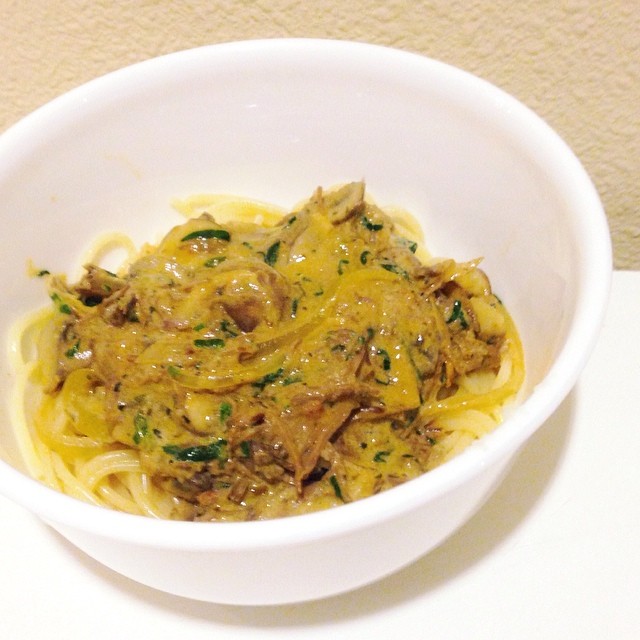 Obviously I fail in making food photography a career. Or being a legit food pretty-upperer. I just can't be bothered fussing around with this and that, making sure my stuff is plated properly, then fussing some more with lighting and angles, then taking a whole bunch of shots to pick THAT one that I know will make people go "oooooh!! Looks soooo nice!' 
Cos to be frank, all I'm thinking is OMG FOOD GET IN MY BELLY and slap it all in a bowl or plate and I'm lucky if I get a photo in!
So, yeah, that is my excuse as to why my awesome pasta dish looks a bit like dog vomit in the photo above 🙁
My official name for it, actually, is a 4-hour slow roasted pulled beef and mushroom pasta.
It is bloody kickass GOOD!!!!
The beef was ultra tender and juicy, and the sweetness of the caramelised onions went really nicely with the full-bodied flavour of the beef. I sneakily added in some chopped baby spinach, to get some greens into our meal.
I'm being totally smug here but I reckon it's the best pasta I've ever cooked. Or maybe even the best I've ever eaten. My belly purred in delight 🙂 Best of all, it's actually EASY to make!
First of all, you gotta make the 4-hour slow roasted pulled beef. This sounds painful, but it takes 5 mins of prep, and 4 hrs of sitting in the oven whilst you do your own thing, so it's actually quite brilliant for busy folk. What's more, you can make a BIG batch of this and stash it away in the fridge/freezer, and use it in all sorts of other dishes, like Mexican tacos, Pizza topping, Sandwiches, etc etc.
To make the 4-hour slow roasted pulled beef:

a few slabs of chuck beef (I generally get 2-3KG)
handful of jalepenos, chopped
1 tsp Italian mixed herbs
1/2 tsp cumin
4 cloves garlic, minced
2 tbsp olive oil
salt/pepper

Put chuck beef on a double-layered sheet of foil.
In a small bowl, mix all the other ingredients. Rub all over the beef, then wrap completely with the foil.
Bake at 150 celcius for approx 4 hours, or until meat falls apart when poked with a fork. Shred.

To make the pasta sauce:

4-hour slow roasted pulled beef
1 onion, sliced thinly
handful of baby spinach leaves, shredded
3tbsp of red pesto for pasta
Half tub (or 150ml) of sour cream

Cook onion in olive oil and butter, stirring until soft and slightly brown (~15 mins on low heat)
Toss in pulled beef and red pesto
Turn off heat, then add in spinach and sour cream
Serve on pasta