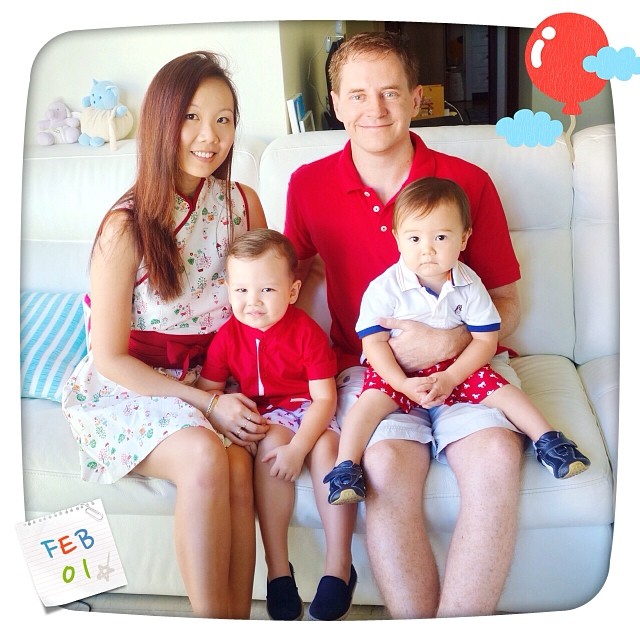 So this is our little family, being all Asian and celebrating Chinese New Year decked out in our new clothes!
The two boys are wearing their ridiculously chic Elly shorts from their "The Horse Parade" collection. I'm exceedingly pleased with them because they are very thin and comfy, and make excellent shorts for play school. I'm hoping Elly releases more of these shorts, in more designs! *hint hint nudge nudge*
Chris is wearing a Hush Puppies red polo shirt that I bought for him specifically for Chinese New Year, because he's worn his previous (one and only) red polo for the past 4 years and it's getting reaaalllyyyy obvious that it's gone old and ratty. This one looks identical, but at least it looks new! OK fine, no one really cares what Chris is wearing.
Moving on…
I am wearing a super cute custom-tailored dress by Miz Apparels! These guys have a shop at Marina Bay Link Mall #B2-13 and – oh man – if you like cute fabrics and clothing that is customized just for you, you're going to freak with this shop!
They have a MEGA range of tops, skirts and dresses for women… all in adorable prints and fabrics. My brain kind of short circuited when I first saw their stuff, and I grabbed about 8 pieces to try on!
The premise is – you pick out an item you like, and they will nip and tuck it so it's fitted exactly to your proportions. It becomes a perfect fit for you… assuming you don't lose or gain weight 😉
So here's what I got!
First up is this ultra soft and thin top, which is Chinese style (to commemorate Chinese New Year), meaning it has a high collar. To be honest, the print and colours didn't excite me that much, but it was the fabric that won me over. It's so thin and soft!! Wonderful for SG's hot weather.
This next piece I really wanted, though I was afraid I would look like a try-hard teenager in it, since it has rainbow cartoon elephants allllll over the top. But, it was just so pretty I couldn't resist, and I loved the colour combination!
And, yep, this dress with houses print. I just thought it was beautiful. The weight of the fabric, the adorable print, and the whole look and feel of the dress. I got the skirt made shorter (it was originally meant to be below-the-knee) so it does boof out a bit at the waist/hips, making me look kinda fat. But I figure it still looks cute!
These are the three outfits, held up by the lovely sales assistant at Miz Apparels: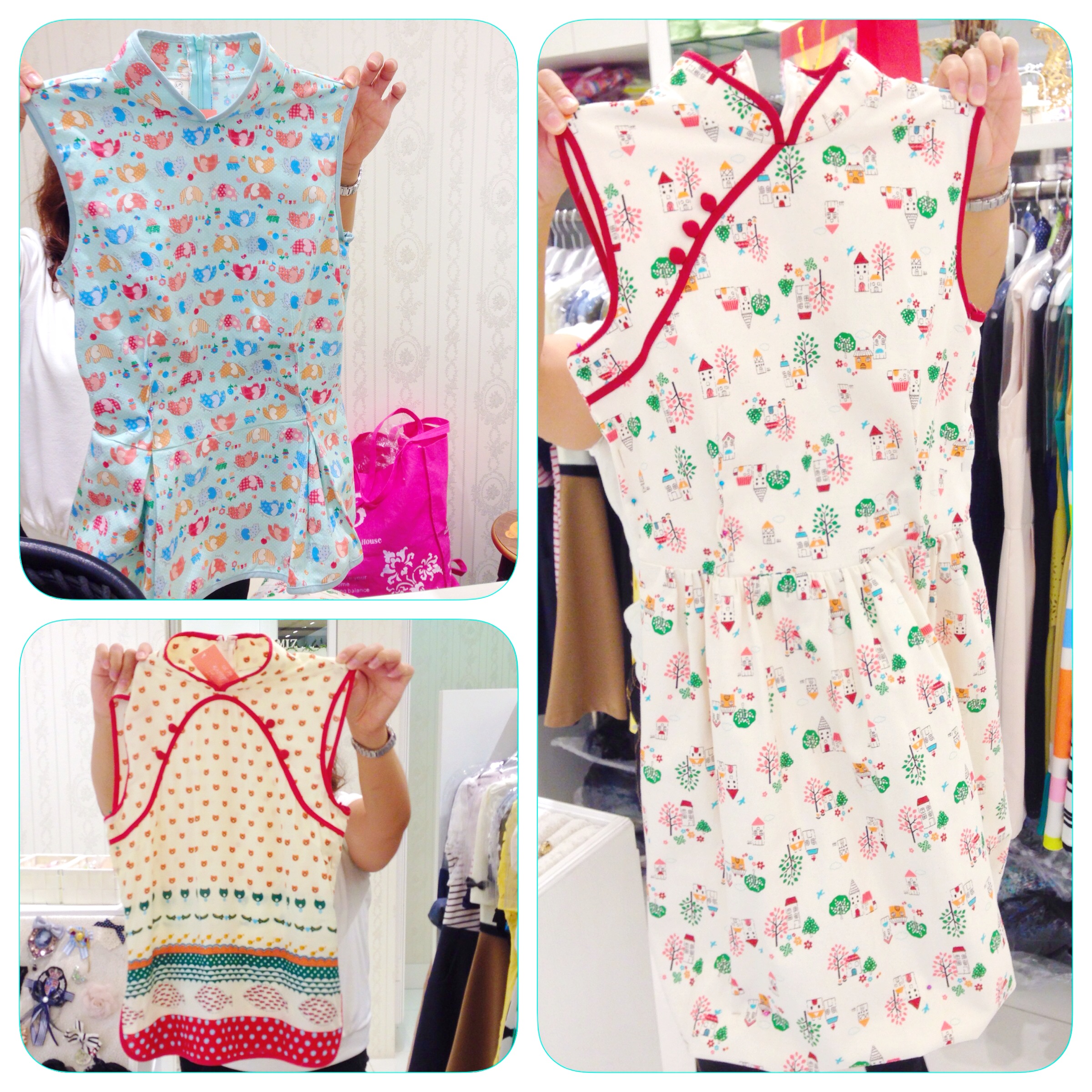 And, for Chinese New Year, I'm wearing something particularly special…. these are the gold hoop earrings that my grandma (ie. Mum's mum) gave me when I was a kid and first got my ears pierced. I'd forgotten all about them until Mum passed them to me yesterday!
They're very thin and delicate, simple and classic, and fit me beautifully. I'm delighted 🙂