We hit the River Safari! 
It was our first time there, but Hunter had to stay home because he was recovering from his ear infection and was on bed rest for the day. Poor dear, because he would've loved it and loved playing with my friends' kids!
But at least Carter came along for the ride, and he had heaps of fun 🙂
The River Safari is right next to the Singapore Zoo, and is even more kid-friendly because kind of a one-way track round the whole place, so once you enter, you're pretty much shuttled through one way right to the end. Really good if you have active kids that tend to run off in various directions… It's also almost entirely under-cover, so it's fabulous if the weather is crappy that day.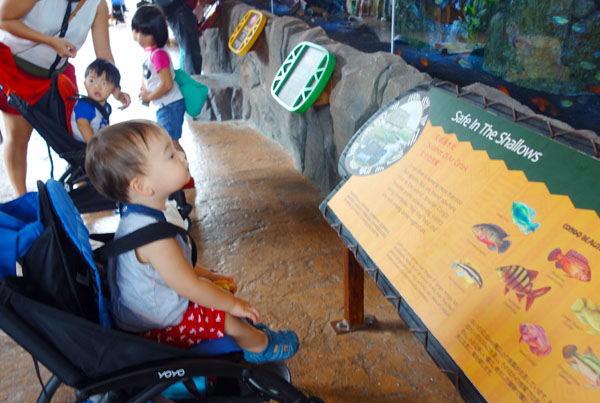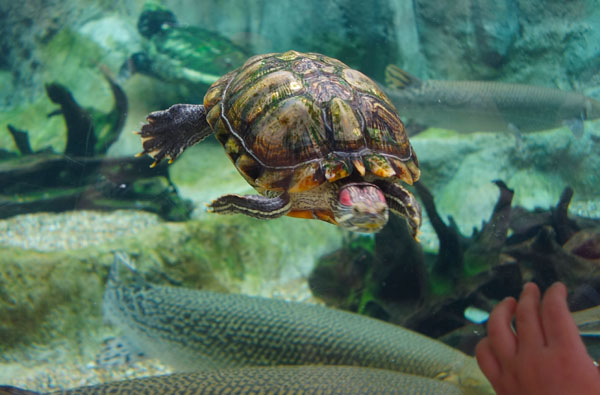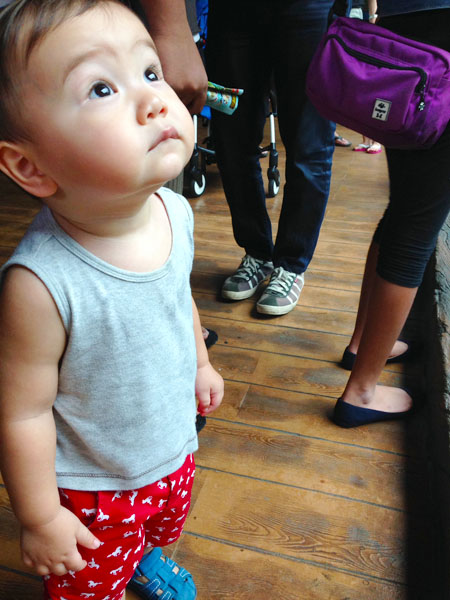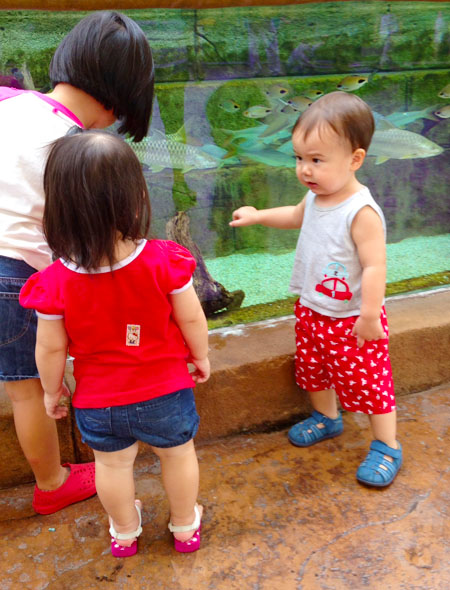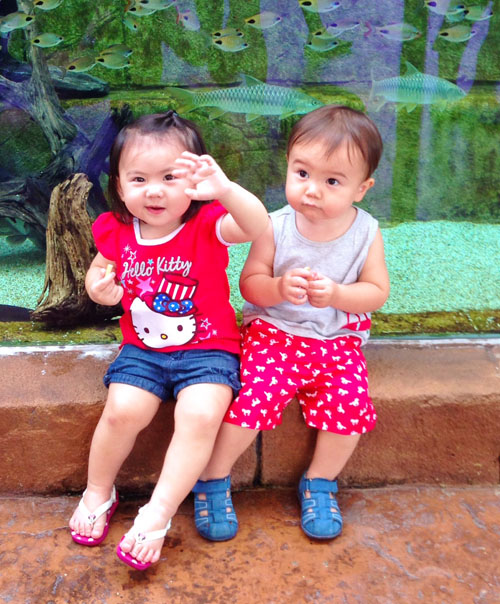 This is where the famous 2 pandas Jia Jia and Kai Kai live. The area also has other animals, but they are the star attraction. Be warned, it's SUPER cold in there!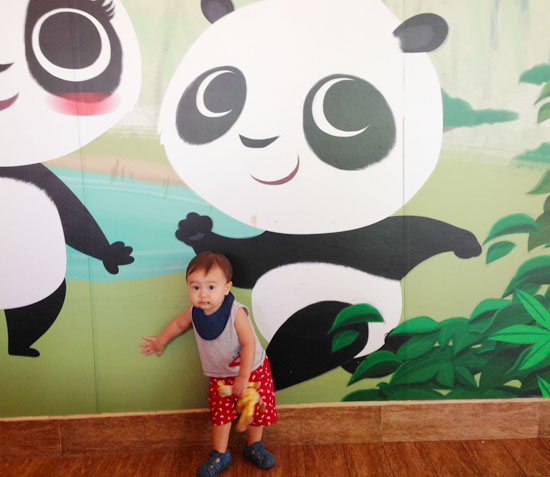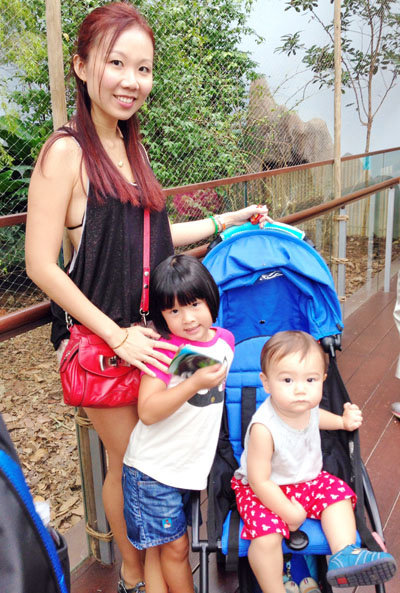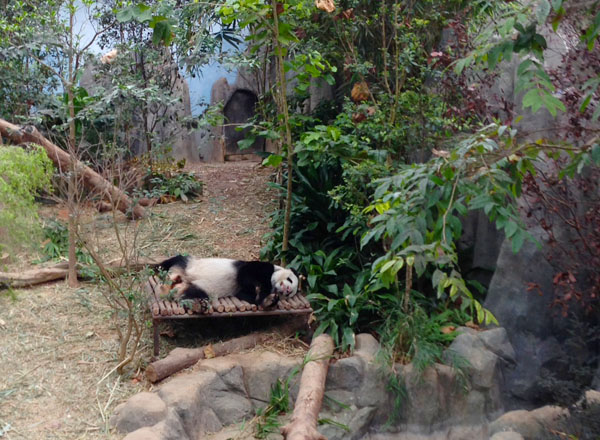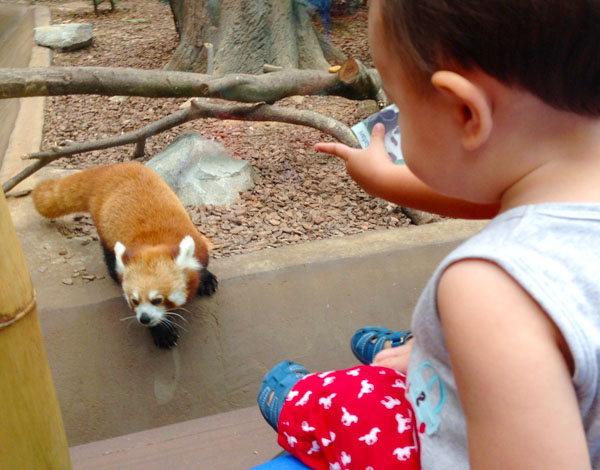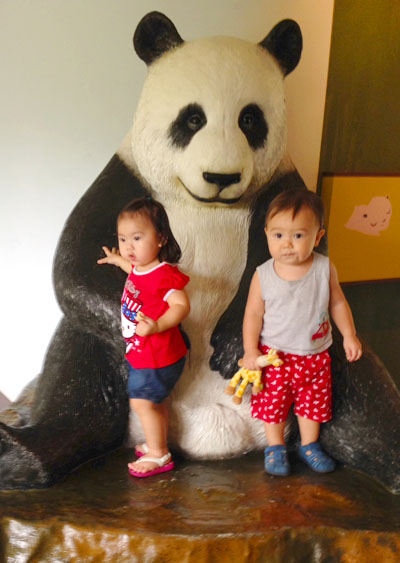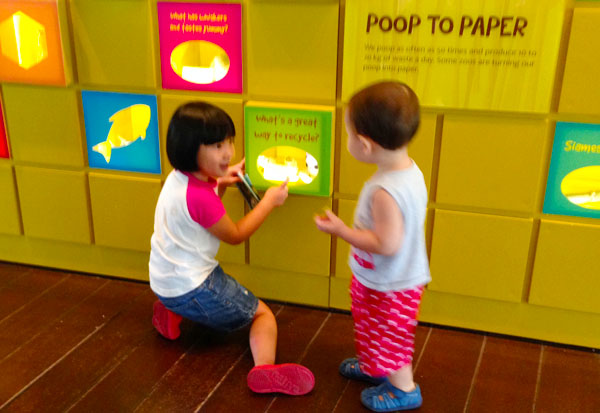 There's a nice boardwalk area after the panda enclosure. It's safe for kids because it's completely fenced in, and overlooks the water so you get a lovely breeze through. The older girls loved jumping off the benches! Apparently it is LOADS of fun… 😉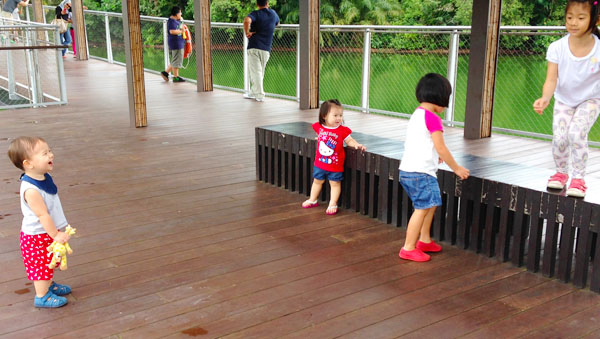 We saw this adorable amphibian creature. I forgot its name, but it was adorable!! Like a fat baby lizard paddling through water.. awwww…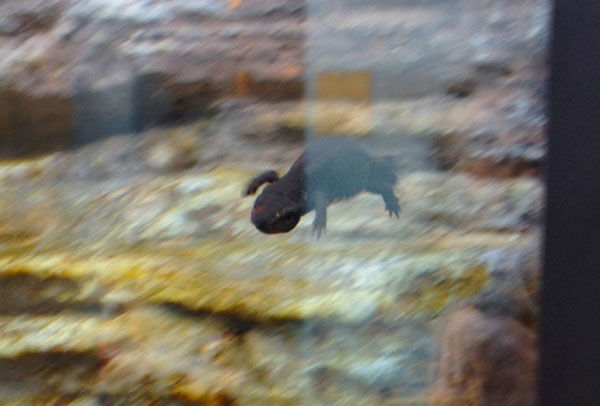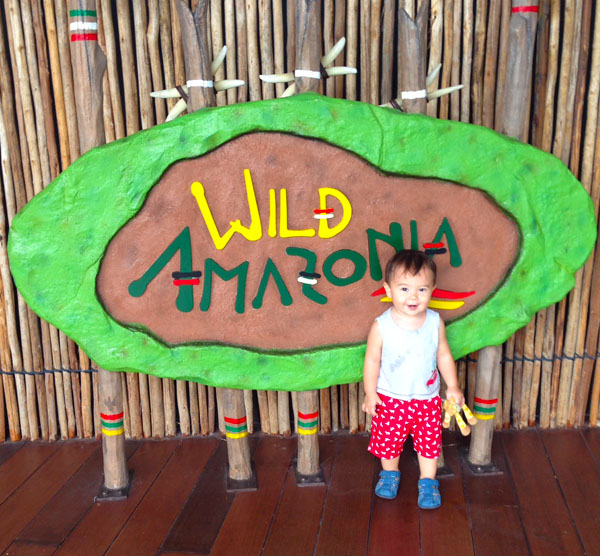 So this was the funniest and best part of the whole day. See these yellow flowers the girls are holding? They're in the boardwalk area and the girls just plucked them through the fences.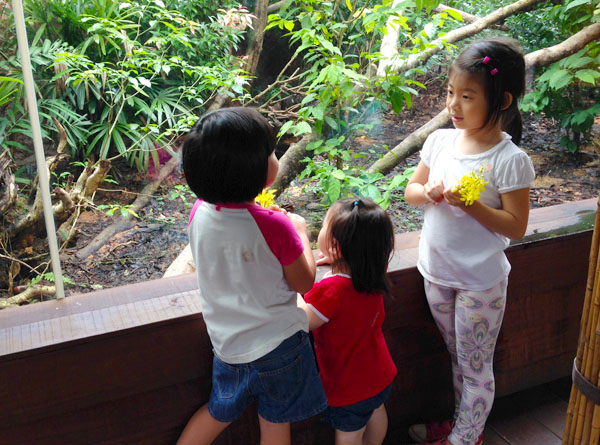 …..then, we went into the Spider Monkey enclosure next, with the girls still holding these yellow flowers. They are a total HIT with the monkeys!! Errr disclaimer here: I'm pretty sure you're not meant to feed the monkeys with your own food. But it was by accident that we realised the monkeys loved these flowers – because they were soooooooooooooo interested in the girls! It freaked them (the girls) out, so they dropped the flowers they were holding and the monkeys SCURRIED over as fast as their lil legs could get them, picked up the flowers, and happily played with/munched on them!
The cheeky little monkeys (literally) also kept digging around in the bottom of Carter's stroller, hoping for a treat or two. And they took a fancy to his Rah Rah (giraffe stuffed toy) and kept wanting to grab it off him! All of us had a squealing good time. Adults included 😉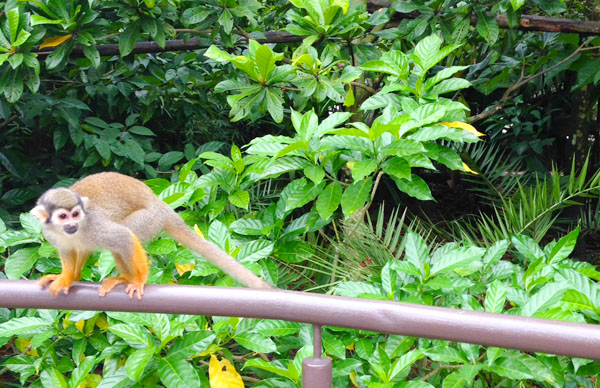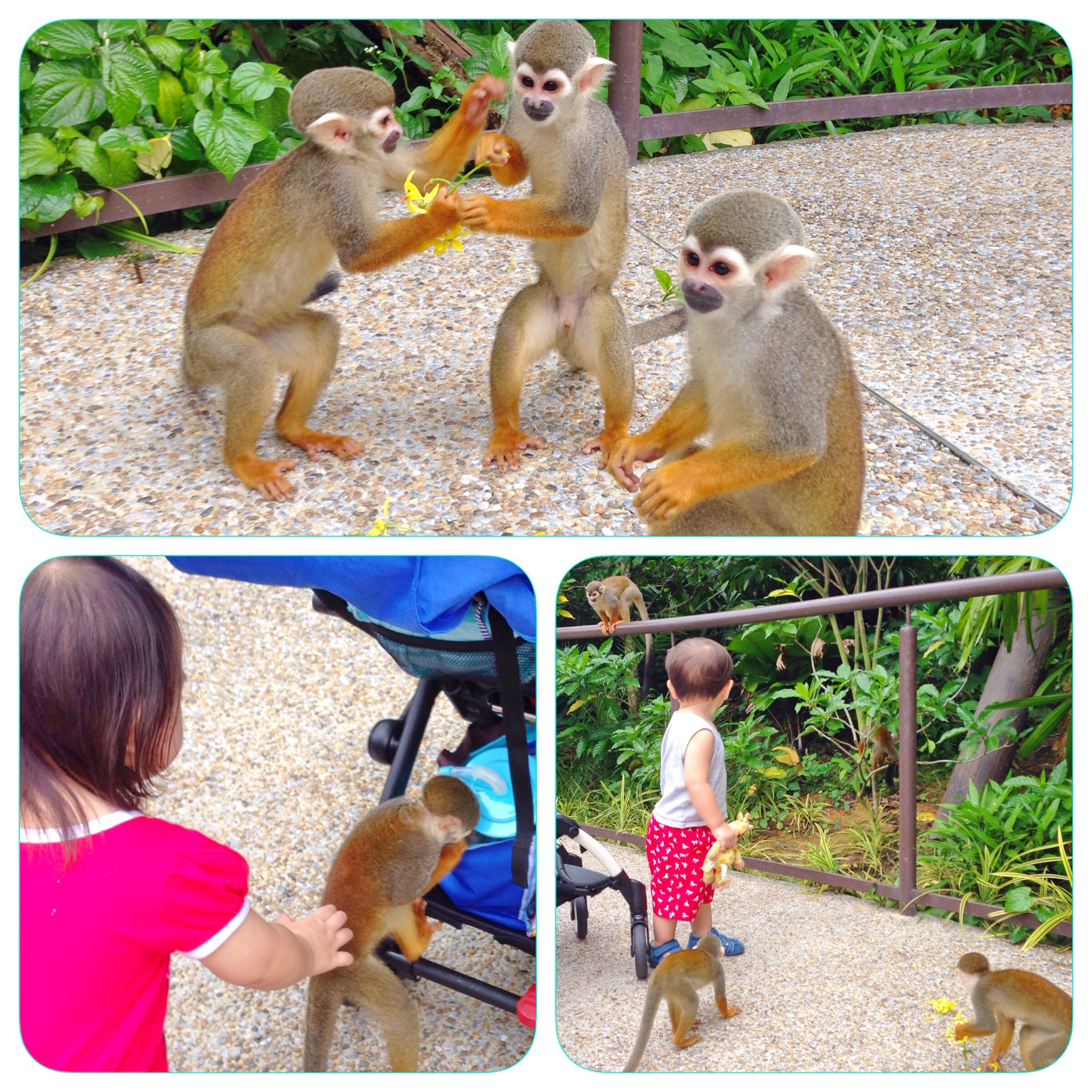 There is a MASSIVE water tank there, which is really soothing to look at. We spotted this manatee, oddly 'resting' on the pole. Doesn't look very comfy……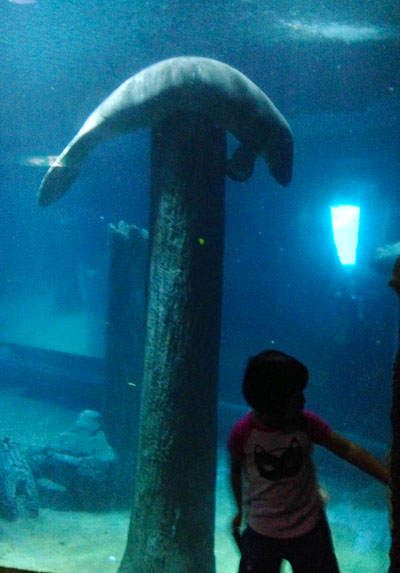 And (giant) sea otters! Carter was pretty fascinated.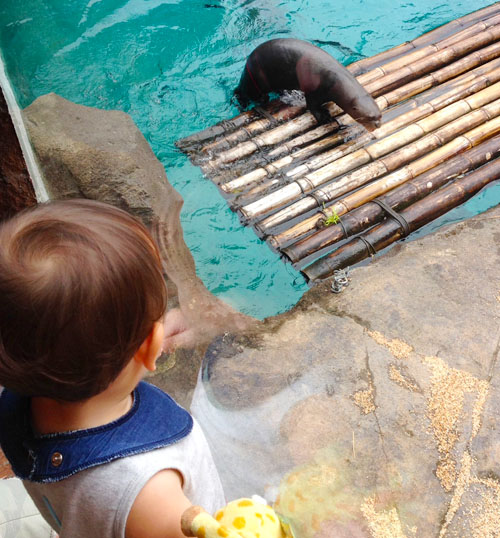 We had a fab time at the River Safari, and it helped that it was a pretty cool day and didn't rain. The kids had fun! And I guess some adults did too… 😉