My Dad is a New Years Eve baby.. which means that pretty much everyone celebrates his birthday 😉
Only problem? A lot of restaurants are booked out on NYE, and we don't want to be part of the madness and shennanigans (man I sound like such a cranky old lady here!). But crowds and craziness just doesn't go with a quiet birthday celebration and young kids, so we decided on a Chinese restaurant instead. Good move, because it wasn't packed out despite being right on Orchard Road.
Located in the Regent Hotel, Summer Palace is one of those refined Cantonese cuisine restaurants, with traditional decor, delicate tableware and attentive service.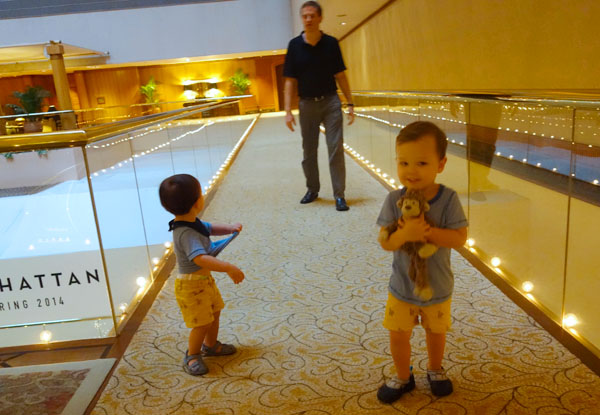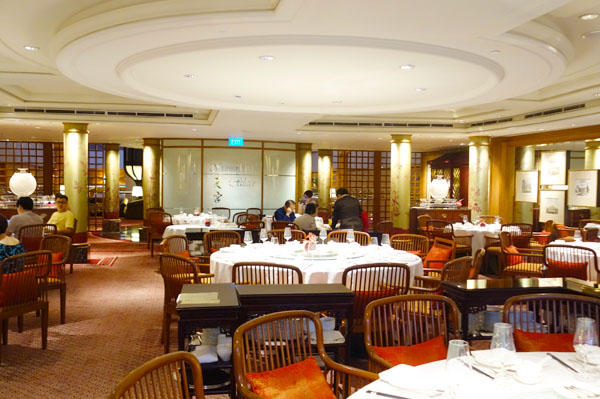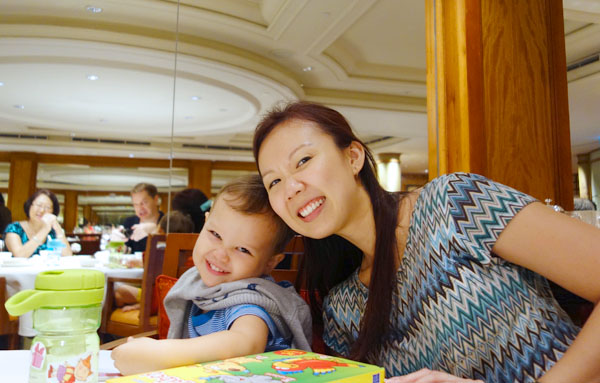 You'd think that such a lovely restaurant wouldn't be kid-friendly. But it is. They promptly provided us with a full set of kids cutlery, and check out their high chairs!!!!!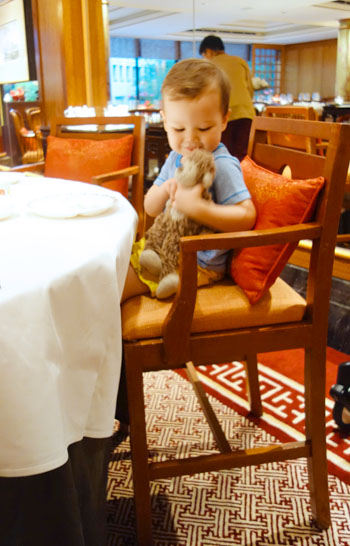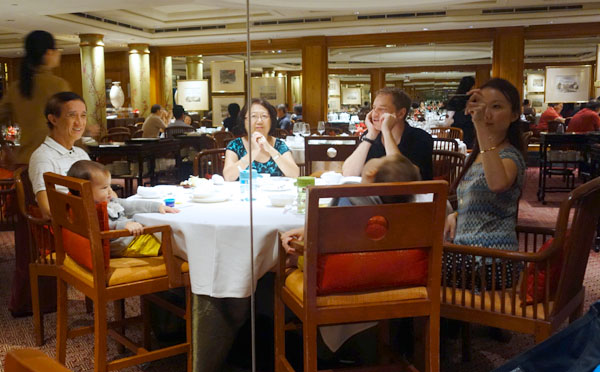 The food at Summer Palace is exquisite, one of the best Chinese food I've had in Singapore. the Roast Pork Belly had my belly doing backflips of pleasure – it was actually very lean with little fat (the way I like it), and the skin was perfectly crisp. I couldn't get enough of this!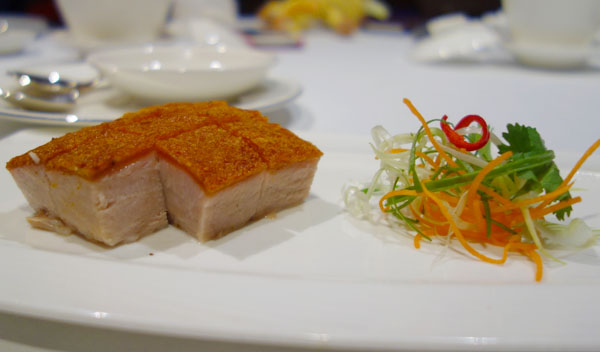 They'd heard we were celebrating Dad's birthday and so gave us a bamboo basket of Birthday Buns! These are a traditional thing to do in China – the buns are shaped like peaches and filled with a sweet paste. Supposed to signify something very good/prosperous I'm sure!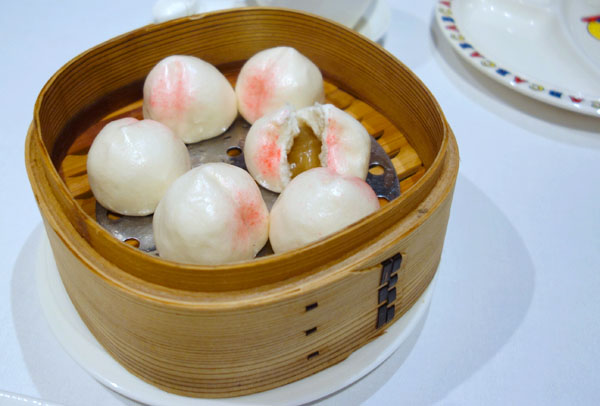 THIS FISH. Oh man. It was exquisite! We ordered two portions, one for each kid. I remember they were $24 a pop but boy they were sublime. The cod was moist and silky, and fell apart with a mere poke of the fork. It laid on a bed of fluffy egg white and dark soy, and topped with a dollop of black caviar pearls.
Luxurious and luscious.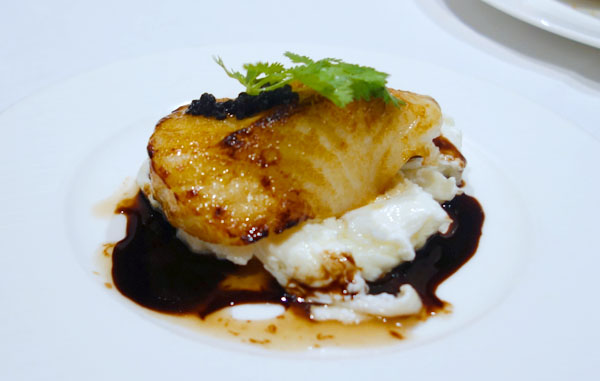 The other star dish was the Lemon Chicken. It sounded so simple on the menu, but was marked as a recommended dish, so we just thought why not? Glad we decided to, because we all LOVED it. And none of us are fans of Lemon Chicken!!
This was completely different to any other Lemon Chicken I've had. The chicken fillets were flattened discs, with almond slivers all over them. It lended a nutty flavour to the tender chicken, and the rich lemon curd was paired so well with it! We couldn't stop eating these babies. Like Asian style chicken nuggets… done all fancy like.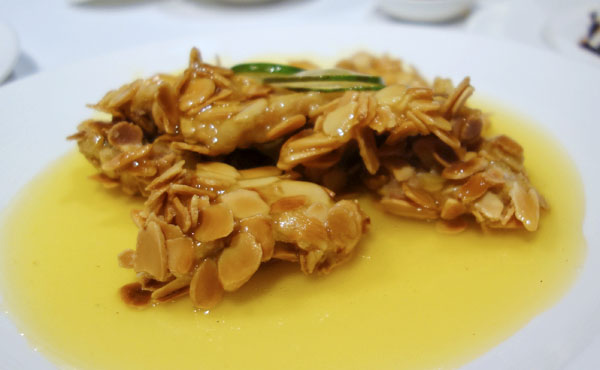 We also ordered the Pork Ribs stuffed with Prawns because it was a recommended dish. It was actually rather bizzare! Not saying it wasn't good, but it really threw me off because I've never really had a pork rib + prawn combination before. The whole thing was deep fried so it does feel a bit heavy on the throat if you have more than 2 or 3 pieces. Very unusual, but quite a fun dish to order, just to try out.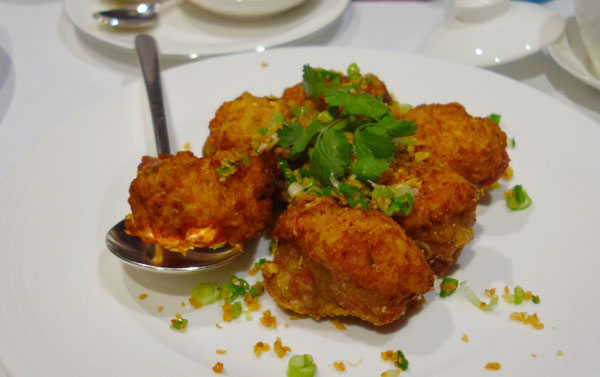 We ordered some Mixed vegetables with fish and, what can I say? It was pretty much a standard veg stirfry. I loved the sugar peas in it though – crunchy and fresh. The fish was silky smooth and the kids liked this too.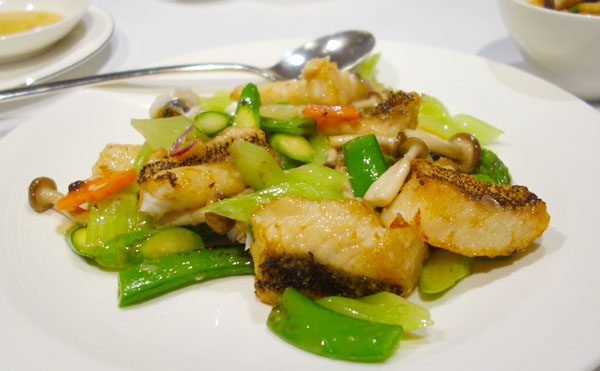 The blandest dish was probably the Tofu with crab and spinach. I suspect it was meant to be this way, to really bring out the mild flavour of the crab meat. The floppy chunks of custard tofu rested on a bed of soft spinach (divine!), and was smothered in crab meat.
And this is what really set the dish apart – the sheer amount of crab meat! LARGE chunks, and copious amounts. The dish isn't cheap, so I guess you get what you pay for. The amount and size of the crab meat was truly impressive (see the two photos below).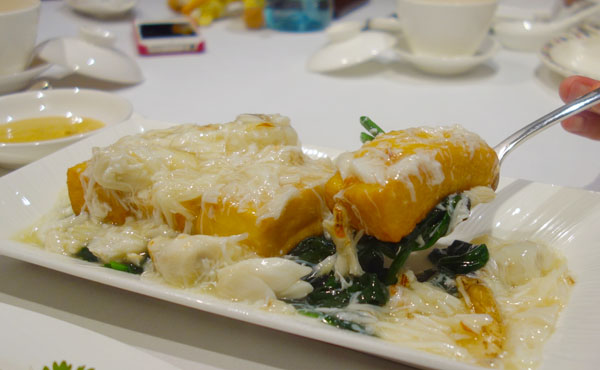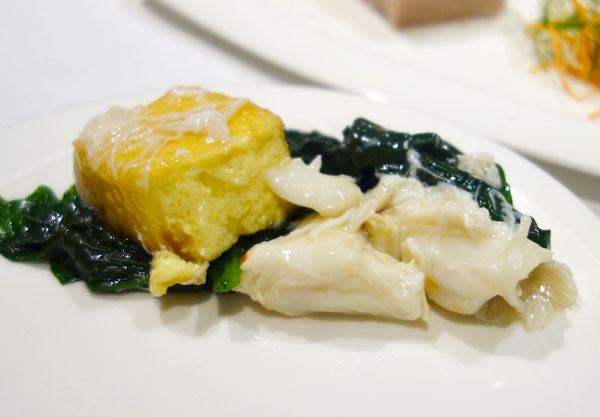 We got E-fu noodles with prawns and mushrooms to share with the kids, but to be honest, they didn't eat much of it since they were so filled up on the fish. The noodles were probably the most unimpressive dish, as in they were the same as what you'd get in any other Chinese restaurant.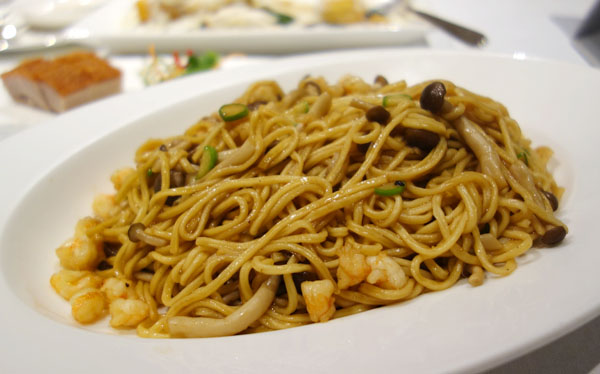 The kids stayed up waaaay past their bedtime. It was New Years Eve 2013, after all!! Hunter handled it all like a champion, and was well-behaved all the way through dinner and on the way home. But Carter . Poor Carter. He was out of his mind with tiredness, so half-way through dinner, we popped him into his stroller for a 30 min powernap, and then he woke up happy as punch again. Whew!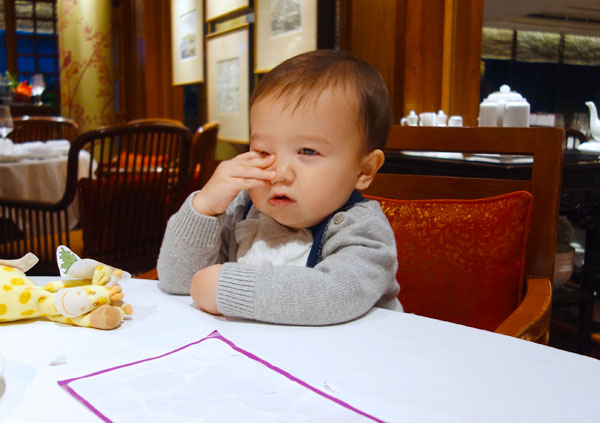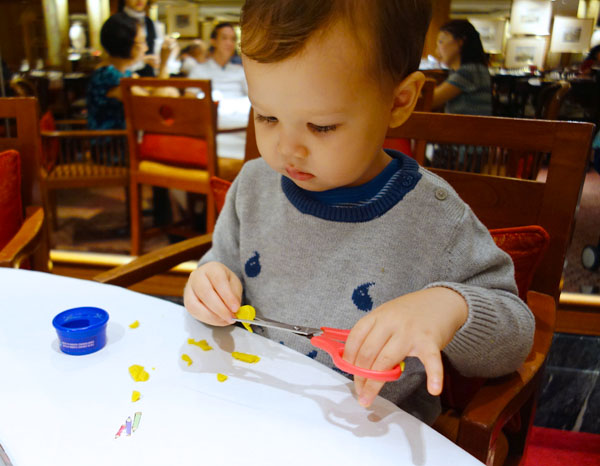 Dessert was a cake we brought along, baked by a friend's sister! Summer Palace didn't charge us cake-age, a nice touch.
Hunter had a ball signing Happy Birthday and blowing out the candles. He says he can't wait for HIS birthday "coming soon" to blow out his own candles!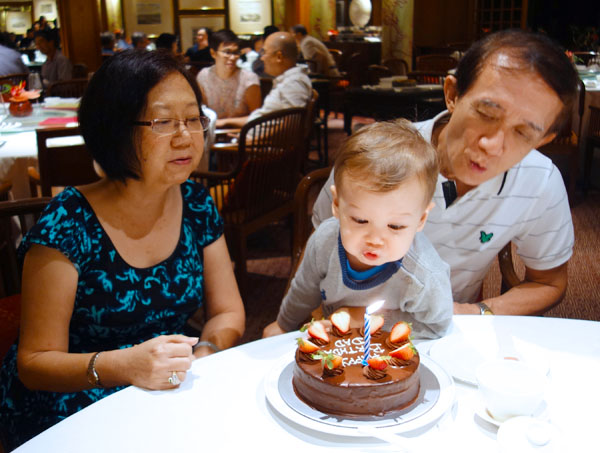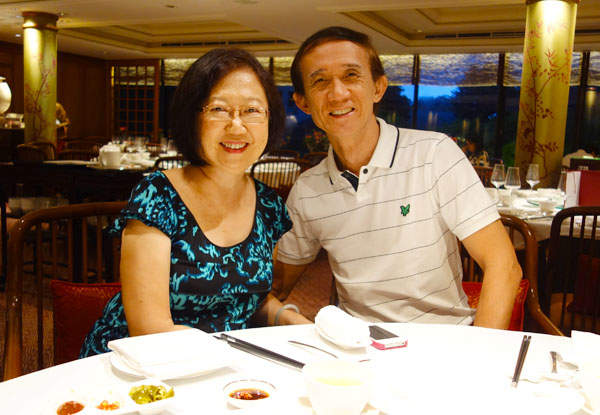 Happy Birthday Daddy, LOVE YOU!!!