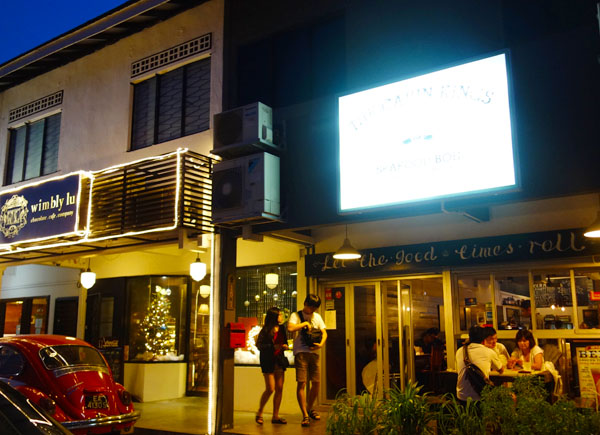 I was a bit "Ehhhh.. just a random seafood place" when my friends said they wanted to check out Cajun Kings. I just assumed it was typical restaurant, nothing that unique.
Boy, how wrong I was! It was a super fun dinner, best shared among friends. Get down, get dirty! 
The restaurant is small and packed. You need to make a reservation (we tried to go back a week or two later, and couldn't get reservations a day in advance).
Being the scaredy-cat that I am, I was kinda horrified when it was proposed we order Buttermilk frog legs ($15). I thought it was some sort of American slang for… something… anything else. But nope – it really is FROGS LEGS.
I silently assured myself that I wouldn't be eating Frog Prince.
But when it arrived at the table, it actually looked kinda…… enticing! By enticing, I mean heavily deep fried. That kind of is my hot button – I can't resist anything deep fried! These babies were huuuuuuuge. I was anticipating frogs legs to be really tiny and fiddly (and scary), but these were fat and juicy.
To be honest, if no one told me it was a frogs leg, I would've thought it was just very tender and very moist chicken. Thankfully, the buttermilk batter makes the whole thing look pretty unrecognisable, so it's not that scary! mj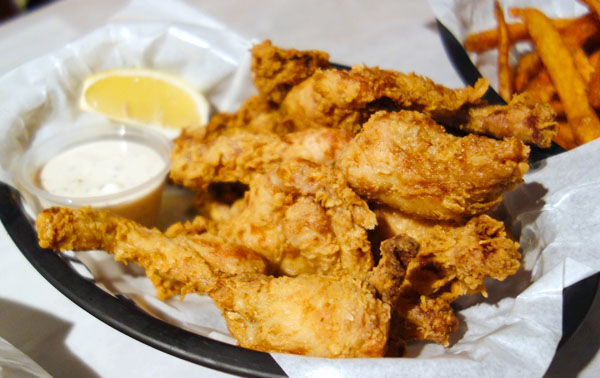 Some enjoyed the Pork belly cracklings ($7) and thought they were amazing, but they weren't for me. I'd anticipated very tender pork (and fat), with a super thin and crisp skin. But the whole thing was kind of chewy and.. gummy. I had two pieces and my jaw started aching, so I stopped.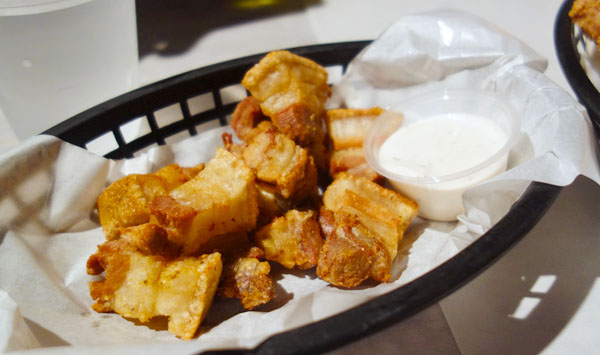 I was a huge fan of their Sweet potato fries ($8), and desperately wished they came in a larger portion. They were beautifully crisp outside, and fluffy on the inside, with a lovely signature sweet scent.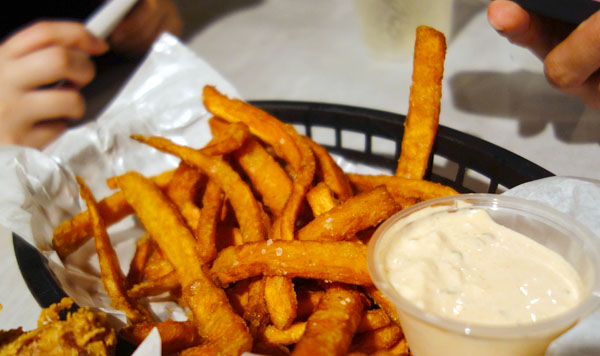 Why did I take a picture (below) of plain ol' Steamed rice ($2.50)? Only to show how miffed I was that a small pot of plain white rice can be charged at $2.50 (still reeling about this), and to note that it was awful and undercooked when eaten plain, but much much better when soaked in the seafood gravy(s).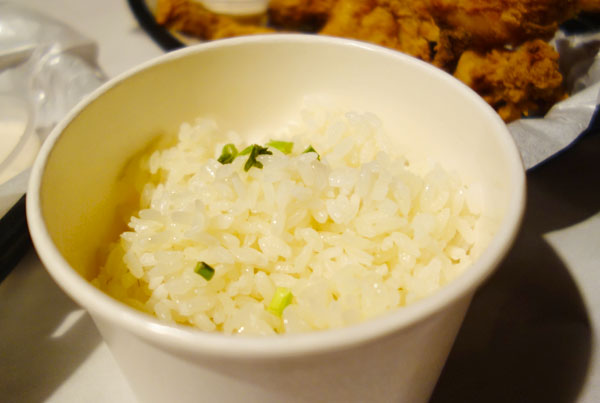 We were each provided a little pot of salt and pepper, and some lime. "Squeeze the lime in and dip your seafood in", I was told. It's totally redundant unless you order your seafood with no sauce (but what's the point of doing that?).. because once the seafood comes with sauce, this dip becomes useless.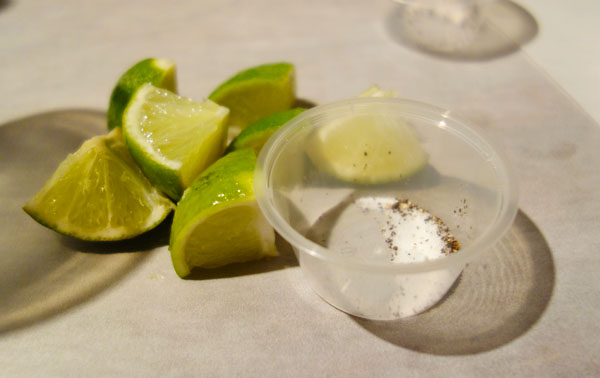 Here we are…. READY TO ROCK N ROLL.
Seafood? You stand no chance against our hungry bellies.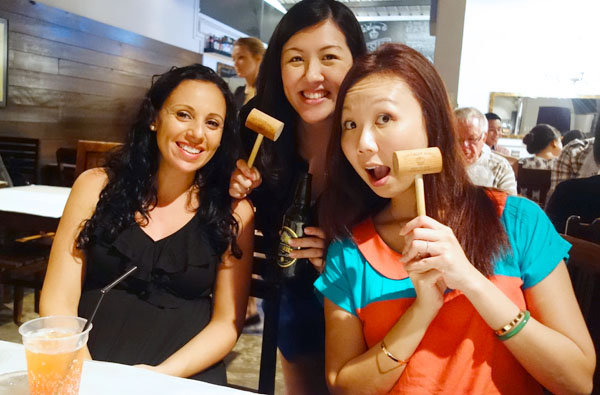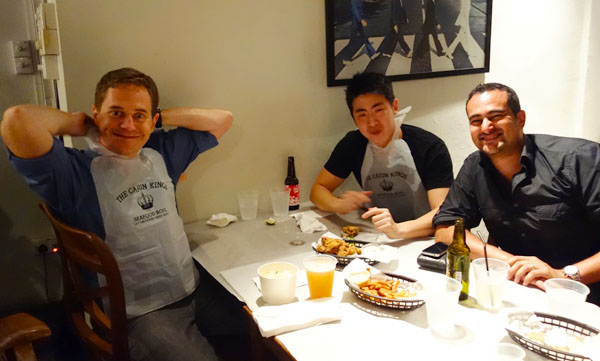 The Red sea prawns ($9/100g) were excellent. Fresh and large, the shells came off easily and they were delicious in the BBQ Butter sauce. I was using my spoon to scoop up that sauce to drink – yum!!!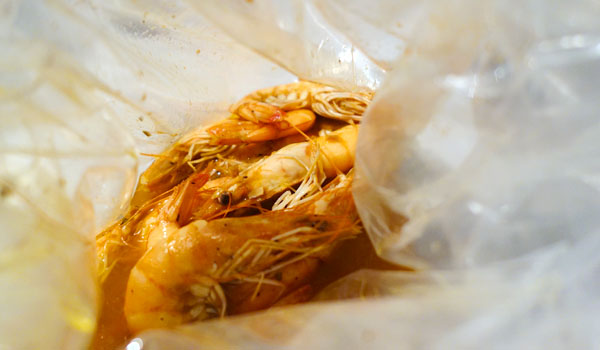 A trio of Manila clams ($8/100g), Green lip mussels ($8/100g), Corn on the cob ($3)… all whacked into the same plastic bag because all three were requested to have Garlic Butter sauce. Like the previous one, I was madly scooping the sauce to drink, and soaking my rice in it. The others were as well.. a testament to how good their sauces are!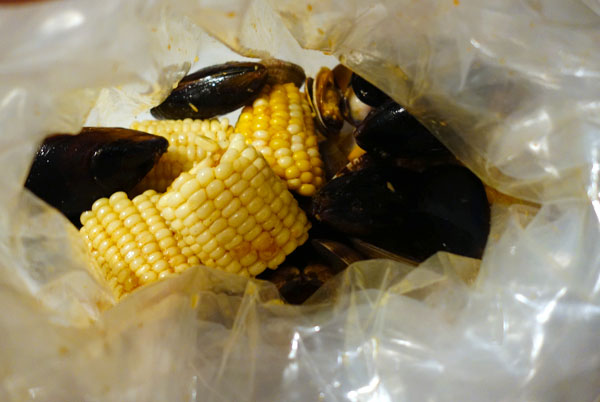 The Dungeness crab ($90) didn't interest me too much because I'm not a crab person, but I see why people go for this and rate it so well. The meat was sweet and tender, and came out easily (I had the pincer, which had a giant piece of meat!). The Medium spicy sauce it came with tasted similar to chili crab gravy – absolutely delicious.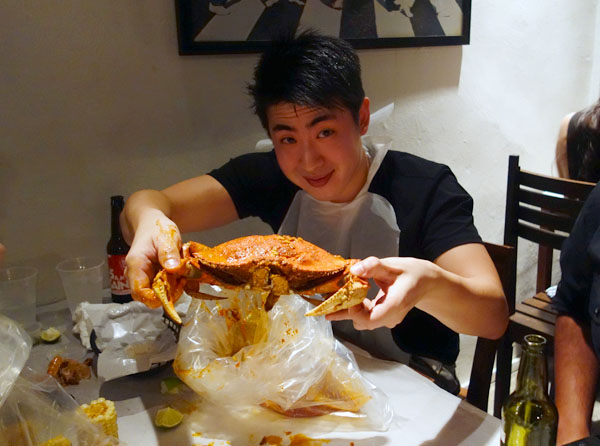 Did I mention everyone eats caveman-style? No plates are provided, nor cutlery. You simply dig around the plastic bag for your seafood, eat it, and chuck the shells or whatever onto the table! In fact, I was trying to eat the rice with my hands too. I failed miserably, so we all ended up with spoons to use.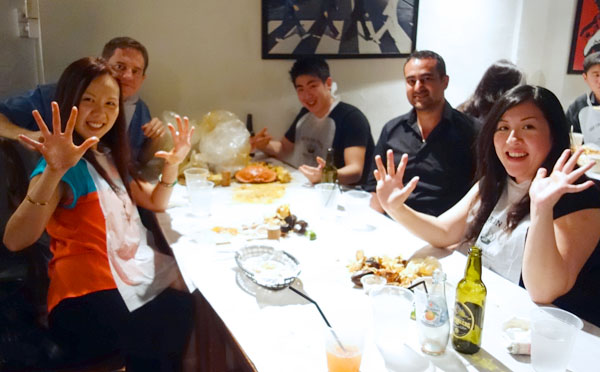 We ordered icy cold beer to wash all the seafood down, a good move because you can't really eat seafood like this without beer. It was a dirty good time and I left really impressed with Cajun Kings. I want to go back again with friends ASAP!!