Violet Oon's Kitchen
881 Bukit Timah Road
Singapore 279893
PRICE: $$$$
RATING: ???–
Isn't it annoying when you take a bunch of photos, and they end up lost somewhere between making the trip from your phone to your blog? A bunch disappeared somewhere along the line so now this food review is short a couple of photos. Grrrrr.
Anyway, I'd heard of Violet Oon's Kitchen through Mum and was especially keen to go because:
I was keen to check out Peranakan cuisine

It's pretty close to where we live
We get 50% off the entire bill using the Amex platinum card
We actually couldn't find the restaurant after we parked on the street. Sandwiched between a garishly-lit outdoor seafood joint and a bustling pub, Violet Oon's Kitchen was very discreet in exterior decor and easy to miss since it's not all lit up.
I liked their simple retro-ish black & white decor with a nod on the Peranakan side. The place was full of diners, but the staff were extremely friendly and helpful, and food came out at record speed. Impressive!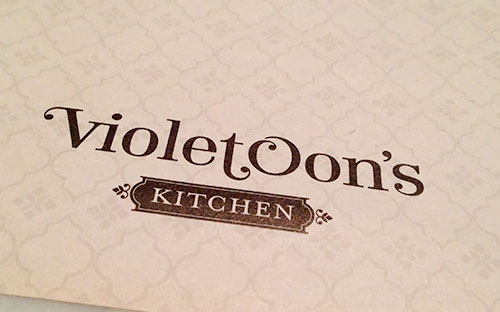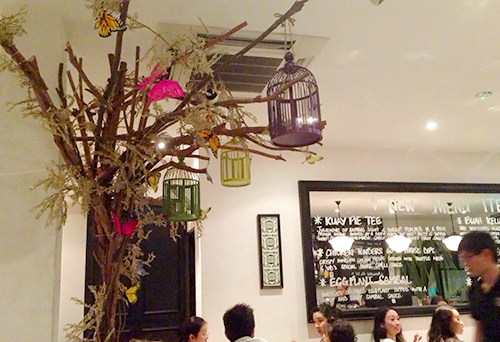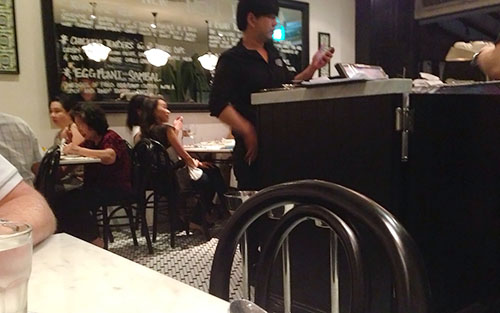 The Kueh Pie Tee seemed to be the must-order item, so we got it. At $18 for 8 pieces, they are really really pricey. That said, they are also SUPERB. Made with thin slivers of bamboo shoots and turnips poached in  prawn bisque, the mix is then stuffed into crispy little shells and served with a little prawn on top. It was cooked perfectly. The sweet sauce and chilli that accompanied the dish was also terrific. This is absolutely a must-order, and I'd get this again anytime, despite grumbling about the high price!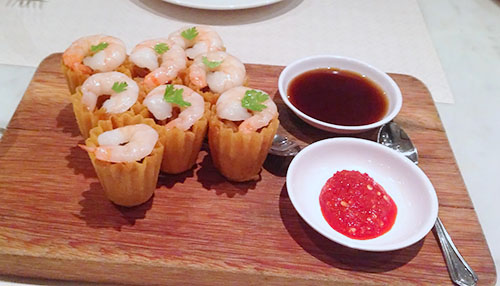 I was really excited to try out "Buah Keluak" for the first time, and their version came fusion style in a Buah Keluak pasta.  I can't comment if the sauce itself was authentic, but I really liked it! It had a strong flavour, almost musky. Very slightly nutty and with a trace of bitter aftertaste. OK, my description here makes it sound positively nasty, but I actually rather enjoyed it! My only complaint was that it was really spicy, made more so with all the chilies scattered on top (when I specifically asked and confirmed with the waiter I did NOT want any extra chilies added).
Oh, and this dish is completely devoid of meat. I felt that it made the dish a little dull, because it was the same old same old, without some meat to break up the taste. Buah Keluak traditionally comes with chicken in it (ie. like a chicken stew), so it would have been nice to have chicken in this as well.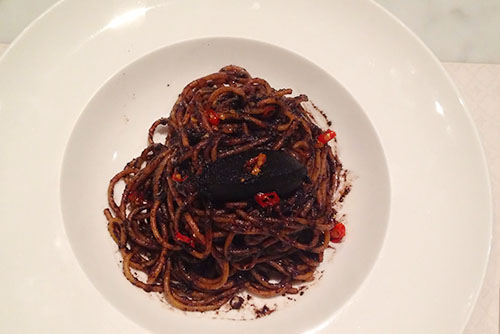 The Fried fillet of baby sea bass was a well executed dish. The fish was moist and tender, as it was very lightly fried. I LOVED the rich sticky sauce that had lots of sloppy caramelised onions in it – it was both sweet and sour and spicy and just spot-on.
(invisible photo of Fried fillet of baby sea bass, as I lost the photo)
Of course, I can't physically leave a restaurant without ordering…. DESSERT! I picked the Sticky Toffee Date Pudding with Vanilla Ice Cream and was very surprised at the size when it came out. It was a large wedge of cake, served warm and sitting in a generous amount of sticky sauce. So delicious. The vanilla ice cream was a nice touch, but nothing much to shout about (tasted like el cheapo vanilla ice cream and not high quality vanilla bean ice cream).
Couldn't finish the cake though, and I rarely (never?) leave food behind. Thus I am quite impressed at the size of this dessert!
Overall, Violet Oon's Kitchen was nice but not spectacular. That said, I'm very interested to try out their other dishes simply because it's all so new to me, and I like the fact that I get 50% off there 😉 It's not a bad place if you're in the area and want to try out something different!
(NB: Photos were taken with my iPhone so they look kinda unappetizing… See yummy looking ones on their Facebook page!)