Not to mince my words, but… I don't think I'd be happy to go on holiday with the kids if we're not flying via business class! I know that sounds suuuuuper snobby, but man, if you've ever flown with one or more babies, and flown both Economy and Business (to be able to compare the different), you'll know exactly what I mean. That flat bed? An absolute LIFE SAVER. The more attentive service? Totally appreciated. The extra space and fewer passengers nearby? Such a relief! Hunter, to his delight, was booked into his very own seat. Come to think of it, I don't actually think my parents have ever paid for a business class trip on any of our family holidays when I was little! We only did so cos of Dad's company. But somehow, they decided their grandkids needed the comfort and it was the best decision ever. I was actually pretty surprised that Hunter enjoyed sitting in his own seat, so much so that he happily stayed put in there for about 45mins before the plane took off. That's pretty stellar for a two year old! He stayed in it for the entire plane trip, actually. Which was over 12 hours. A HUGE difference to when we travelled Economy and he spent half the time tearing up and down the aisles, fidgeting and driving everyone insane.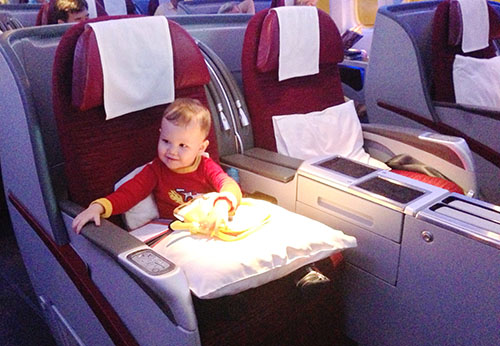 Business class food? Well, I pretty much didn't eat any during this trip 😉 I was frantically trying to get both kids to sleep at the start, when all the food was being served. So all I got was my drink, and that was it!! Missed out on THE ENTIRE MEAL 🙁 They saved it for me and said they would serve it to me later, but frankly, after the effort of putting the kids to sleep, all I wanted to do was sleep as well.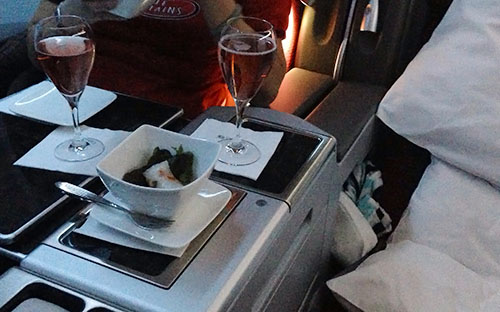 Hunter fared pretty well in the food stakes. He got this big lunchbox packed full of goodies. Obviously we took away his chips/chocolates/cakes/cookies (who puts this crap in a kids meal anyway?!?! Hello fast track to obesity land), but he ate the 'proper' food well.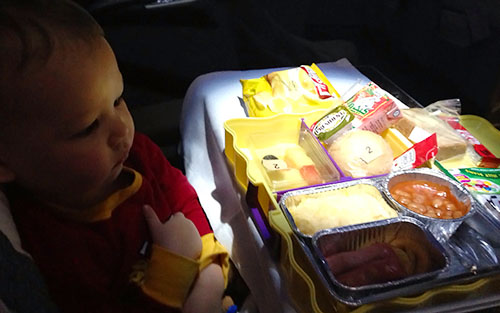 I did manage to sneak in breakfast, which was the very last meal when we arrived. It wasn't that exciting to be honest. Though, their latte was top notch!!!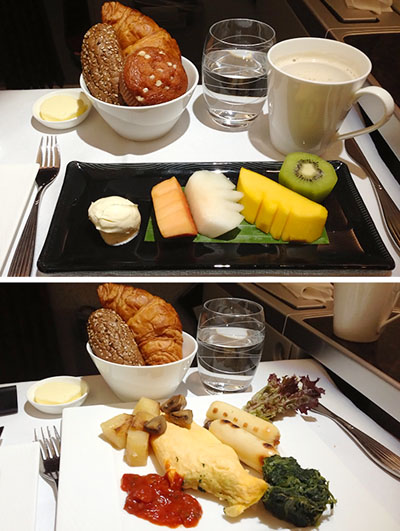 So the kids were a royal pain to put to sleep. They would've probably been wonderfully behaved if I'd let them stay up, but since I was forcing them to sleep, there was lots of crying and resisting until they finally gave up and knocked out. I did discover a secret though – lie Hunter down flat, pull the blanket up over him, put his headphones on, and turn on a movie (at low volume). He lies there quietly watching, then simply drifts off. WIN!!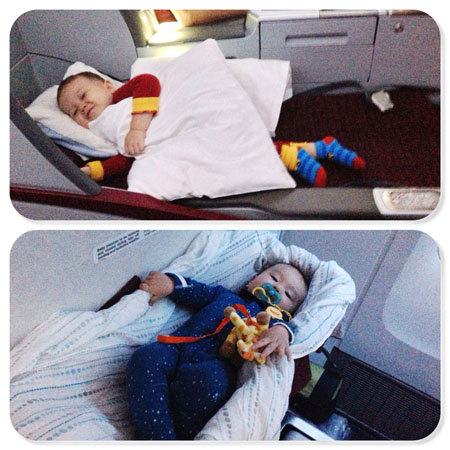 When they were awake, they were kept amused with the flight attendants. Perhaps not many babies fly in business class, because they were all over Carter! Not so much Hunter, because he ignored them in favour of watching a movie. But Carter, Carter was so joyous with all this female attention and MILKED IT FOR ALL IT WAS WORTH.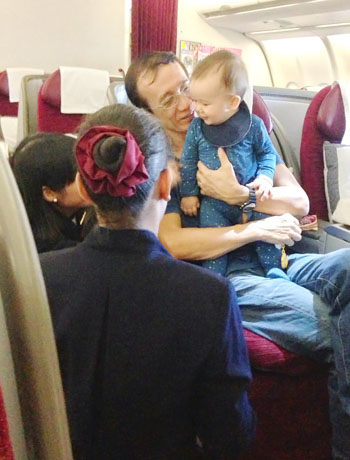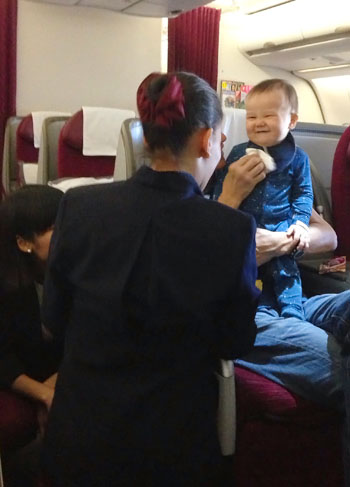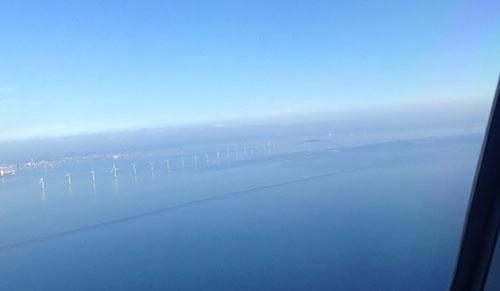 And then……. we were in Copenhagen! Man, there aren't many Asian people around here. It's predominantly really tall blond people, to be honest. So I feel like we realllyyyy stick out! The city is so baby friendly and the people are lovely here. Loving it here already 🙂 This flight was such a far cry to when I used to travel business class on work trips. I didn't get a chance to watch a gazillion movies until my eyeballs hurt (though granted I managed to squeeze in one!). I didn't get to eat my meal at a leisurely pace.. or simply even get to eat it. I didn't get to do special requests for additional meals. I didn't get to ask for more drinks, or even get a sip of alcohol. Most of all, I didn't get to lie down flat and relax and sleep. That said, it's insane how different travelling business vs economy is when you have kids with you!! And frankly, I don't think Hunter will be very happy if he goes back to economy and can't lie down flat to sleep. Guess no more holidays in the near future for us 😉   (PS. this blog post sounds a little disjointed and I'm posting it without bothering to proof read or even preview. Sorry. I'm severely lacking in the sleep department after having zero sleep on the plane, and our first night in Copenhagen wasn't great since both kids were ready to party at 5:30AM this morning, thanks to jetlag. This is our second night here and it's 11PM now, so I better head off to bed since I'll probably have to wake up in a couple of hours anyway!!)