I was sorta kinda a bit embarrassed to blog this.. and almost didn't.
But then I thought OH WHAT THE HECK, everyone knows I'm mad about diaper bags and it's way too cute not to blog about!
Anyway, Tokidoki and a brand called Ju-jube recently collaborated and released a whole bunch of baby-related stuff. Well actually it was all released awhile ago but since it wasn't available in stores here, I kept ummming and ahhhing about whether to get it. After all, I am very particular about my diaper bags and wanted to see it in real life first.
But I finally ended up buying it and getting it shipped in, because after months of thinking about it, I decided it was just too CUTE!
Here's the little set: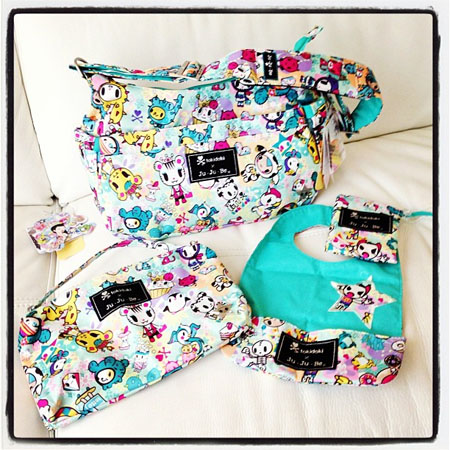 The Be Quick pouch is very light weight and simple. It's actually a pretty good size, so it's nice as a casual little bag for me, or as a diaper pouch (fits in a bunch of diapers and wet wipes beautifully).
I particularly adore the Be Neat bib because it folds up into its little storage pouch. It's also reversible! And, best of all, it closes with a magnet. Way way better than velcro which gets stuck on their clothes. The material is outstanding – repels stains and liquids, and washes clean and dries easily.
And the Hohobe diaper bag? MAD LOVE!!! It's not particularly huge (I dislike really large diaper bags that look like I could climb in and have a snooze in there), but holds a lot. It's very very light, because of the liquid-resistant material. Wipes clean easily, and the whole thing can be chucked into the washing machine.
The interior is roomy with so many pockets that I'm kinda overwhelmed. The myriad of pockets is very practical and so attractive to someone that likes to be ultra organised like myself. I love how I can put each item into it's own slot, which means I know exactly where to go for it when I need it.
The bag actually serves really well as a regular hand bag or travel bag IMHO. I'm looking forward to using it for myself once the kids are grown up.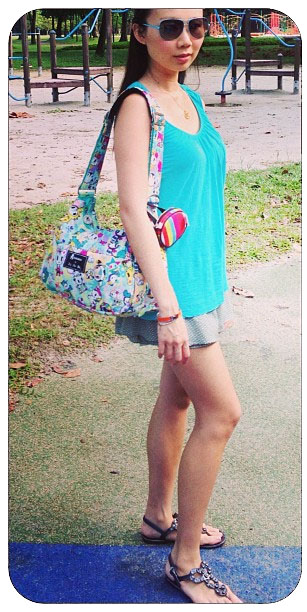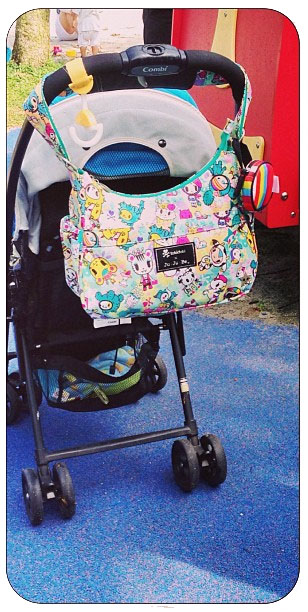 My favourite part about this diaper bag is just how light it is, the lightest one that I own. The material is excellent and the crazy print also means that dirt won't show up as much (and anyway I can machine-wash it).
Plus, it's just so VIBRANT it cheers me up, and, hello, it's turquoise on the inside!!
I know those of you that can't stand crazy/bright prints are eye-rolling and rather horrified. But it's very me and I love it 😉
Let's Chat!