Daruma Ramen House
Greenwood Estate
10 Greenwood Avenue
Singapore
PRICE: $$$
RATING: ????-
A little-known ramen joint called Daruma Ramen House lies among the eateries along Greenwood Estate. Their main dish is just one thing – ramen. And as a bit of a ramen nut, I just had to go try them out!
They don't hail from Japan, but rather from Hong Kong. However, the interior is really Japanese, reminding me of the eat-quick-and-leave ramen joints around Japan. And, they were ranked one of the Top 5 ramen restaurants in Hong Kong by Tatler magazine. Not bad!
The interior is dim with yellow spotlights, and lots of glossy black decor. The open kitchen takes up most of the space in this tiny restaurant, and we took the bar seats so we could witness the action.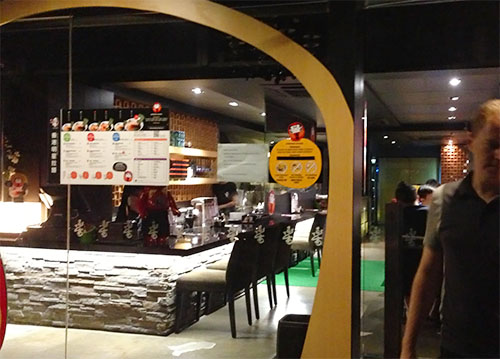 The menu is sparse.  Your soup base can be Shoyu, Spicy or Tonkotsu. You can choose from either barbeque pork, or braised pork belly, or both. A few other little optional toppings exist, like egg or corn, etc. And…. that's about it.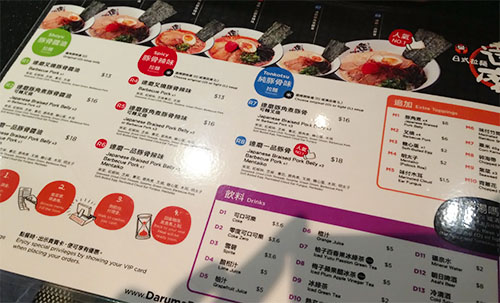 You order and pay at the counter, and moments later, your ramen is delivered piping hot. And….. it's delish!! The noodles are springy and well cooked, though they really need to up the portion a bit. I liked the broth, which was Original (you can go for Light) – it had a lot of flavour but wasn't salty or overly thick. Lovely for those that find some other ramen joints' version too rich.
The Pork Belly was a stunner. Slices of lusciously tender pork that left me salivating for more. The few slices provided is definitely not enough 😉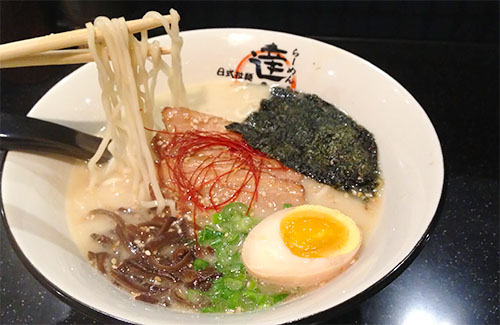 We also added a portion of Barbeque Pork (4 slices) which were just as good as the Pork Belly. I actually can't decide which one I like more. The Pork Belly is 'meltier' but the Barbeque Pork does have a nice bite and flavour.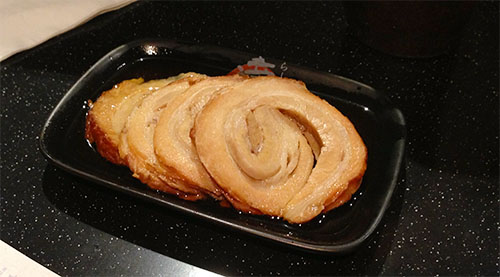 I really enjoyed Daruma Ramen House and I appreciated the swift service. You can be in-and-out within minutes!
Only downside is that it's pretty pricey for a bowl of noodles. My bowl was $16 and it's $6 on top for extra pork. That means we're veering into fancy-place prices for a main, IMHO… which also is not filling enough for me (needs more noodles). Because of this, I do hesitate to return, but I will if I'm craving a ramen fix!
But, for the next few weeks, they have an absolutely KICKASS 1-for-1 promotion! It's at their TripleOne Somerset location and, assuming they don't shrink the portion size, is excellent value for money. In fact, I'm planning a trip there soon!
Let's Chat!