Wrap & Roll
1 Vista Exchange Green
#B1-11 Star Vista
Singapore 138617
PRICE: $$$
RATING: ????-
I'm a big fan of Vietnamese food, especially the stuff we get in Australia – it is kickass!! I haven't seem to find really good Vietnamese here in Singapore (recs, anyone??). I hear that there are a couple in the Joo Chiat area, but we live at the other end of Singapore so I've never had a chance to check it out 🙁
So I was really pleased to hear that a Vietnamese joint called Wrap & Roll had opened at The Star Vista, which is closer to me than Joo Chiat and I am in that area frequently anyway. It's clean, neat and pretty spacious, and has a very enticing-looking $11.90 set lunch that drew us in.
Food arrived swiftly and we were SO impressed with it! The Minced pork in steamed rice paper rolls looked average but were DELICIOUS. Very soft 'skin' exterior.. reminiscent of rice noodles, all soft and moist. The filling inside was really tasty, paired well against the mild taste of the skin. I'd get this again for sure!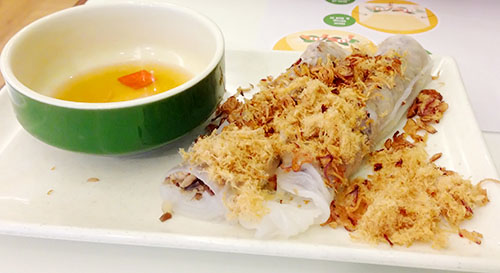 The Breaded deep fried tofu came out as wee little nuggets – very cute! They weren't a golden brown but more of a weak yellow colour, but they tasted lovely. Crispy on the outside and warm and custardy on the inside. Obviously Hunter, Mr tofu eater, LOVED these.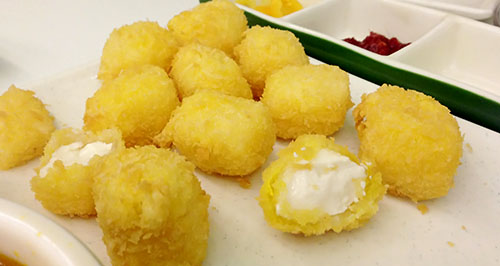 A Vietnamese meal isn't complete with some Rice paper rolls. THESE. WERE. HORRIFIC. They were so inedible we left them behind. And I almost never leave food behind.
They came nice-looking enough. But one bite and I spat it out. The 'skin' covering was tough, thick and HARD. It was awful. I told a waitress and she was very nonchalant about it, and said she'll fix it. Instead of giving us a fresh plate of rolls, she brought it back with the spat-out roll (you'll see it in the photo below). What she'd done was SPRAY WATER ON THE EXISTING PIECE. I realise that the rice paper rolls need to be softened with water, but if one was chewed on and spat out because it was not prepared correctly, surely it's polite to serve a fresh plate?
I took another bite, and yep, STILL HARD! Of course, the waitress never bothered to come back to check that it was alright. Absolutely shocking service and follow-up on a wretched dish. Even more unbelievably, we were still charged for the uneaten dish.
This experience left a really bad taste in our mouths – literally.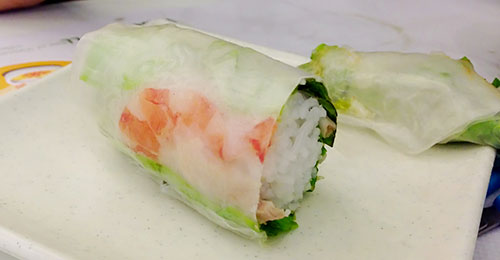 Their famous Vietnamese beef noodle soup was supposed to be a must-order. It looked spicy, though, so I didn't try any of it!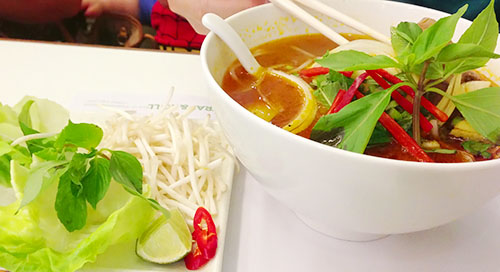 Who can't resist a good 'ol grilled chicken? The Grilled chicken with garlic rice was simple but satisfying. I actually don't remember the rice being garlicky but it wasn't a big deal. There were bit chunks of chicken and a satisfying amount, so I thought this dish did pretty well.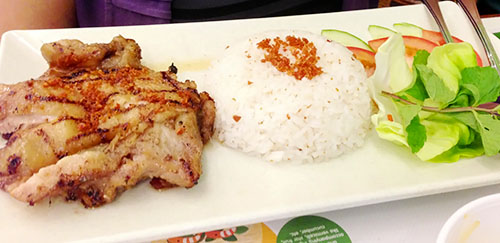 But I adored the Rice vermicelli with chicken and deep fried spring rolls! Absolutely superb. It was a very sizeable bowl filled with rice vermicelli (though I wish there was more noodles!) and topped out with chunks of grilled chicken and pieces of fried spring rolls. The fried spring rolls, unlike the rice paper rolls, were delicious – crispy and tasty. The whole dish, mixed together with the provided tangy sauce, was just yum yum yum.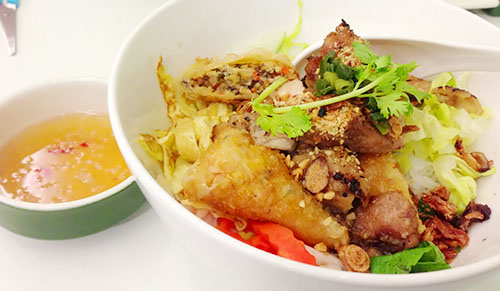 I like the casual atmosphere of Wrap & Roll and the (mostly) top notch dishes. It was just a shame the inedible Rice paper rolls spoiled our entire experience and we had to pay for them too.