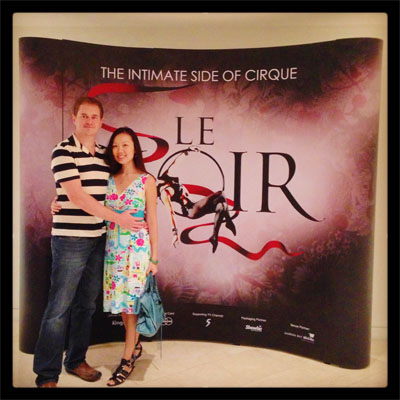 It's called "LE NOIR – The Intimate Side of Cirque", and I can see why.
Boy, it's pretty kinky!
It's also got the most amazing eye candy…………..
Think really really fit and sexy performers, strutting and dancing around to sexy music and dressed in…. barely anything. The women were in lingerie and all hip-gyrating and bum-wiggling, and the guys were topless (just… wow) and parading around. FAINT.
It really surprised us, though, to see that the stage was tiny. At only 2.5 meters in diameter, I was wondering how they could have a ~2 hour performance on just that small stage. Turns out, they can. And very impressively so!
I loved the music, and I loved the performances. And obviously, I loved the stunts. I've seen most of the Cirque Du Soleil shows, and I liked this one the most because I found it the most engaging.
I really liked how the performers were first dressed in innocent white (though they didn't strut around very innocently!) and then firery red (which was really kinky) and then sexy black.
The Circus master guy was meant to be the comedian, and he came out between acts, but I didn't find him that hilarious. In fact, it's pretty hard to switch from awe to laughter and back again, you know? So I guess in a way he was effective.. but it felt to me that they only had him there as a "time filler".
But back to the performers. If you want to see chiseled bodies on guys… man, YOUR EYES WILL BE OUT ON STALKS. I think the guy performers made all the women in the audience breathe a little quicker and the guys type into their phones "Reminder: go to the gym tomorrow" 😉
The women performers were just as sexy if you're into the athletic look on women. Chris is not (thankfully!!) so he was a bit 'meh' 😉 The funny thing is, they have 4 other girls there, that had really slim dancer bodies (ie. not full of muscle). I was wondering what kind of stunts they would do, then realised half-way through the show that they DON'T do any stunts, but are rather just 'eye candy' for the guys… just dancing and standing around looking pretty!! I wonder if everyone else in the audience noticed that, or if it was just me…
Anyway.
All the acts were so pumped up and exciting, I liked them all. The scariest one was a guy balancing on 6 cylinders stacked on top of each other. It really looked like he would fall….. AND HE DID!!!!! Man, I think everyone nearly had a heart attack. He had really quick reflexes though, so he wasn't hurt as he fell 'properly' on his feet and simply hopped back up again and executed the move perfectly.
It was an awesome performance overall and such a nice date, all thanks to my parents that baby sat the kids!