I rarely buy clothes in real life shops.. partly because it's not actually possible to try clothes on (let alone shop in peace) with a kid or two in tow, and partly because I always find the nice stuff is online!
Among my favourite shops is Splendid.com, because their clothing is so ridiculously soft I could stroke myself all day when I wear their stuff. Ahem. Most of their stuff is made with supima cotton, or modal. It's basically that ultra soft, drapey fabric that I adore. Sooo thin and comfy for warm weather! Even better, they have a whole Kids clothing section, so my kids own quite a few of their super-soft adorable clothing.
I decided I wouldn't photograph or blog the clothing I've bought off Splendid, because it's… errr… substantial, and I'm a little embarrassed! And, also lazy to pull it all out and photograph. Besides, you can just go to their site and check it all out if you're interested in this sort of fabrics too!
But what I did take pics of is their shoes, which I've recently 'discovered'. I'm pretty fussy about my shoes, so was nervous ordering them online without being able to try them on first. Thankfully, both pairs fit me beautifully, are comfortable (no blisters, sores, etc) and, helloooooooo, THEY ARE GORGEOUS!!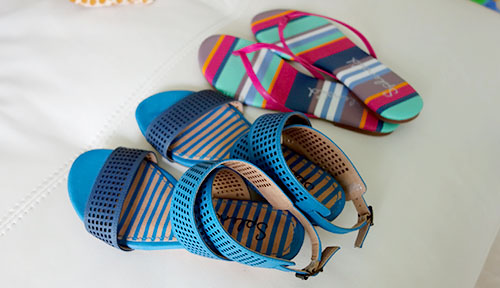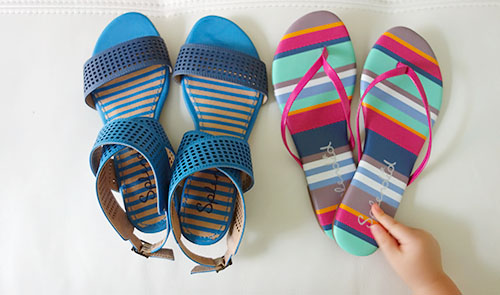 Cute huh? The pair on the left is a nice muted blue sandal, which goes well with denim. The straps are soft and the small wedge heel gives me a little bit of height without the discomfort. The rainbow flip flops made me faint when I saw them online. Perfect colour combination! I couldn't resist. They're comfy, wipe clean easily, and are lovely for casual wear.
Best of all? Everything I got was a whopping 40% off when I shopped there. Pretty fab 🙂 Quick tip – if you're fairly petite, the Girls clothes in sz12 or sz14 may suit you! They fit me and are cheaper than the Womens clothing.. so it's totally worth it 🙂
I'm currently lusting over the Watercolor Stripe Maxi Skirt, Watercolor Stripe Circle Top, and Pensacola Stripe Scoop Tee. And this and this for the boys – eeeeeekkkk!!
OK, I lie. I managed to find an iPhone pic of a Splendid dress of mine.. this one is in a gorgeous light turquoise and is really buttery soft and thin. Button-front opening too, perfect for nursing 😉