Shiraz Lazziz
1 Vista Exchange Green
#02-20 The Star Vista
Singapore
PRICE: $$$
RATING: ????-
Persian??
Persian!!
Talk about EXCITING. Just the thought about trying out Persian food had me all in a tizzy. Evidently, I've never had it before.
And so it was to Shiraz Lazziz that we headed to on the evening of my cousin's birthday. Like many other restaurants in the Star Vista, this was open-air. But we've had a bout of awesome, cool weather lately so it was lovely that evening.
A Persian bistro and bar, it's a small restaurant with comfy seats and friendly, prompt service. The menu is actually pretty small – so either Persian cuisine isn't very varied, or it's tough to make Persian food here in Singapore 😛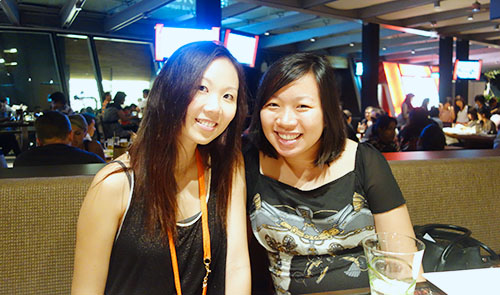 OK I have never had Persian food before, so not declaring myself as a foodie expert in this area! All I will say is – I thought it was very similar to Greek/Mediterranean food. But better.
We ordered this Eggplant dip dish… which I've, errrr, forgotten the name to. Damn. Annoyed I've forgotten because IT WAS FANTASTIC!!!!!!!!
Luscious, creamy eggplant, served warm… scattered with some crispy fried garlic/onions, and dotted with large rings of raw onions. All drizzled with some sort of refreshing yogurt-based sauce. Hooboy, I LOVED THIS. The eggplant was chunky but utterly buttery and creamy and smooth. This was superb. I'd order it again in an instant.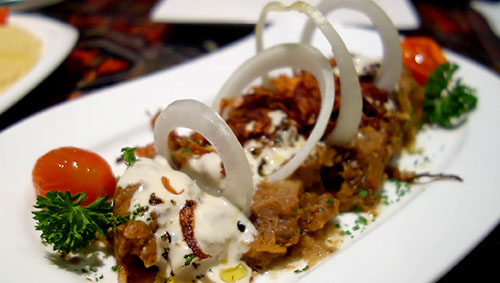 The Hummus dip ($10) was also impressive – ultra creamy chickpeas with a drizzle of olive oil. It was simply, but executed very well. This dish was served slightly chilled, which paired it beautifully with the Eggplant dish above.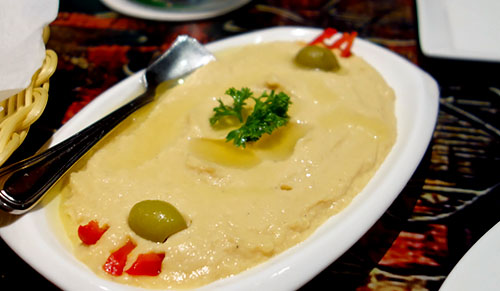 I really liked their BBQ chicken wings, though I wonder if that's truly authentic Persian food. I guess it's flame-grilled, so that counts! These little babies were all glossy and succulent, and very tender. Finger lickin' good.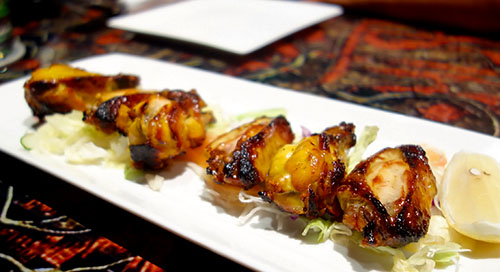 This Meigu Polo was their star dish, and left us pretty impressed. The rice was moist and beautifully flavoured, and we all commented that it was obvious they used high quality rice – the fragrance really came through. The dish was studded with grilled prawns and was more of a moist dish than a dry one, which I liked. It was just very tasty. Almost kinda sorta like a Paella.. but not really.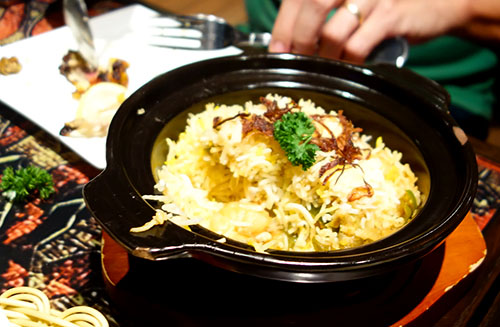 The Shiraz Roasted Duck Leg had lovely fall-off-the-bone meat, but was a little on the petite side, so it's better for small eaters. They did make up for it though with a generous portion of lovely rice (dotted with pomegranate) and a side salad.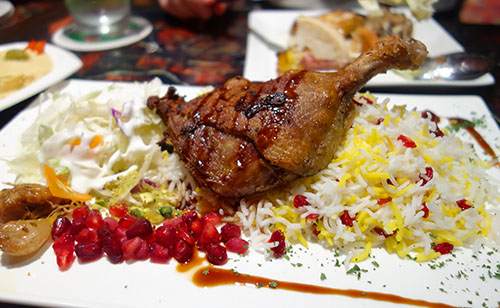 I was impressed with Shiraz Lazziz. Prices were reasonable and I liked having something a 'lil different than our usual cuisines. It also makes for a lovely place to hang out with friends for dinner and a drink!