Apart from hitting my Aunt's CNY open-house party on the second day Chinese New Year, we otherwise had a very chill and relaxing holiday. In Singapore, people get both Mon and Tues off work…. and so that means a GLORIOUS 4-DAY LONG WEEKEND with Chris with us! Wheeeeee!!!!!!
It was so nice to have him around. I think the kids really enjoyed seeing him the moment they woke up, til the moment they fell asleep at night. Hunter, obviously, was all "Daddy daddy dadddyyyyy" and had a blast 🙂
One morning, they had a Daddy-and-me cooking session. Both boys in the kitchen.. whipping up a batch of homemade buttermilk pancakes with caramelized (and flambée'd!) bananas and ice cream. 

Yes, they were as good as they sound!
Hunter even stirred the batter 😉
We also met up with some friends, and on one of the days, the kids got a chance to swim because the weather was sunny and perfect.
This is Hunter with one of his girl friends. She is 3 months older and gentle and sweet, so Hunter really likes her. And I think the photo-collage below is just so cute!
Aaaand, I also got round to making some Homemade ice cream for Hunter!! Chris and I are kinda nazi-parents when it comes to junk food (ie. chips, lollies, etc)… because we figure if Hunter is a barely-there eater, we'd much rather he eat 'proper' healthy food than waste his tiny appetite on non-nutritious food. So to cut a long story short, Hunter doesn't get ice cream.
But then, my lovely cousin Amanda from Cookyn told me she made a super HEALTHY ice cream…. made entirely out of bananas.
Do you know how easy it is? Just freeze bananas, defrost them a bit, then blend!!
THAT'S IT.
For fun and taste, add in a healthy dollop of Nutella.
The texture is smooth and creamy like ice cream, and it really does taste like banana ice cream (well, duh). It's so yummy that Chris and I eat it ourselves 😉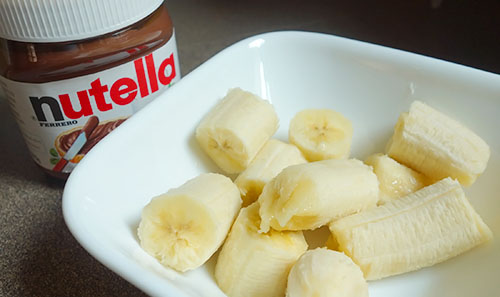 Does Hunter like it?
Do I even need to answer that question?
He doesn't even realise it's not 'proper' ice cream, because it tastes just as good. And what he doesn't know won't hurt him 😉 I am so going to chuck any over-ripe bananas I have in the freezer in future, so they don't go to waste and I have an excellent healthy dessert for the whole family…. and all it takes is 5 mins to whizz up and serve!