I have very very very few childless girl friends, let alone single girl friends. Partly due to my age (*ahem*) where we're all at the age where everyone is already married for years, and partly due to life stages – it's difficult to be close friends when both of you are at very different life stages. This means I have maybe 2-3 single/childless friends that I hang out with and speak to… so they're pretty special to me.
It also means I get a (very rare) chance to attend a wedding!!! Well, that is, until all our children grow up and get married, then I guess we'll go through the next wave of weddings 😉
My very pretty and very sweet gf Magdalyn got married over the weekend 🙂 They met in the office, so I guess there's something to be said about office shennanigans, bwahahahaha!! It was held at the Conrad, same place where my cousin Amanda got married a few years back. Memories 🙂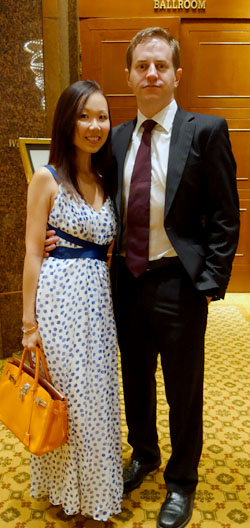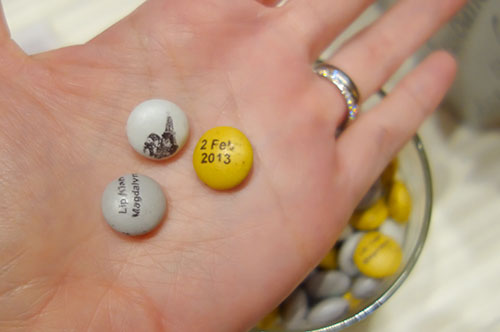 They had a silly photobooth, which I realise now is an AWESOME idea for a wedding. If you're not married, consider getting one for yours! It helps guests loosen up, and the props are so cute. It means guests have a little personal momento to bring home, and you can chortle at how absurd your guests look 😉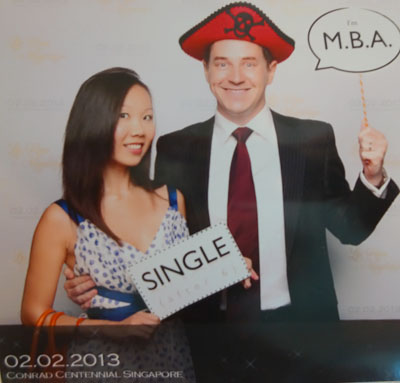 So we arrived royally late, at 8PM. Considering the wedding invite said 7:15 dinner, we were in a bit of a mad rush. But we had to put the kids to bed and I had to give Carter his bedtime breastfeed.. so the earliest we can get to a dinner is 8PM.
But, we were still the first people seated at our table! Chris was LOL'ing and wanted to take a photo of me being Nelly No Friends, with all the filled-up tables behind me 😉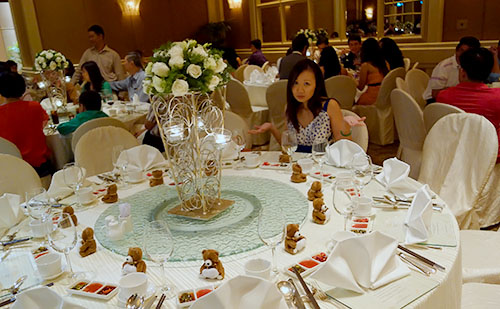 Anyway, hop on over to Magdalyn's blog to see lovely wedding photos.. whenever she gets round to uploading them after her fancypants honeymoon in the Maldives 😛
CONGRATULATIONS Magdalyn and Lips!! You guys are the sweetest and so nice to see true love exists. May God bless your marriage with happiness, love and laughter.