I was surprised when I saw the Australian Holster jelly sandals stocked at the nottoobig store (Forum The Shopping Mall). It's adult shoes! Turns out the shop is morphing into more of a family store than a kids store, so I'm eagerly anticipating more adult-friendly stuff coming in soon.
But eeeeeeeekkkkkkkk these Holster sandals are pretty!!!! 
See?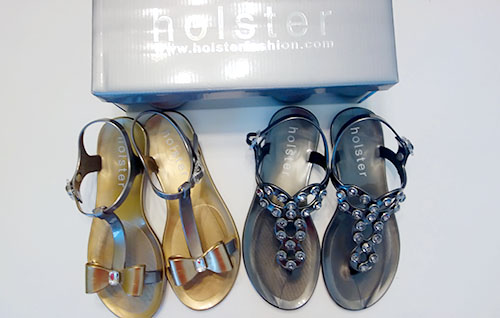 The *sparkle* catches your eye once you step into the shop. My head tends to do all sorts of weird things when I spot sparkly stuff. Like I can't even think straight anymore. So thank goodness these shoes are both for kids AND for adults. Spares me the embarrassment of trying to squeeze myself into kids shoes 😉
You know what – I never used to be impressed with jellies. The thought of plasticky shoes in a humid environment like Singapore's just sounds like a recipe for blisters, IMHO. My feet blister/rub/hurt very easily so I'm quite picky about my shoes, and that's the main reason why I've stayed away from the whole jellies craze.
These Holsters are antimicrobial which means they're odour resistant, and they're suitable for vegans. And EEEEEKKKK THEY ARE COMFY! Quite weird how comfy they are, actually. To give you an idea, immediately after putting them on in the store (and slapping my ballet flats into the box to bring back instead), I ran for 20 minutes. Pushing Carter in his stroller. In Singapore's heat and humidity. At mid-day. Can you even imagine how brutal that is? But I wore my brand new Holsters, and didn't get one single blister or bit of hurt skin or discomfort. They were soft and flexible, and didn't chafe on any part of my foot. I'm pretty impressed.
Since then, I'm basically living in both my pairs. I just love how they're sparkly and cute, so they can be dressed down (when I wear them with shorts and am schlepping around running errands), or dressed up (when I pair with a cute dress for a dinner date).
Did I mention they're insanely comfy???
nottoobig carries a really impressive selection of Holster sandals. Pretty much every colour of the rainbow, as well as lovely neutrals (pewter, blush and black). I took ages trying to figure out which combination of styles and colours to choose from…. but ended up with these two: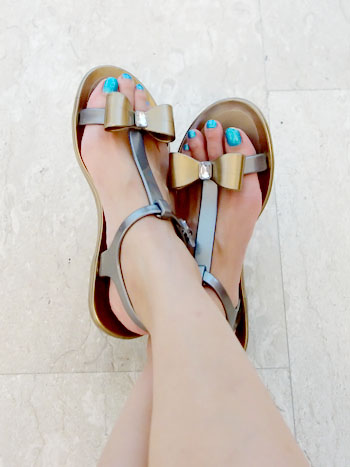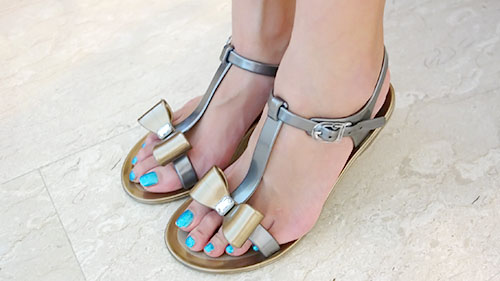 Here's the funny thing about the pair of Holsters below. I have NEVER worn shoes that have that thing that goes next to your big toe. OK, I've flip flops that are obviously like that, but I only wear them to the pool. I can't wear this style normally because I cannot stand something in between my toes. Not just that, it's pretty much a guarantee it'll make my skin sore or I'll get a blister right there – ouch.
But these are actually the pair I was wearing when I did my crazy run (that I mentioned above) outdoors. So imagine my disbelief when I didn't have sore toes afterwards. They are so comfy, and I love the sparkle, yet the dark pewter tones it down a bit so I can use it for daily casual wear too.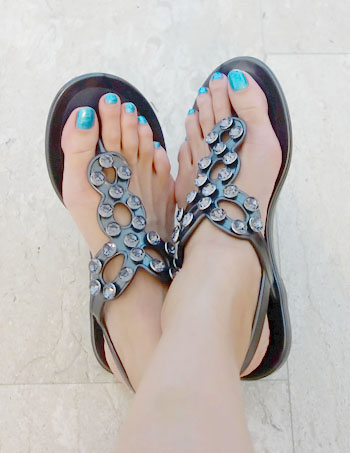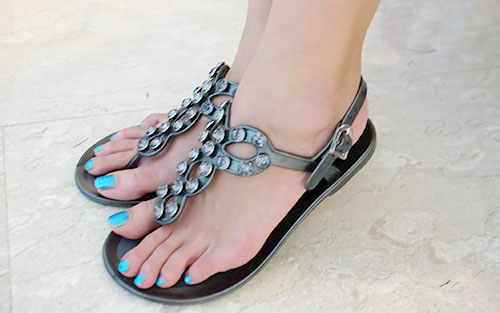 nottoobig currently also have a pop-up store at Great World City (I believe only til 20th Jan, which is this weekend), which also stocks kids summer clothing (so cute I could scream). But….. they have a sale on Holsters there! Really really good discounts.
I am now soooooo tempted to get the SWAROVSKI MASQUERADE wedges, which are super sparkly and give a little bit of oomph (ie. height), which is much needed by me 😉 Or should I wait for the next season to get stocked in? Decisions decisions..