I was in junk food heaven in NYC. Their junk food is simply the best, if that even makes sense. So mega thanks to those of you that recommended the places below… your recs were spot on and I just loved the places!
So first up is Shake Shack. So utterly fabulous that I went there twice and truly regretted not making the time to go there a third and forth time. So delicious that even my Dad, the anti-junk food king, ate one of their burgers after it'd gone cold (I got one takeaway for him) and wanted to go back to eat another one, fresh this time.
There's always a line at Shake Shack, but don't be turned off, it's super quick. It's like a production line of wham bam thank you m'aam and before you know it, you're placing your order.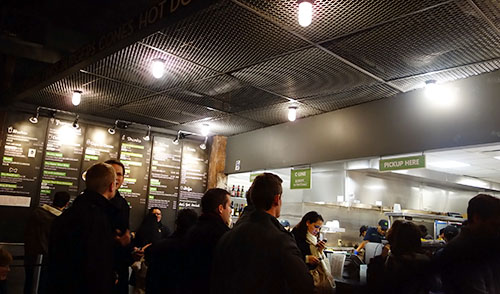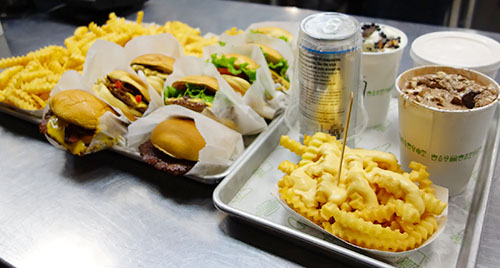 No, I'm just kidding. I didn't order THAT much.. though I wish I'd did after tasting my burger!
I went for their signature ShakeBurger and it was…. fantastic. Ranks right up there with In n Out burger (my fave burger), if not even better!
Don't even know how to describe it, but let's just say that this is what a burger should be, and hooboy it is excellent.
The Cheese fries are actually pretty unexciting.. synthetic cheese doesn't quite do it for me. However, I loved the fries au natural, since crinkle cut fries are my fave. I just dip them in mayonnaise and I'm happy!
Their signature Shack-cago Dog didn't quite do it for me either. The sausage was really really salty, and unexciting. I also found the inclusion of cucumber in the hot dog very strange, and I'm not a fan of raw onions.
I had their Strawberry milkshake and it was lusciously thick and creamy.  Overall, I'd say Shack Shack do THE BEST BURGERS that will leave you reeling and wanting to go back. Often. However, their other items on the menu were only average for me. I'm desperately craving one of their burgers right now!!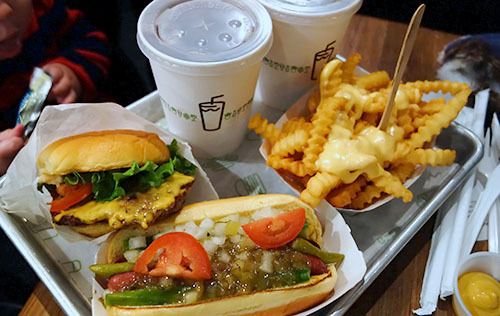 Gray's Papaya is right near where I was staying, and the snaking queue got me excited. This queue was even faster than Shack Shack's. In fact, it wasn't even really a queue as it moved so quickly I just kept moving forward until there I was, with a hot dog in hand, without even realising it 😉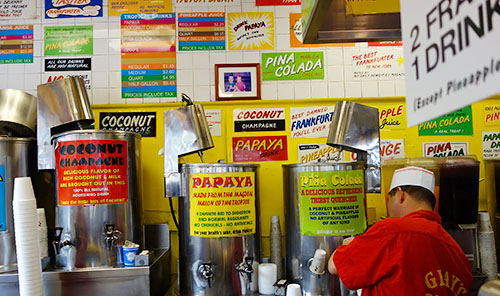 I paid US$4.75 for 2 hot dogs and a drink. The hot dog was YUMMY. So simple – just a sausage slapped on a hot dog and with some onions and tomato sauce. But somehow, it's done really well. It really hit the spot! Be warned, they're pretty small though, so you'll need 2 hot dogs to feel remotely full.
I got the pina colada drink which was really refreshing, albeit super sweet.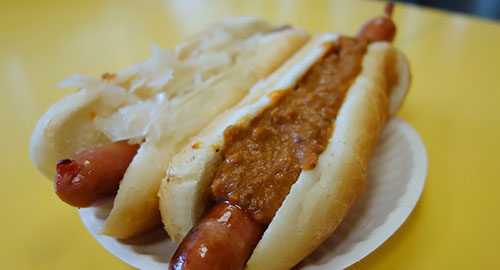 And, lastly, The Halal Guys food cart on 53rd and 6th St. I got SO many recommendations on this place it's crazy. When I told my gf, she looked at me with crazy-eyes. "Ummm… it's street food", she said, "You only go there if you have no money, or if you're drunk".
Actually, that sort of description actually appeals to me.
So off we went, me dragging her and our babies! The Halal Guys literally is a food cart (I thought it was just a name, that it'd be a cafe), plonked on the corner and looking…. ermmm…… dodgy as all hell 😉
There was a mountain of meat bits chucked on a metal grill, cooked up and popped onto a foil plate filled to the brim with rice and a side salad. And hooboy, it smelled gooooood.
The Falafel plate had 5 chunky falafels on rice, with pita and a small salad. I LOVED the felafels! They were done really well, and were delicious dipped into the yogurt sauce (which we also drenched the rice with).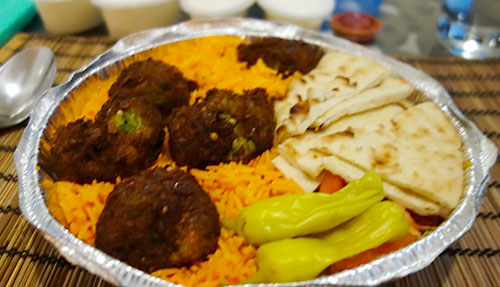 The Chicken plate was similar, but with bits of chicken instead. It didn't look very appetizing, but it really was! The chicken was tender and tasty, and served on the same delicious rice. LOVED IT.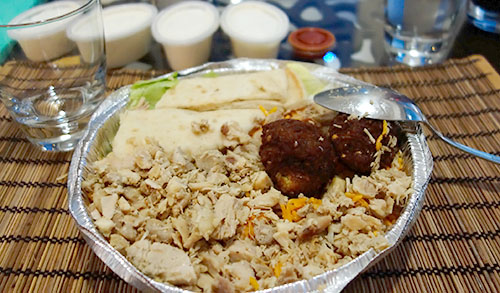 These are my Must Visit Places for NYC. I know they're cheap dodgy junk food, but they're really good and worth a visit. Promise my next few NYC-food entries will be a little more fancy for those of you that don't like this sort of food!
If you're looking for fine-dining places around NYC though, you aren't going to find any here. It's next to impossible to dine with a baby, a psycho toddler with mood swings (yeah I'm looking at you, Hunter), and also extra babies since I was out with girl friends most of the time. So fancy stuff was off our list.
SoHo places are also totally omitted, since.. erm…. they were all flooded. I never got a chance to step into SoHo to shop (missed out on the Balenciaga flag ship store there, *cries*), or to eat. We were simply cut off as the bridges were closed and transportation was shut down 🙁
So, all we got to eat was around the Upper West Side and Upper East Side areas. I guess that's not too bad, since there are a ton of restaurants there anyway!
Let's Chat!