The fact is, Carter, like most babies, sleeps waaaaay better when he is swaddled.
Both our kids were swaddled at night, and both of them are also really good sleepers. Does that mean it's a true correlation between swaddling and getting babies to be good sleepers? Who knows, but I do believe that's a big reason to help babies sleep well.
The pickle that we then have is, what happens in the day time when they nap? I don't want to swaddle Carter completely during the day… lest we fall into the dreaded "night and day confusion" problem.. so I reserve full swaddling for night time only. Yet, his arms would jerk (the startle reflex) when he was trying to nap during the day, and he'd wake himself up and fuss. Not good.
This is why I was really interested in and excited to try Sleepy Wings.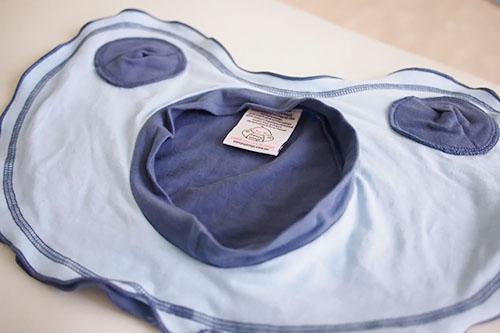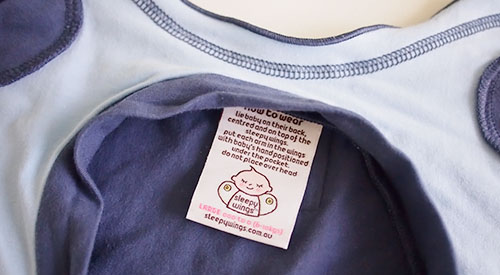 Imported from Australia, Sleepy Wings are designed to be an easier option than swaddling, as you simply pop baby's arms in the hole, and…. that's it! It's meant to be used day or night, but I particularly love it for nap times. Why?
Sleepy Wings is small and portable. It takes up way less space than a full swaddle, but still does the same thing. Easy for me to chuck into the stroller basket or diaper bag.
Sleepy Wings is easy to put on. I really do not have the patience to fuss around when I'm out, so I love how it pops onto Carter's arms easily.. I can do it in about 10 seconds flat 😛
Sleepy Wings prevents scratching. No need for mittens, cos it prevents Carter from scratching his face.
Sleepy Wings is ultra soft. The material is so lovely. Mine is the cotton/elastane version but there is also an organic one available.
Sleepy Wings is great for breastfeeding. When I'm out, I want fuss-free breastfeeding. It's easier to do it with these on, as Carter's hands are a bit.. erm.. 'tied down'.. so he can't grab at me or my nursing cover. I guess I shouldn't care so much about my modesty, considering I've probably flashed my boobs at half of Singapore by now.. back when I was breastfeeding Hunter and he would throw off my nursing cover with gusto each time!
Sleepy Wings helps Carter sleep better. I guess this one is the best reason, huh? 🙂 His naps are deeper AND longer when I put it on. I also like how it adds a layer onto his arms and hands in air-conditioning when I'm out in a mall. I admit I'm a bit of an old Chinese aunty in this respect – I can't stand drafty air-conditioning and like my kids covered from head to toe!
And here's what I DON'T like about Sleepy Wings:
You have to buy a bigger size as your baby grows. Carter fits into the Large, but once he hits 10KG he'll have to go into the Extra-Large. I guess this is a bit of a 'no choice' situation.. since I can't really figure out how the company can make a one-size-fits-all version as it's meant to be a snug fit for baby. Personally though, I will only swaddle until around 5 months old, and I don't expect Carter to be >10KG then.. so for this reason, the Large I have is probably going to be all I need and I won't have to buy a Extra-Large.
I can't figure out the pacifier holders. There are 2 little slits at each hand, to put a pacifier into so baby can stick it into their mouth. Awesome idea, but I can't get the handle of the pacifier to stay in there! Plus, my girl friend pointed out that if it's attached to the Sleepy Wings, wouldn't it pop out once Carter moves his hands.. and that would frustrated him? Good point. So I don't use the holders at all. Haven't found a reason to as he doesn't really use/like the pacifier much anyway and once he falls asleep he'll immediately spit it out.
Here's Carter, soundly asleep and modelling his Sleepy Wings 😉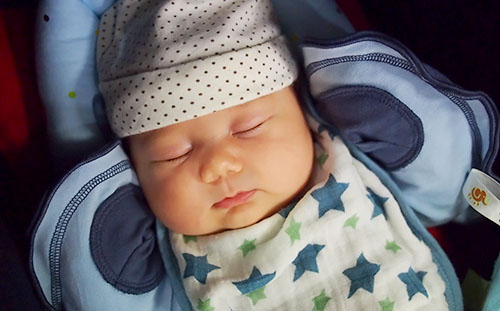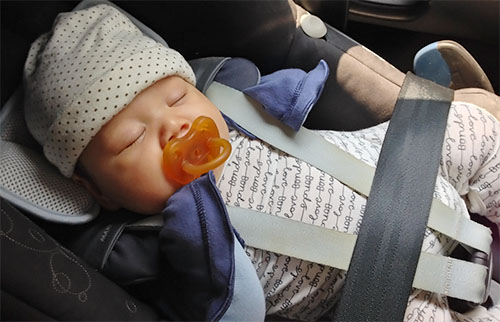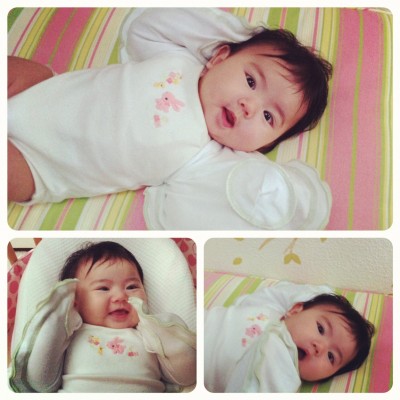 You can read more about, and purchase, Sleepy Wings here. Cool bit? You can get 15% off if you LIKE their Facebook page 😀
Tris Kids gives such fabulous customer service, and also stock other cute items for kids. It's owned by a lovely lady who named the company after her nephew Tristan. She chooses to import only the most useful items that she has found for Tristan, and I'm glad she brought in Sleepy Wings from Australia since they work well for Carter 🙂