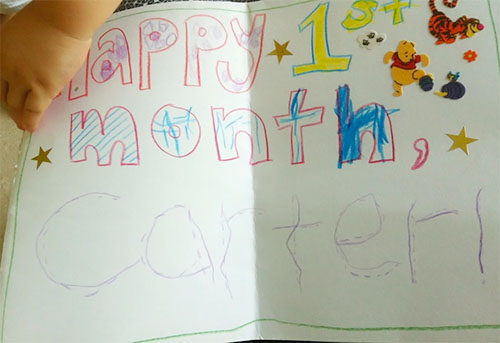 So centuries ago in China, when the mortality rate of an infant wasn't exactly great, the people didn't give their newborns a name. They waited until their baby first month before giving the baby an official name, and with that they threw a huge party that also marked the end of their 'confinement' period – that is, the month where mother and child traditionally stay at home and are subjected to all sorts of nutty things like not being allowed to have a shower, wearing thick winter wear in the dead of summer heat, etc. Thus, the baby's first month birthday was a super happy occasion where a big bash was held to name the baby and celebrate!
OK so that's just me writing it off the top of my head. I THINK I am accurate because I vaguely heard about this ages ago.. but please correct me if I'm wrong.
ANYWAY, the point is that when an infant turns one month, he's out of the 'danger period' and the occasion is marked with a party. A PARTY, you say????? Any excuse for a party, baby! 😀
We didn't have one for Hunter because, erm, we just never got round to planning it. For Carter, it was as last-minute as you could possibly get… because first, I wanted to do a big bash with my friends and to theme it all out. But then Mum pointed out it's traditionally more of a relatives thing, and wanted to invite just relatives, and so I decided not to invite friends. Then, we weren't sure if many relatives would even show up, so we gave up on the entire party. Then a few days before, Mum decided she DID want a party after all! And so began the mad scramble 😉 In the end, a couple of our relatives showed up, and pretty much all the friends I invited RSVP'd, so *whew*. Mum and Dad basically organized and threw the entire party.. booking the venue, caterers, and running all over the place setting up and making sure everything was OK on the day – thank God for parents!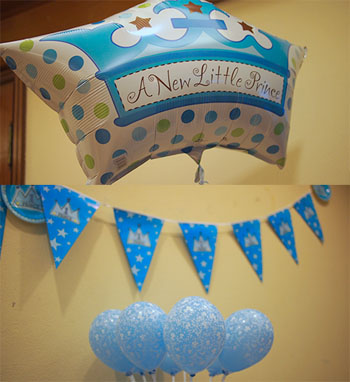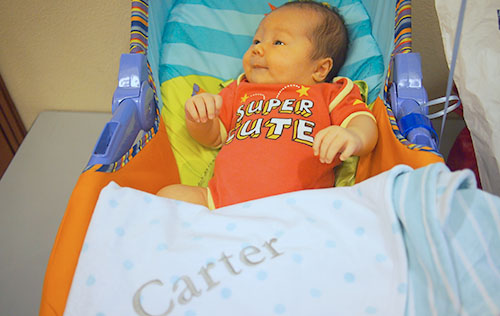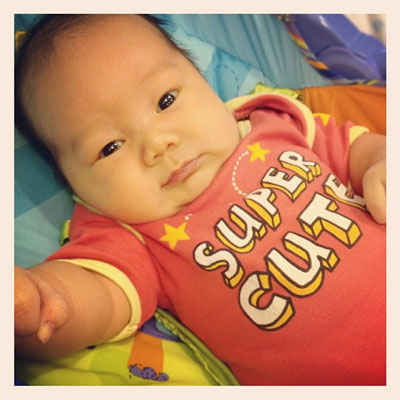 I was disappointed and annoyed on the day of the party, because I specifically wanted a pool party. God has a bit of a sense of humour, because it rained the entire day. I actually (stupidly) hadn't factored in contingency plans if we had bad weather, so we were a bit stuck! I'd envisioned the afternoon to be an outdoorsy day of everyone splashing around in the pool and/or running around the playground, and retreating into the air-conditioned room only for dinner afterwards.
Instead, due to the rain, everyone was stuck in the room the ENTIRE time. Fortunately we brought down all of Hunter's (many) walkers and Dad was a bit of a hit since he brought along his bubble gum, but apart from that there was little else for the kids to do… so they got pretty bored 🙁 And, honestly, it's a bit dull for a kids party to just be in a room?! Sigh.
We had fun, though. It was so nice seeing my friends.. as it's much more difficult for me to do playdates these days. It was a relaxed, simple party and I liked it that way. The food was good, the company was great, and Hunter really enjoyed playing with all his little friends.