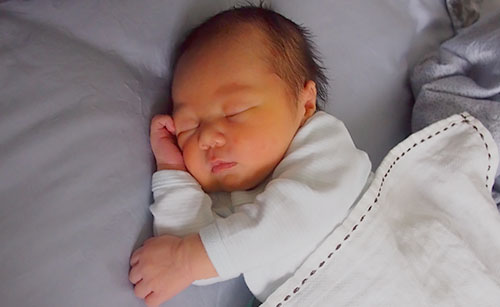 Boy I gotta admit it feels good to have popped! Being pregnant with Carter was more difficult and demanding for me, because I was also chasing around a toddler and Carter was waaaaay feistier in my belly than Hunter was.
THANK YOU for all the wonderful messages!! They really made me smile and I think it'll be really fun for Carter to read when he's grown up 🙂
I wanted to write down Carter's birth story for our memories, because it was just SO completely different from Hunter's birth story. To put it plainly, it was my personal perfect-success story of what I wanted a birth to be, and for that I am really happy and grateful.
Carter's Birth Story – summary:
Popped on the day he turned 38 weeks, after
5 hour labour (epidural inserted mid-way)
1 hour pushing (epidural turned off)
Natural / VBAC birth with vacuum
Carter's Birth Story – details:
This time round, I was not expecting a Natural Birth, because of my previous Emergency Cesarean, growing another big baby, a low-lying placenta, and Carter facing the wrong way. Obviously, I didn't want to get my hopes up! So I was booked in for an Elective Cesarean but kept praying that I'd go into labour earlier. As the days went by, I started to lose hope and was starting to get really down about the prospect of having to have surgery 🙁 But I left it in God's hands and………….. I went into labour 24 hours before my Scheduled Cesarean – just in the nick of time!!! 😀
10:00AM – Woke up on Sunday morning and Chris and I were puttering around the kitchen, chopping up veggies to make a vegetable frittata (Hunter loves this!). Body felt 'off' but just thought I was tired, so I sat at our kitchen table to chop instead. Wasn't feeling any better and had dull period-like aches, so Chris timed the contractions and found them to be 2-mins apart (!!!). He called the hospital and they told us to go in.
11:00AM – Arrived at hospital and after settling down, was checked and found to be 100% effaced and 3cm dilated. The midwife left me to continue with labour since she suspected it would be smooth and quick, like with Hunter.
2:00PM – Doctor arrived beforehand at lunchtime and said she would let me try for a Natural Birth. Yayyyyy!!! Was so excited but also scared. Another check found I was 8cm dilated, which is considered super quick. The downside of a very fast labour is the contractions are WAY more painful. I went through it with zero drugs with Hunter, but this time round, I decided on an Epidural mid-way because I was scared in case it ended with another Emergency Cesarean, and I wanted to be prepared.
3:00PM – The Epidural meant that I could feel the contractions, but took the edge off the strong contractions. Another check, and 10cm dilated – which is fully dilated!!!
3:45PM – The doctor wanted my contractions to naturally push Carter's head lower, and after awhile she declared me ready to push, turning off the Epidural. She only wanted to me to push for "half an hour" as she was cautious about stressing out my previous Cesarean scar (which can rupture). Pushing is SO SO SO SO HARD!!! She kept saying "push like you're pushing out a big poo"… but I couldn't quite figure out how to effectively push and all I felt was awful back labour and pressure (due to his head facing the wrong way). But I kept at it and after almost an hour was up, she recommended vacuum assistance so she could help pull him out too. Chris and her could see Carter's head coming down already, and saw that it was pretty huge (ARGH), and so she also had to do an episiotomy to get his head to fit through.
4:45PM – Carter is born! OMG the relief when his head popped out.. it really is like doing a big poo, only 30582422 times better and I think the body releases a HUGE dose of hormones at the same time, because I suddenly felt hit with these drowsy ecstatic feelings that made me feel like I was drugged. The rest of his body slid out quickly afterwards and he was placed on my chest to breastfeed.
For me, personally, the sensation you feel after a Cesarean versus a Natural birth is really different. With Hunter, I felt happy but dazed, a bit of a random "where did this baby come from?" moment. But with Carter, the powerful hit of emotions was released when he came out… which makes me realise why, if possible, a Natural Birth is so beneficial for mother and child. I'm grateful I've had the chance to experience both. Recovery is also ridiculously easier with a Natural Birth – I was up and walking and doing stuff as per usual the very next day. For sure I am tender, but the pain is so infinitely less than recovering from a Cesarean!
Carter breastfed well and alert for 2hrs afterwards, just laying there quietly and looking around taking the world in.
WELCOME TO THE WORLD, MY SON!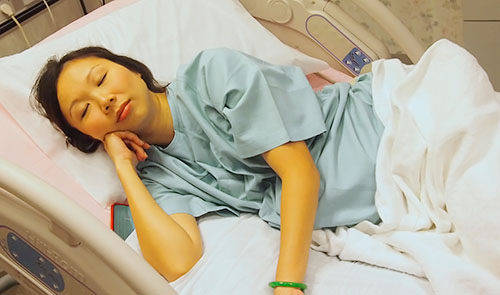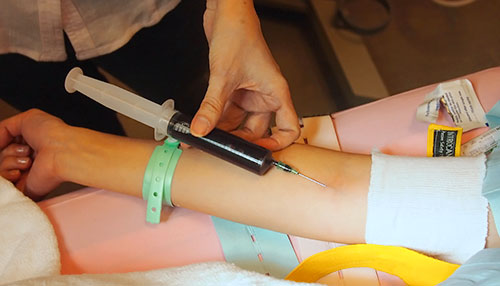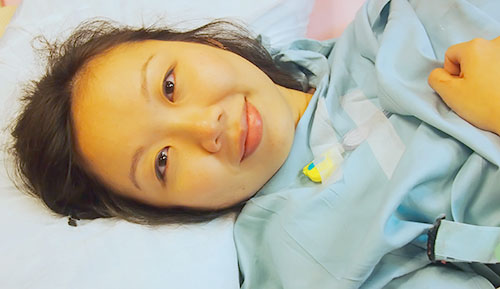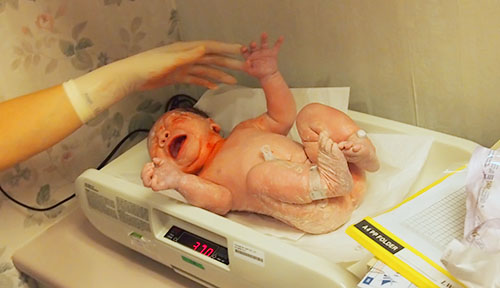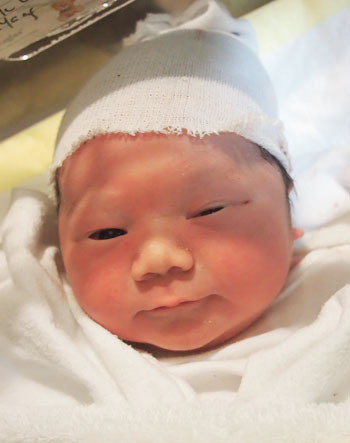 Of course, Hunter now has the grand honour of being a BIG BROTHER! He met Carter for the first time and was pretty fascinated. All he wanted to do was to carry Carter, and didn't want to let go!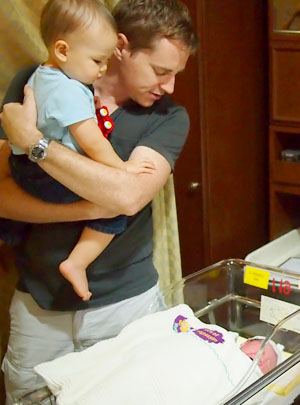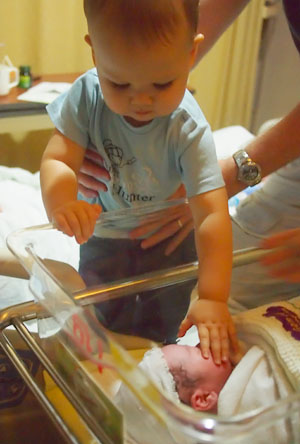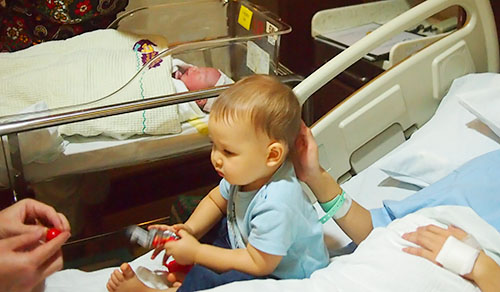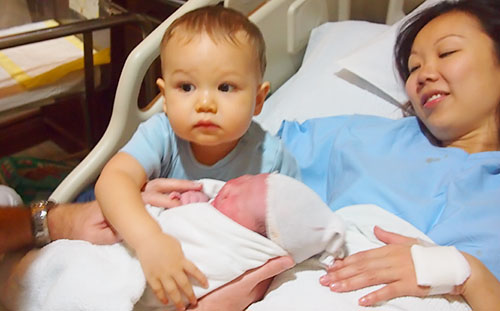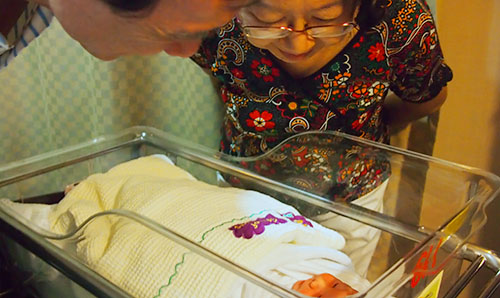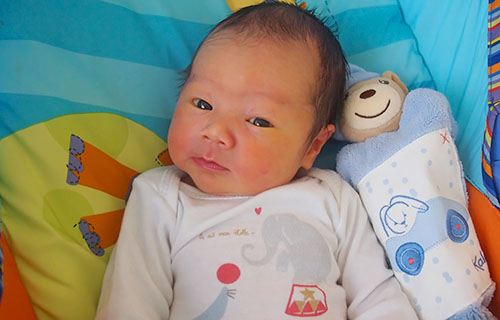 PS. You can see Hunter's birth stats and Hunter's birth story here.