Believe it or not, Hunter has never had his hair cut. He was born with really fair hair, so it wasn't very obvious especially in photos, plus his hair grew soooooo slowly. So at 18 months, he had some hair, and bits of it were long and curly, but he definitely didn't have a thick head of hair.
However, the long and wavy/curly bits were at the nape of his neck and behind his ears.. which I suspected was yet another reason why people STILL kept mistaking him for a girl! (the main reason is his eyes/lashes). So we decided to take him to Toys R Us for his first haircut 🙂
He was…………. totally nonplussed! We were bracing ourselves for a potential crying fit, but in the end we couldn't even get a reaction out of him. He simply didn't CARE that his hair was being cut, lol. A few times, he'd give the lady a bit of his signature deathstare – probably because he was watching the lil TV and she was annoying him by fussing around his head 😉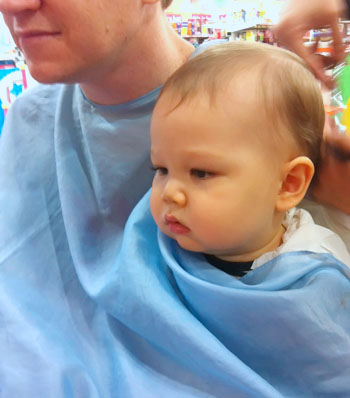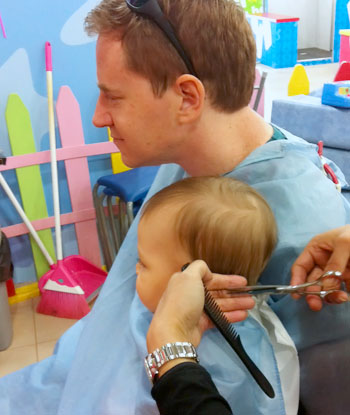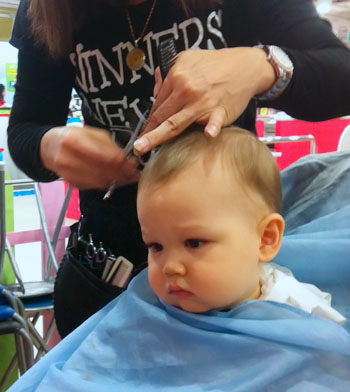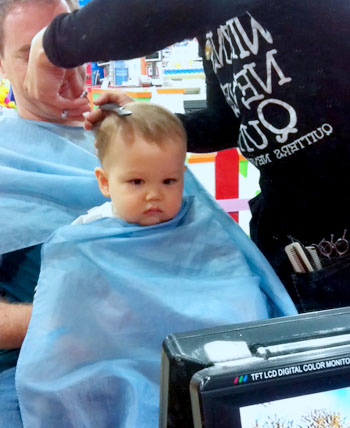 So that was that. Hunter's first haircut. Very uneventful, but I suppose that's better than having it a bad event, right? We mainly got just the long strands cut, so it's actually hard to tell in the Before/After pics below..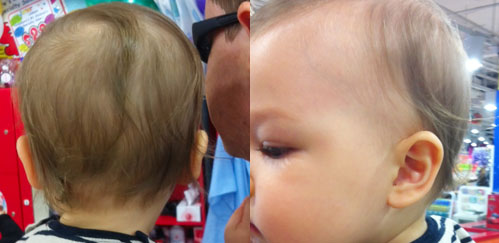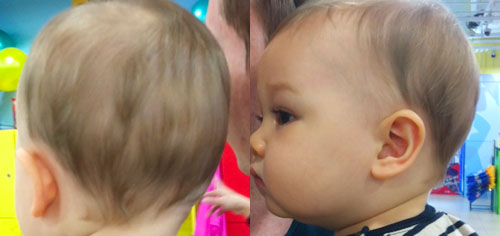 Another exciting (?) event in the past week was Chris' eye surgery. I think nobody knows this…. but Chris was almost legally blind in his right eye, due to a cataract. However, because it happened so gradually and his left eye could compensate (it has perfect vision), he had perfect vision with both eyes open.
But we decided to get the cataract surgery done before I give birth, and also because Chris is fully covered under his private health insurance through work. My uncle did the operation as he's an eye surgeon, and I love how his clinic is right in Paragon shopping mall 😉
It was a very quick procedure, though Chris was zonked for an hour afterwards due to the drugs. Hunter and I were waiting for him the whole time.. with Hunter in a grand 'ol cheery mood and puttering around the waiting area dishing out massive smiles and having mini conversations with the people there. They also had some fake flowers there, and he took great pleasure in giving them to all the ladies – and relishing all the coos and attention he got from that 😉 Such a casanova.
Hunter had a great time checking out the surgery area, and was pretty fascinated seeing Chris in the recovery room. He was indulged by the staff there with his own cup of Milo and biscuits, so that kept him well-pleased.
Chris had his follow-up checkup yesterday and everything's all healed, but he has to be very careful over the next 3 weeks.. and that includes wearing goggles whilst he showers and washes his hair (very hilarious!!) and being super careful around Hunter so he doesn't get his eye whacked. And now, he has perfect vision in BOTH eyes!